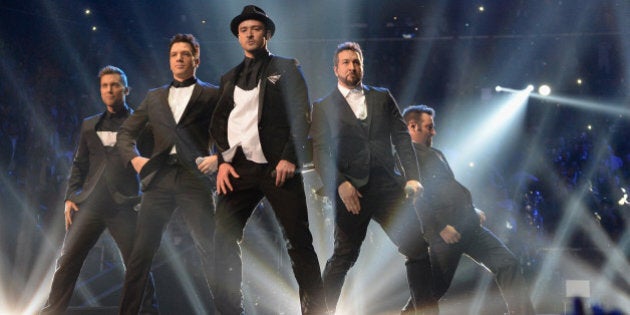 When everyone from your loyalist fans to your oldest "rivals" are hounding you for a reunion, it's hard not to take notice. But while being asked when *NSYNC will get back together is nothing new for JC Chasez, a few months on from their brief rendezvous on the MTV VMAs stage, the singer tells Huffington Post Canada that 12 young women have now taken the place of the four men who once fuelled his greatest musical aspirations.
In an exclusive interview, Chasez says while bands like the Backstreet Boys, 98 Degrees and New Kids on the Block continue their boy band legacies, he has "put my life on hold" for his all-female super-group project Girl Radical.
"There's nothing wrong with going out and playing for the fans that have been with you forever. I get it. It looks like a lot of fun," he says. "But that's not the thing that drives me. I already did that and I appreciate everything I got from it, but I want to do something new and fresh. What drives me is to still feel creative and like I'm pushing myself as an artist. I feel like the input I share with these ladies is impactful artistically and it's something I'm excited about."
Stemming from the success of girl super-groups in Asia (one with 48 members!), the idea to create the first American version inspired Chasez, 37, in a way he hadn't felt since the days *NSYNC were tearing up the charts. He believes it was that early passion which made the group successful and only that – not money nor renewed fame – could reunite them.
"I don't want to cash in. None of us would do something for a payday. We did what we did at the time because we were passionate about it. If something didn't excite us we wouldn't do it. Even all the bad photo shoots – it was new to us, so we were like 'Yeah! We're taking pictures! What's up!'
"Right now, Justin's doing the things he's passionate about – making movies and pushing himself to be a renaissance artist. He's looking to be a Frank Sinatra or Elvis Presley, which is super fun to watch. He's beating himself up to do it, working non-stop.
"And I'm doing the thing I'm passionate about. Is it an easy path? No. But if it comes easy do you appreciate it as much? I've always danced to the beat of my own drum and done things the way I want, so right now I'm doing what I want to do.
"The VMAs were a nice moment to stop and go, 'Good job, JT!' but other than that everybody's doing things they want to do."
That VMAs moment came after Timberlake called Chasez, Lance Bass, Chris Kirkpatrick and Joey Fatone asking them to join his Vanguard Award performance. While the quintet attempted to keep it a secret, word spread like wildfire and by the time they rose from the stage in Brooklyn, the whole world was watching in anticipation of their first performance together in 10 years.
Backstage, Chasez says they were "laughing … and being on our Ps and Qs" before the 90-second medley and while viewers were disappointed it was so brief, he blames prep time.
"We had three days to pull it all together and some of us had been dancing … and some hadn't. I hadn't had to figure out a routine in forever! We wanted to be there for Justin but we didn't have much rehearsal time so had to keep it short.
"We didn't want to sit up there and just do ballads. That's not who we were. We had some good ballads, but we always imagined ourselves as high-intensity performers."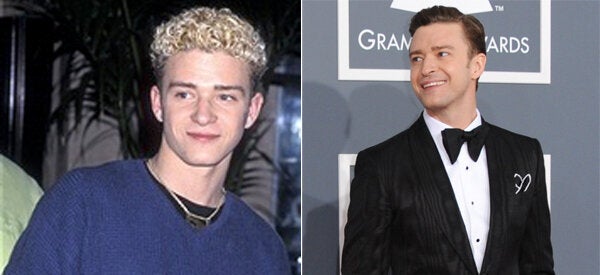 *NSYNC: Where Are they Now
Fans may have hoped that reconvening on-stage would have reignited *NSYNC's drive and sparked something more, but as Chasez walked off stage his only thought was how much he wants Girl Radical to experience the same buzz, with visions of the group one day "cruising down the red carpet" flashing through his mind.
Chasez and producer/songwriter Jimmy Harry found members through auditions and mutual friends, and unlike similar groups overseas, where members wear matching clothing, he wants each person to retain their individuality and musical strengths, meaning the group can cover a diverse range of music and everyone gets their moment to shine.
"Not only will they be unique in their own right, but it'll be unique because it will be the first time an audience over here has experienced anything like this. That's exciting because if we're first, we're the point of reference forever."
"When you talk about *NSYNC or Backstreet Boys – we were like the New Kids, and New Kids were like the Bee Gees. But Girl Radical will be the first ones and that's a crazy idea. That's what got us so excited."
While Chasez has two decades of music industry contacts to call on for help, he's well aware that success takes time and hard work.
"People think it happens overnight, but things never move as fast as you want. With *NSYNC we shopped our deal for a year in America, sang a capella in everybody's office, then moved to Germany for almost two years and became popular there. A guy representing a rock band came to our show in Budapest, saw 60,000 people get excited for a band from America that nobody in America knew and told someone at RCA.
"It's never the road that you envision that gets you there. It's about taking advantage of the opportunities you're given, then fighting for it everyday."
For *NSYNC that slow road to success escalated into a rapid rise to the top after they broke the U.S. market with singles like "I Want You Back" and "Bye Bye Bye."
Hot on the heels of the Backstreet Boys' success, the groups were instantly labelled rivals, with many fans still fiercely-divided today.
Yet behind the headlines, Chasez worked with BSB on their 2007 album "Unbreakable" and co-wrote on AJ McLean's solo record "Have It All."
Meanwhile, Backstreet Boy Nick Carter recently expressed disappointment that *NSYNC didn't follow-up the VMAs with a tour announcement, so that they could co-headline one day.
"Those guys are super-nice," says Chasez. "It was fun working with them and seeing the differences and similarities between us. We had a bunch of jokes like, 'You sing like this!'"
Looking back, he says the fame that *NSYNC and BSB experienced back in the day was nothing compared to what young stars contend with today. His biggest piece of advice for boy bands like One Direction is to stay positive and respectful.
"It'll never be easy because everybody wants your job. To a certain degree, everybody wants to be accepted by millions, as much as they might say they don't.
"But you all have the same goals. Your minds might change about how you want to be successful and whether you want to be together, but if you maintain respect everything should go the way you want."
While Chasez is not opposed to the idea of a male super-group, all his attention is currently focused on Girl Radical – whose first single "Don't Get Me Wrong" is already a Top 10 hit in Vietnam – and his first thought every morning is what he needs to do for the band.
With 12 women keeping him busy, he's "unfortunately" single and otherwise leads a mellow life. "I'm a really quiet dude these days. If a girl comes along so be it, but if she doesn't, I'm at that age of my life where I don't care.
"If there's somebody nice and she appeals to me for the right reasons then everyone wins. But if you can't get along with these girls, you can go ahead and check out. Keep moving girl!"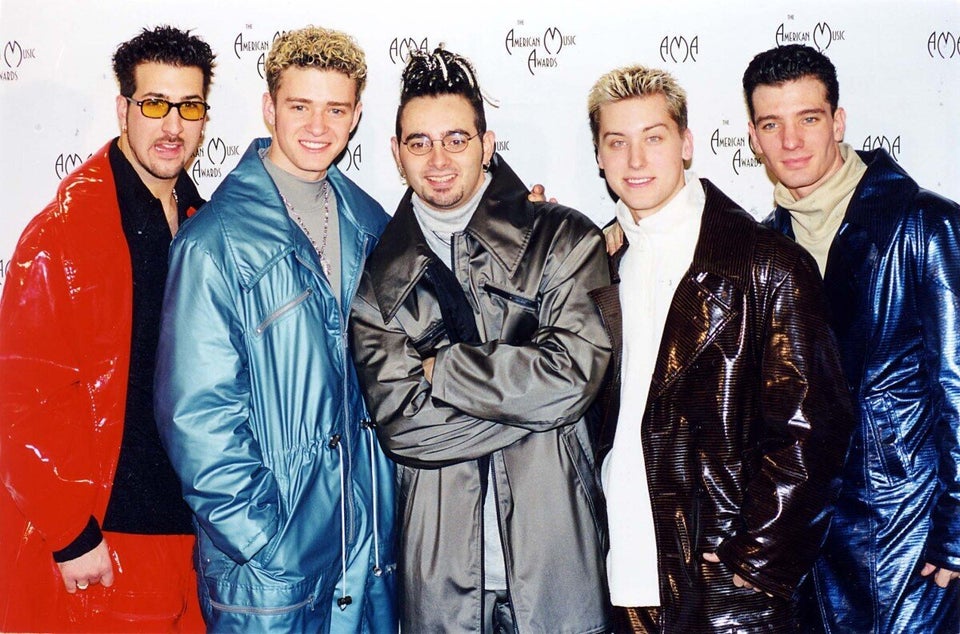 JC Chasez Style Evolution