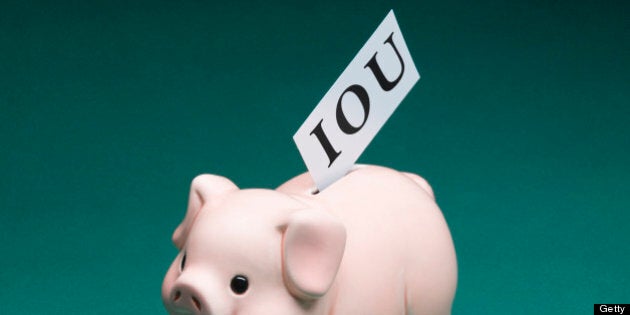 The number of Canadians carrying debt jumped nine percentage points in the past year, but the size of debt payments has shrunk, says a new survey from the Bank of Montreal.
At the same time, the size of debt repayments has fallen by 13 per cent, to an average monthly payment of $986 this year, from $1,138 in 2012.
BMO Vice-President Janet Peddigrew suggested the lower payments were a sign Canadians are paying down their debt.
"Many appear to be getting a head start on reducing their debt levels while interest rates remain at all-time lows, which is prudent because we don't expect rates to stay that way forever," she said in a statement.
The survey also found more Canadians (44 per cent) are paying down their debt than taking on more debt (28 per cent).
And 58 per cent of respondents said they expected to be debt-free within five years. (Whether they achieve that goal is another matter).
"Growth in Canadian household debt slowed to a more sustainable five per cent rate in the first quarter of 2013 after averaging almost nine per cent in the past decade," BMO senior economist Sal Guatieri said in a statement. "It is expected to moderate further in response to gradually rising interest rates in the years ahead and an aging population."
All the same, that nine-per-cent debt growth is roughly three times wage growth during that period, and the "more sustainable" five-per-cent debt growth rate over the past year is more than twice the average income growth, which clocked in at 2.2 per cent per year at last count.
Many economists and market observers are getting worried about the size of Canadians' debt burdens, which have been driven in large part by rising house prices. Famed U.S. economist Paul Krugman looked at Canada's numbers recently and predicted a "deleveraging shock" for the economy, a view echoed by many others.
Popular in the Community