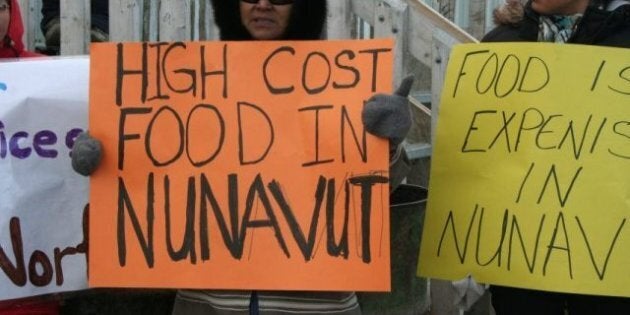 For those in Canada's south, seeing the price of food in Nunavut induced instant sticker shock.
However $105 cases of water, $28 heads of cabbage and $55 boxes of infant formula are only one piece of the poverty puzzle that Northern communities face.
PHOTOS: SHOCKING PRICE TAGS AT NORTHERN GROCERY STORES
Contrary to the myth, living in the North doesn't guarantee high wages. Inuit living in the territories make far less than non-Aboriginals in the same region — about $43,378 less. Within Inuit Nunangat, the traditional Inuit homeland, non-Aboriginals made an average of $50,128 according to 2005 Statistics Canada numbers. For Inuit, it was only $16,669.
For many that means living pay cheque to pay cheque, or in some cases welfare cheque to welfare cheque. And with grocery prices what they are, feeding one's family comes before paying the bills, if a family can afford to eat at all.
Nunavut also has Canada's youngest population with an average age of 24. Much of the population is too young to not wear diapers, let alone contribute to family income.
PHOTOS: FOOD PRICE PROTESTS IN NUNAVUT
"It's like playing a catch-up game but never catching up," said Leesee Papatsie, an Iqaluit mother who created the Facebook group Feeding My Family. The group has ballooned to over 18,000 members.
"I think a lot of people in Nunavut understand the word hunger," says Papatsie.
The group was also used to rally six Nunavut communities to protest high food prices on June 9, with a satellite protest in Ottawa.
The group has also been attracted its fair share of southerners, shocked by the prices and asking questions: why not move, and why not hunt?
"If you can't afford to feed your family, you can't afford to fly," says Ron Elliot, MLA for the Nunavut communities of Grise Fiord, Resolute Bay and Arctic Bay. He attended Papatsie's protest in Iqaluit, skipping the one in his home Arctic Bay because he couldn't get a flight, which are sometimes too full of cargo to accept passengers.
Nunavut's remote communities don't have highway access, he says, and airline tickets don't come cheap. A one-way to ticket between some Nunavut communities can cost up to $2,000, nevermind moving an entire family to a southern urban centre.
As for hunting, it's not as easy as stepping into your backyard and bringing in a caribou. Papatsie says that hunting can require a two to three day expedition requiring expensive equipment, gear, snowmobiles, and of course that pricey food to sustain oneself.
The question remains, why are food prices so high and who has the power to lower them?
Some in the protests have targeted the Northwest Company, who own most of the North's grocery stores, often being the only supplier in more remote communities. Even Leona Aglukkaq, MP for Nunavut and federal health minister, has previously put the blame on retailers.
The protests have used their stores as a rallying point. Papatsie says in Iqaluit, on the day of the protest, the NorthMart parking lot was emptier than usual as 40 or so people held signs demanding more affordable food. "A good sign," she says.
Elliot, says however that "it's not directed to one specific store. It's prices overall."
"Most of the price is related to the cost of doing business in Northern Canada," says Michael McMullen, Northwest's executive vice president of Northern Canada retail.
He compares running a Giant Tiger in Winnipeg, where Northwest is based, to the Northern grocery store in Arviat, NU, just over the border from Manitoba. Transportation costs alone run $2.2 million for the year to keep the Arviat store stocked, compared to $198,000 at the local Winnipeg store.
Northern communities also require more space to store large sealift shipments and more overhead to pay for these large shipments.
"In most cases in remote communities, we would need to carry ten times the inventory to do the same level of business as in the south," says McMullen.
McMullen says the Nutrition North program, which subsidizes healthy food sold by Northwest, has reduced food costs by 15 per cent.
Those savings only apply to items that are on the eligibility list, generally healthy, high-demand items. That list, however, is being reduced in October for some communities. Baby products and feminine hygiene products didn't make the cut.
Last year Northwest did $1.49 billion in sales across their stores, including some in Alaska and the Caribbean, earning them $57.9 million in revenue. In Northern stores, earnings amount to 5.6 per cent of total expenses and revenue.
Northwest would not provide cost breakdowns for individual items, but numbers from the company say half their expenses go to the cost of goods sold, with the next highest expense being freight and distribution at 13.5 per cent.
Elliot says that he has also asked for more specific cost breakdowns and did not receive them. He added that perhaps if there was more transparency on day-to-day items, Northerners could have more of an idea of why they pay so much at the checkout.
"It shouldn't be too hard to break down the profit margin," he says.
Elliot says that for food prices to become more manageable, government bodies need to pay closer attention to Nunavut's needs, including building more infrastructure, and further revision to the Nutrition North program before communities suffer from reduced eligibility lists.
But most of all, Northeners need to keep coming together and raising their voices "and let people know the reality of the way we're living," he says.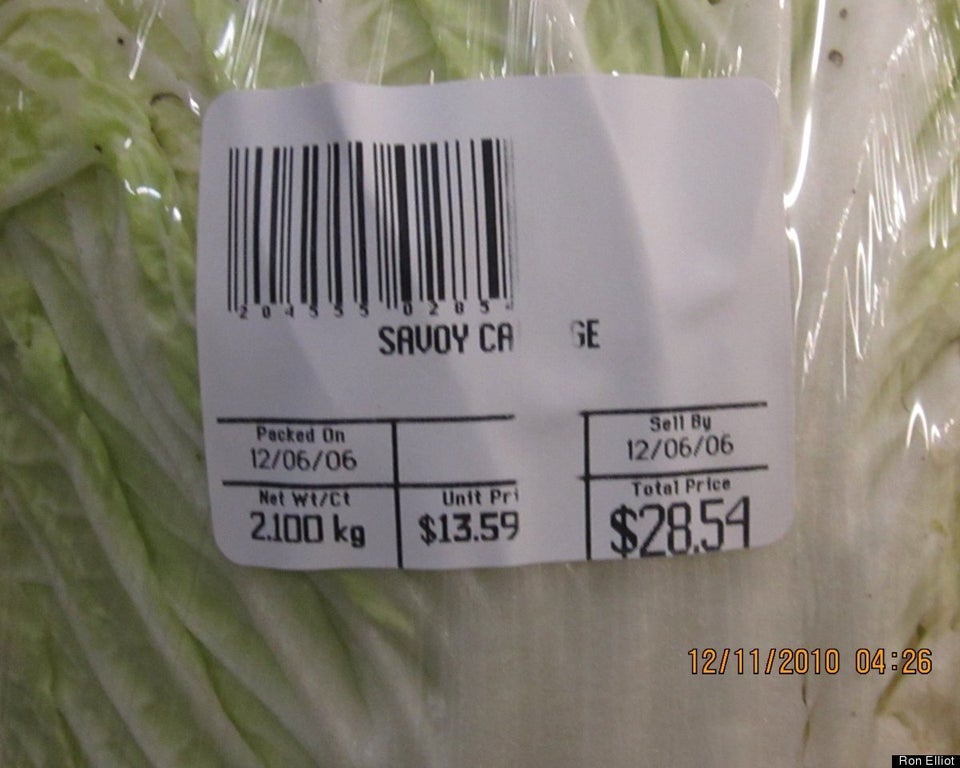 Crazy Northern Food Prices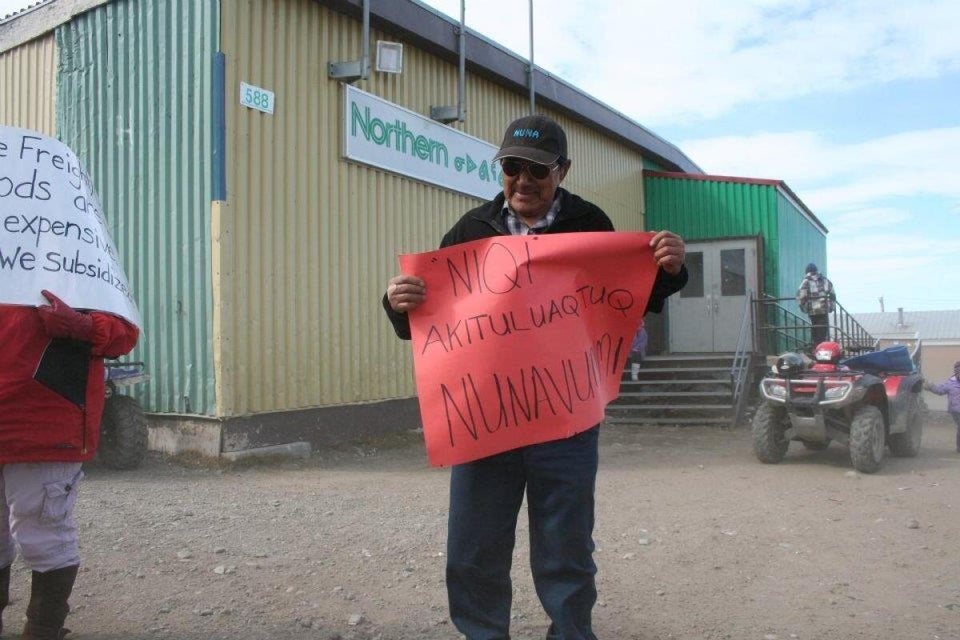 Scenes From Food Protests In Nunavut And Ottawa
Popular in the Community