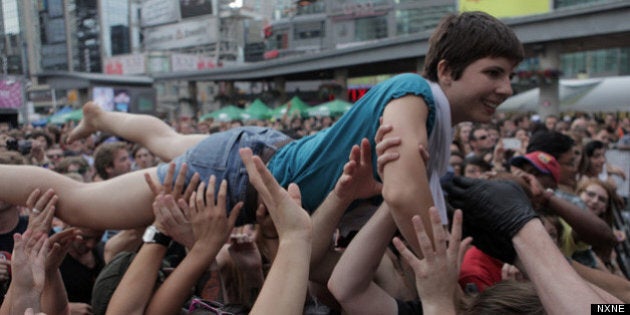 Festivals are tough to tackle sometimes, especially when you're not prepared. Thankfully we've compiled some helpful tips from the most trustworthy sources – the musicians who have to play these fests. With plenty of experience, both playing and attending shows, we asked a number of bands to give festivalgoers some advice.
Raphaelle Standon-Preston (Braids):
It's really important to see a bunch of different genres, depending on the festival. Indie's such a vast genre so you can have classical music next to a hip-hop act. I don't like drinking too much because I always end up feeling shitty. And maybe buy a weekly bus pass, therefore you have no excuse to not go out.
Stay hydrated, attend as many shows as you possibly can because it's worth it, and don't forget to eat!
I find I end up staying in one area or try to keep my night central to keep costs down. Cabs are easy to get, but sometimes there is a lot of traffic so you get stuck, pay more and might end up missing the band you wanted to see. That being said, just get out the schedule, plan ahead and make time for missteps that may stall you. Drink water and not too much during the day or you'll be pooped and miss your favs!
Do take a lot of pictures, notes in your journal, write poems, take flyers of shows, of art exhibitions, take some sand, sea shells, leaves and flowers or other objects you might find in the city so when you're back at home, you can construct a beautiful modge podge/mosaic of your experience. (Don't try to find sand or sea shells in the city)
Plan out your schedule and travel route wisely so you don't end up scrambling…or worse, crying that you missed Bear Mountain while waiting on a cab. Don't miss Bear Mountain.
Devon Richardson (Jane's Party):
Always have a backup plan. Buzz bands tend to fill venues up to capacity quickly so it's wise to keep an option B in your back pocket. It's also a good idea to attend free NXNE parties. They're a great way to meet interesting people, and also hopefully score some free food and beer.
Pace yourself. These things have a way of getting away on you fast. There are numerous parties that the industry puts on and they tend to serve free booze and start mid-day, DON'T get swallowed into the vortex and end up with a four o'clock hangover. Do go eat a hot dog at 3am, though, you'll be amazed at what it does for your head in the morning.
[Not a NXNE tip, but a good festival tip in general] Stock your suitcase full of willies and camp in a spot where you are equal distance from 2-3 stages. The mix of sounds will be so confusing and muddled that it will lull you right to sleep at four in the morning.
Popular in the Community