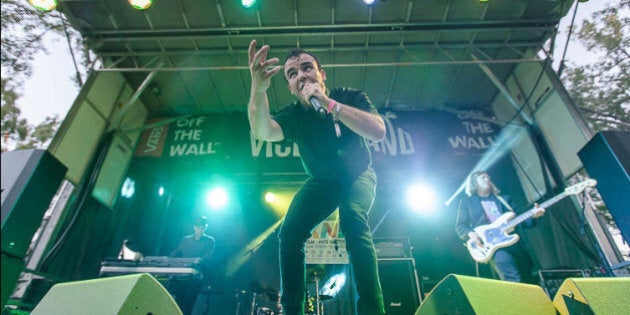 NXNE 2014 kicked off its sprawling music segment this week with hundreds of bands playing nightly across the city. Here are the highlights that we caught on Thursday, June 19, and come back for more reviews throughout the 20th North-by-Northeast festival.
House of Vans on Vice Island @ Toronto Island
That it takes ten years to become an overnight success may be a cliche, but it doesn't make it untrue. Future Islands have been producing their self-lacerating synthpop for a decade when they suddenly became 2014's hottest property thanks to a brilliant single "Seasons (Waiting On You"), an acclaimed album and a Letterman performance so heart-poundingly sincere it went instantly viral.
The benefit of such a slow build is that when the band does get their spotlight, they've got the experience to keep it. Future Islands performance at Vice Island was wonderfully, if occasionally disquietingly, intense despite the chilled out environs of Toronto island ona sunny almost-summer's eve. This was thanks to frontman Samuel T. Herring who sang and growled, danced like nobody was watching, slapped his face and pounded his chest so hard it added percussion.
That the rest of the band was so deadpan only made Herring's heart-on-sleeve theatrics more mesmerizing, though none of it would work without their musical tightness.
Mio Squirtcar @ Queen Street
Twenty to thirty minutes is the perfect set length for a comedy rock band with a gimmick like, say, performing a bunch of pizza-themed Velvet Underground covers. They can perform all of their best songs and jokes in that time period, and then the audience can move on before the shtick gets too stale. And the Mio Squirtcar was the perfect venue for The Pizza Underground, because when you're playing surprisingly tight versions of "Pizza Gal" and "Pizza Day" on a streetcar as it lurches through stop and go traffic and a hundred excitable fans are singing along, climbing seats, chugging copious amounts of flavour-enhanced water and passing pizza boxes over heard like crowdsurfers, the fact that your kazoo player used to be in "Home Alone" quickly becomes the least novel or interesting thing about your band.
Having seen this ridiculous and charming spectacle firsthand, I'm more willing to cut The Pizza Underground some slack for their reluctance to talk about kazoo player Macaulay Culkin's child star past. They really do seem like a bunch of a goofy art nerds who just want people to appreciate their silly pizza songs and Neil Hamburger-esque pizza and gynecology jokes on their own merits. I'm also willing to argue that they're earning that right, because, as far as novelty pizza bands who make dumb pizza jokes go, they're actually pretty good at what they do.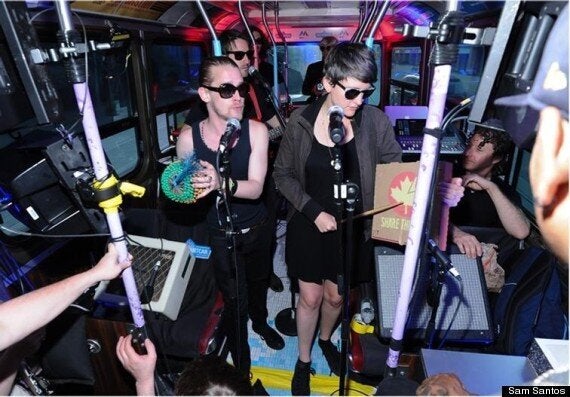 House of Vans on Vice Island @ Toronto Island
When you live in the city, you get used to not being able to see the stars at night. When you do eventually catch a glimpse, you get transfixed. That's what I was thinking as Pusha T closed out Vice Island's NXNE showcase Thursday night. It was the right music, the right time, the right place.
Surrounded by trees and a dense, energetic crowd, King Push delivered a show that had everyone on their feet and dancing together in a space that demanded a kind of reverence. It's the most fun I've had at a concert in a long time.
Now, juxtapose the twinkly lights and swaying trees with Pusha singing Kanye's "Mercy" and you've got a party. The free booze didn't hurt.
Pusha played the hits, keeping hands in the air with "Millions" and "My Name is My Name." Everyone on the island was showing him love, making it clear that his solo effort after Clipse is welcomed with open arms.
Damn, though. Stars are beautiful.
The first of three headliners at the historic Massey Hall, tUnE-yArDs transformed her polyrhythmic sounds and wild vocals into a theatrical masterpiece. Although leader Merrill Garbus admitted to being too shy to talk in such a prestigious space, her howling singing voice was the marquee, soaring over her meticulous drum work, accompanied by a second percussionist, two backup singers and bassist Nate Brenner. Through looping and harmonizing, Garbus gave an empowered performance, fully injecting every rhythmic note of her set with the same vigour that had previously earner her live shows such acclaim.
Odonis Odonis @ The Garrison
About three songs into Toronto trio Odonis Odonis' set was when the sense of dread started to hit. See, Odonis Odonis do many things I really enjoy — like rip on really distorted guitars, hammer angry drums, thunder out moving basslines and scream pointed screams throughout their songs in a very more-virulent A Place To Bury Strangers manner.
Thing is, that's a very small canvas to spew your blood splatter art all over. And with the announcement earlier in the day that the band's "Hard Boiled Soft Boiled" album had made the 2014 Polaris Music Prize Long List there was a nagging sensation of, "This is it. This is peak 'Odonis Odonis.' It will never get better for them..."
That's because being a noise rock band — even a thoroughly wicked one — is a losing game. There are, conservatively, 25 other bands at NXNE right now painting from the same sort of buzzy pallet and, realistically, cutting through the white noise to breakout status is a long odds game.
Then, right at that moment three-quarters through the set when I had sadly resigned Odonis Odonis to forever reside in one-trick pony purgatory, singer Dean Tzenos casually put his guitar away, stepped up to his keyboard, and, paradoxically, rocked out monstrously hard for a closing three song set of brutal industrial numbers. We're talking Skinny Puppy hard, Ministry-The-Land-Of-Rape-And-Honey-era hard, Young Gods-Wax Trax hard. They crushed.
So we may not have reached peak Odonis Odonis after all. And that's a good thing.
Pop Montreal @ Silver Dollar
The thing about Look Vibrant is this: they seem less like a band and more like a bunch of best friends who looked for and found another avenue to hang out with each other and have fun. That said, when you open your set with a blasting cover of Cyndi Lauper's "Girls Just Wanna Have Fun," you can be whatever you want. I was shout-singing the lyrics right along with them like I too was 20 years old.
So yeah, they're young, and I'm old enough to feel old because of that, but there's something so pleasant and winning about these guys. They're like Hollerado in that way. And in other ways: the energy, the wildness, the lead singer's hair. At one point they did a song that reminded me of their youth, but of mine, too. I wrote "Dumb pop song, probably about a girl. It's a song we all get out of our system in our twenties." So yeah, I like these guys, and can't wait to see them play again.
Pop Montreal @ Silver Dollar
"Is she...rapping?"Kristin Cudmore confirmed that she was. I think it was more that yes, she was. Or something. She's apt to do that, to mess around with her lovely voice, to chirp and quip and harmonize and then break that harmony, those harmonies. Ever the affable goofball, the aw-shucks dork, Cudmore is magnificent onstage, and the band she fronts follows suit.
Their songs are very well constructed, and multifaceted. They're pretty wild. Pretty, wild. They're pretty, but wild. The beauty of the quiet harmonies they construct is interrupted by stuff like brutish, discordant, jarring guitar work, and it's all great. With them, it seems like evidence of both sides of the brain (a brain? their brains?) working in tandem: the nasty bits are the rational and natural complement to and extension of the pretty bits, and not a gimmick.
Language Arts played a lot of new songs last night, and if they are any indication of how good recently-released LP "Wonderkind" is, we might all want to put item that on our shopping list.
Pop Montreal @ Silver Dollar
Etiquette — which is built on a base of Julie Fader and Holy Fuck's Graham Walsh — cleverly negotiated the (silly) radius clause by billing themselves as "Julie Fader" because, in Fader's own words, they "played a show in Toronto 35 days ago." I was glad they went the subterfuge route, because their set was fantastic and the whole of NXNE benefited from it. Seriously though. They were dealing. Song after song after song of groove and mood that would have had a massive crowd of people dancing all sexy-like were the show not in Toronto.
This was accomplished music built on exquisite bass lines (Language Arts' Kristin Cudmore, whom I watched with, was all about the bass lines), lovely, cool vocals (Gramercy Riffs' Mara Pellerin sang with Fader), and the understanding that people need to be coaxed and seduced onto the dance floor. Like I said. Sexy-like.
Alas, that dance floor stuff doesn't apply in Toronto. Which is a shame, really, because the music was, as I jotted down towards the end of the set, "dancey as fuck."
Toronto art-rock band Weaves have come a long way in just the span of a year. "Last year we played in a basement, now we're here," singer Jasmyn Burke tells the audience at Massey Hall. And the quick rise is warranted; the band has gained fast momentum with their latest self-titled EP solidifying themselves as a band to watch by Rolling Stone. In a similarly eclectic range as the act they were opening for that evening, tUnE-yArDs, Weaves' off-kilter riffs and vocal acrobatics bounced around the theatre walls like a giant rock n' roll beast tippy toeing its ways down the isles. The band may not be accustomed to venues of this size, but it definitely held their massive sound in all the right ways.
Viet Cong @ Smiling Budda
Viet Cong may feature members of the now-defunct Calgary post-punk band Women, but it's an entirely new project worthy of its own praise. The new act is slated to release their debut full-length later this year, but tested out their new material at their first of two shows at NXNE. The band's sound is a grab bag of influences, from psychedelia to the same slicing riffs that have garnered contemporary Mac Demarco his fame. Viet Cong jump around a variety of sounds that merge together into something that transcends nostalgia and sprints into the future of rock and punk music.
"They're one of those bands that you can't tell you're listening to a live band," said First You Get The Sugar's Alex Silver, whom I watched Seoul with. "I mean that in a good way."
What he meant, and what I agreed with, was that Seoul are already very clean onstage. Not boring. Just clean. Tight. Confident. Pop Montreal Creative Director and all-around sweetheart Dan Seligman felt the same, saying "They're bringing it tonight. This might be the best set they've ever played."
Seoul's sound was hard to place for a while. I think I expected something more like dream pop based on some press release I probably misread. When they settled in, I started thinking of it in terms of something that may not have existed. What I scribbled down was "AM radio funk from the 70s." You know. Vibrant, consistent, groovy. Dreamy and contemplative. Soft and elegant, but not in a wimpy way. Whatever adjective(s) you prefer, this is clearly a young band on the rise, and one you should make yourself aware of right now so as to reserve the future right to be an annoying super hipster who says shit like, "I listened to them before they were famous."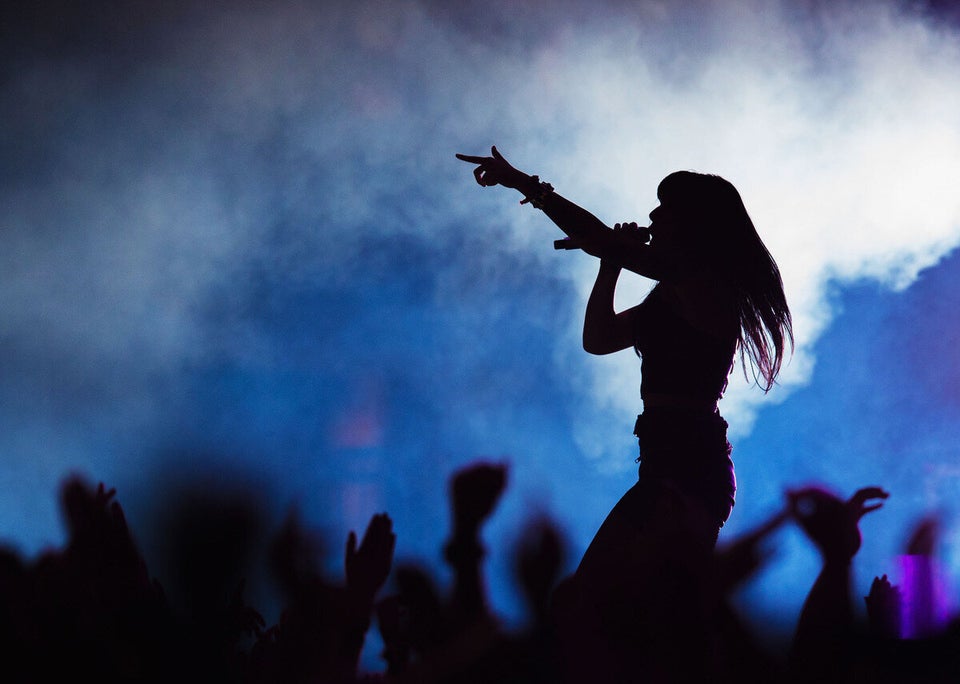 Summer Music Festival Guide 2014
Popular in the Community