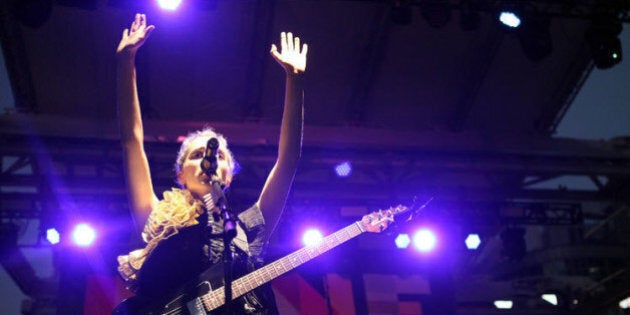 St. Vincent @ Yonge/Dundas Square
St. Vincent's eponymous 2014 release was so game-changing the mainstream walked out of its comfort bubble and tilted its collective ear towards the beautiful bastard child of future funk and art rock. It's official: Annie Clark is a boss.
So YD Square was pretty well rammed by the time the set shook itself to life. Clark said things like "Greetings!" because, above all, she's kind of an awesome nerd.
Then we heard the electronic bubbles that comprise the first bits of "Rattlesnake." And then we watched Annie Clark, complete with cornrows and a wicked outfit that Grace Jones probably wore in the 80s, vogue like a robot mannequin before grabbing the mic and going to work. It was a perfect opener, and with it, Clark, perfect and athletic, set the tone for the evening.
She followed "Rattlesnake" up with "Digital Witness," her paean to our technologically-obsessed age. Bathed in fog, and pink and purple lights, she emerged, like a goddess, our singular focus on a relatively bare stage. "Digital Witness" was expertly delivered, but the best part of it might have been when one of the cameras projecting video onto the big screen(s) caught Clark breaking character slightly and cracking a smile.
The most impressive thing throughout was Clark's showmanship, her commitment to the performance she was giving. She was very much in character, and in a wonderful way. She's statuesque when she sings, and sings with her whole face. She shreds like a motherfucker but doesn't make a big deal of it like she has something to prove, rather standing in place and letting her hands and the instrument do the talking. She bends notes like Beckham and crushes them like the Hulk, but does it with an unreadable placidity on her face, like she's reading a book or listening to you talk.
Highlights of the set for me were, in order: everything. That's it. Everything she did she did expertly and perfectly.
"Rattlesnake" was bouncy and beautiful. "Digital Witness" elevated the crowd. "Prince Johnny" broke a thousand hearts. "Huey Newton" lulled me into a trance. "Birth In Reverse" made me lose my voice from shouting. I watched "Regret," my favourite St. Vincent song, with one of the few people I know able to appreciate Clark's guitar heroism, and together we basked in that gorgeous and irresistible bridge bit between the verse and the chorus. "Bring Me Your Loves" was buzzy and fuzzy and the pedals used by Clark and her guitarist (before they did their best impression of toy soldiers) tripped me and everyone else out. That might have been the best song, to be honest.
The two highlights that weren't about music for me, in order:
1) When the girl working at the Budweiser VIP area whatever thinger listened to me ranting about how amazing this art-rock person was for like, five minutes. She turned to the stage to see Clark faux-falling down stairs in a very artificial, dramatic way. She looked me dead in the eyes and said, "I don't know about you city boys."
2) In the middle of the set, Clark spoke. "A very special, very warm welcome to the freaks and the others," she said to the throng. I felt loved. And understood. I was exactly where I needed to be. And no one can take that away from me or anyone else.
Spiritualized @ Massey Hall
There was a moment during Spiritualized's Massey Hall performance right when the frenetic track "Electricity" ended and the transition to the languid, shimmery "Shine A Light" began where everything became ... perfect.
It was a synesthetic experience, evoking firefly flashes and shooting star trails throughout the hallowed 120-year-old venue and it validated the best intentions of the NXNE fest planners' very ambitious plan to host three nights of shows at Massey.
The rest of the set, a fair mix of both new and old, rendered by a relatively-economical-by-Spiritualized-standards seven piece was meted out with band leader Jason Pierce's trademark command of high and low, slow and fast, noisy and pretty.
By the time the band roared through set-closer "Come Together" it felt like the brave souls who'd made the trip to Massey had been part of something special.
Red Bull Sound Select @ Tattoo Rock Parlour
Toronto is known in hip-hop circles as the screwface capital, which rising rap star A$AP Ferg noticed early on with a disappointed rebuke: "I'm not used to such a cool show, let's get turnt up like you burnt up." And then he magically managed to make that happen.
Perhaps it wasn't a show we'd tell our grandchildren about, as he promised, but the Hood Pope nevertheless created a quasi religious experience as he delivered what amounted to a hip-hop, punk-rock rave with ribcage rattling base and hip-breaking electronic beats that turned the packed room into a proper moshpit.
He also brought an audience member onstage to freestyle, and the guy was so good it turned the whole show up another notch just in time for the crowd to be invited onstage to rock out to Ferg's greatest hit, "Shabba Ranks." He might share a first name with more famous fellow Mob member A$AP Rocky, but Ferg isn't going to be overshadowed for long.
Budweiser Music House @ Horseshoe
NXNE headliners Spoon surprised fans as the secret guests at the Horseshoe on Friday night. Performing a handful of new songs from their upcoming album, "They Want My Soul," the now-five piece proved that their four-year break injected new energy into their songs and live performance.
"This was the fourth time the band has played at the famous Horseshoe Tavern, as leader Britt Daniel noted, and it is definitely a more intimate affair than their main show at Yonge-Dundas Square. In addition to the new tracks, which were marked by its robust guitar riffs by new member, and Divine Fits keyboardist, Alex Fischel, Spoon also dug out hits from their last few albums, "Transference" and "Ga Ga Ga Ga Ga" combining our sheer excitement for new music with a blast of nostalgia.
In the Venn diagram of the many festivals going on in Toronto this weekend, I realized that Le1f rests between NXNE and World Pride. The "out and proud MC" brought out a dance-loving crowd with a notable queer contingent.
Le1f came out grinding, his dance moves as impressive as his signature machine gun baritone. Miley doesn't hold a candle.
Keeping the crowd going with songs like "Coins," and the sexual tension high with tunes like "Spa Day" ("I'm not a yoga master but he wanna see my body fold"), and of course hit hit "Wut," Le1f had the audience rapt.
When I got home, I tried one of his dance moves. I failed.
Danny Brown officially has rock star status, that much was clear by the literally jammed full Mod Club floor. My ribs are bruised from being pushed into the front of the stage. People were hysterical.
From the Darq E Freaker party anthem "Blueberry (Pills and Cocaine)," and songs from his latest album "Old," to older hits from "XXX" like "I Will," Danny had the crowd bumping.
His green-tipped locks, wire frames glasses, signature leather pants and even more signature waggling tongue only increased the madness -- people were grabbing at his legs between songs. The girl behind me was doing everything she could to graze his hand with hers. He is the black Brad Pitt, after all.
It was a decidedly younger crowd, which speaks to the way his music has turned since "XXX." I'm pretty sure there was a 15-year-old Molly-enthusiast beside me. He'll always be on my playlists, but the newer EDM-inspired party tracks just don't do it for me like his other stuff did. Maybe I'm just getting old, too.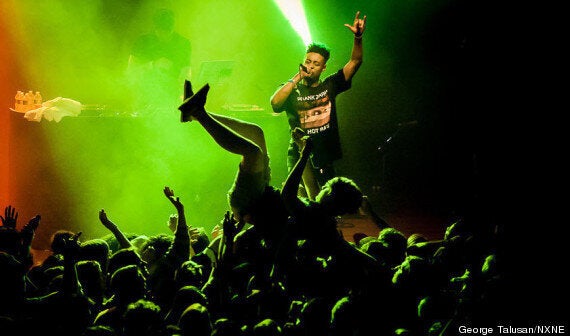 Swans @ Yonge-Dundas Square
One of the first addresses Michael Gira, the grizzled Mickey Rourke lookalike and lead singer for Swans, made for the swelling audience at Yonge-Dundas Square was a throaty banshee yell, then a pointed look a across the venue's Times Square-lite skyline accompanied by a roaring, "Bring theeeessse buildings down!"
This nihilistic message perfectly encapsulated the wonderfully subversive hour-long set from the veteran New York experimental rock act.
Despite playing a free show in the heart of a busy city square, there were no concessions to populism by the six-piece. They started their set with what was essentially an extended gong solo by percussionist Thor Harris and proceeded to hammer through slicing, often hypnotically noisy renditions of "Frankie M" and "The Apostate."
Swans' set was strident, uncompromised and vicious, and contemplating what pedestrians who stumbled upon the show by accident might have thought about it is going to remain very entertaining for a very long time.
Budweiser Music House @ Horseshoe
From the get go, Syracuse punk band Perfect Pussy were having technical difficulties with their set at the Horseshoe Tavern. The five piece walked onstage to a broken bass amp, but it was temporarily fixed shortly after and the band began to tear through breakneck speedy tracks from their standout debut album Say Yes To Love.
As usual, Graves' vocals were so buried in the mix that one couldn't actually hear her as she jerks around the stage screaming at the top of her lungs, but all that is intentional, allowing the brute force of the guitars, drums, bass and electronic glitches hurdle through like an avalanche. But all that came to a thunderous end when the bass problems returned and bassist Greg Ambler destroyed his instrument by snapping it in half and walking offstage.
This isn't the first time Ambler's done such a thing either, having thrown his bass into the river during SXSW. That might explain the band's almost seamless transition into what appeared to be Graves improvising a set as each member packed up and left the stage one-by-one in disappointment of the venue's sound problems. Whether this routine has happened before or not, it must not be overlooked that Perfect Pussy can put on a great show, but under the unfortunate circumstances, they buckled under the technical issues and were ultimately ushered offstage by the Horseshoe's staff.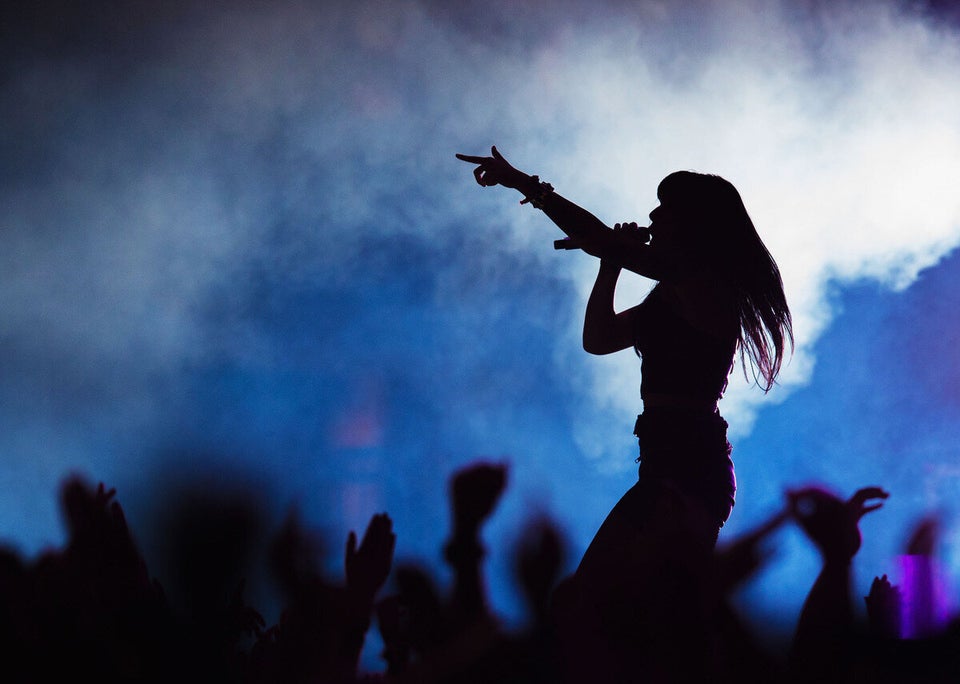 Summer Music Festival Guide 2014
Popular in the Community