"The world needs more Canada."
U.S. President Barack Obama had many kinds words for this country during his historic address to the House of Commons Wednesday, including compliments for Canada's leadership on accepting refugees, embracing diversity, and addressing the threat of climate.
But Obama was also unambiguous about urging Canada to pay its "full share" to the North Atlantic Treaty Organization (NATO) — a remark that spurred head-nodding and applause from Prime Minister Justin Trudeau.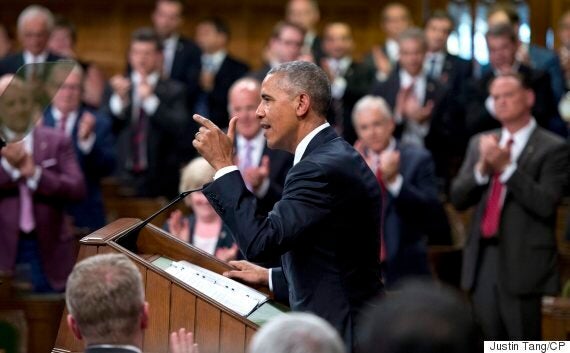 U.S. President Barack Obama addresses Parliament in the House of Commons on Parliament Hill in Ottawa on Wednesday. (Photo: Justin Tang/Canadian Press)
Obama held up the NATO alliance as a key institution that binds the U.S. and Canada together with common purpose.
"When nations violate international rules and norms, such as Russia's aggression against Ukraine, the United States and Canada stand united, along with our allies in defence of our collective security," Obama said.
And that requires forces be ready for 21st century missions, he added.
"As your ally and as your friend, let me say that we'll be more secure when every NATO member, including Canada, contributes its full share to our common security," Obama said.
"Because the Canadian Armed Forces are really good. And if I can borrow a phrase, the world needs more Canada. NATO needs more Canada. We need you. We need you."
That passage of Obama's address earned a standing ovation.
Though Canada committed in 2006 to spend two per cent of its gross domestic product on defence, this country has consistently missed that mark.
Meanwhile, south of the border, presumptive Republican nominee Donald Trump has openly dismissed those NATO allies who do not meet the two per cent threshold as freeloaders.
The head-nodding and the standing ovation may have just set the table for discussions to come.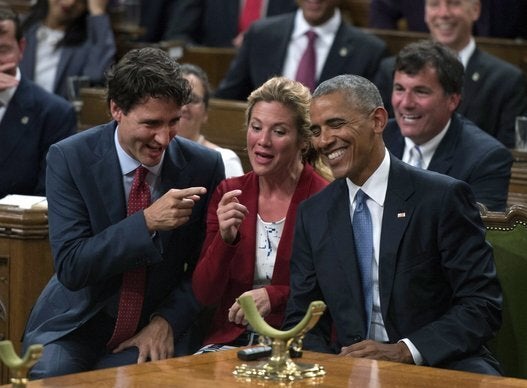 Three Amigos Summit 2016