In what he called a "cathedral of freedom," U.S. President Barack Obama pointed to a Canadian cabinet minister as an example of what's possible when refugees are embraced in this land of immigrants and strangers.
The acknowledgement of Democratic Institutions Minister Maryam Monsef — who came to Canada from Afghanistan the age of 11 without knowing much English and without her father — was perhaps the most emotional moment in Obama's historic address to the House of Commons Wednesday.
The president touched on many issues, but consistently circled back to a call to reject the toxic, fear-driven politics that preys on the immigrant, the refugee, the vulnerable, and any who seem different.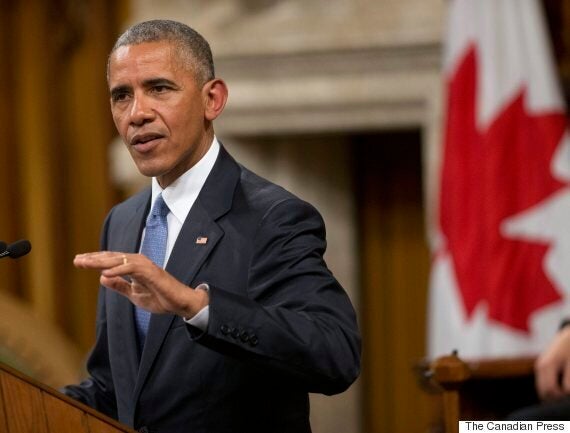 U.S. President Barack Obama addresses the House of Commons in Ottawa. (Photo: The Canadian Press)
"We have to call this mentality what it is — a threat to the values we profess, the values we seek to defend," Obama said.
It is an obligation, he later added, to boldly stand up against the "slander and hate" levelled against Muslims and those who worship differently.
And on those refugees fleeing Syria only to face suspicion or scorn, Obama said Canadians and Americans must always remember "we were all once strangers."
"When refugees escape barrel bombs and torture, when migrants cross deserts and seas seeking a better life, we cannot simply look the other way," the president said. "We certainly can't label as possible terrorists vulnerable people who are fleeing terrorists."
'The girl who fled Afghanistan by donkey and camel and jet plane'
Obama said Canada and the U.S. will continue to welcome refugees, while still satisfying security concerns. Budgets are tight and not everyone can be helped, but the president said now is the time to try.
He lauded Canadians for leading the way by opening their "hearts and their homes," by knitting toques in the dead of winter for newcomers.
"And we see the refugees who feel that they have a special duty to give back, and seize the opportunity of a new life," Obama said.
"Like the girl who fled Afghanistan by donkey and camel and jet plane. And who remembers being greeted in this country by helping hands and the sounds of robins singing," he said.
"And today she serves in this chamber and in the cabinet because Canada is her home."
CLARIFICATION - Sept. 22, 2016: MP Maryam Monsef issued a statement that she recently learned from her mother that she was in fact born in Iran, and not Afghanistan.
Monsef's mother said she felt it didn't matter to tell her daughters because under Iranian law, they were born to Afghan parents and not considered Iranian citizens.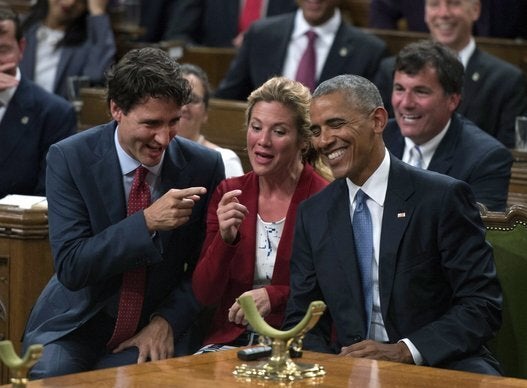 Three Amigos Summit 2016