When Prime Minister Justin Trudeau visited Washington D.C. in March, U.S. President Barack Obama was waiting with the coolest possible gift to cement their budding bromance: a copy of the "Star Wars: The Force Awakens" script, signed by director J.J. Abrams.
All public officeholders and their family members who receive gifts worth at least $200 are required to make a declaration to the ethics watchdog within 30 days.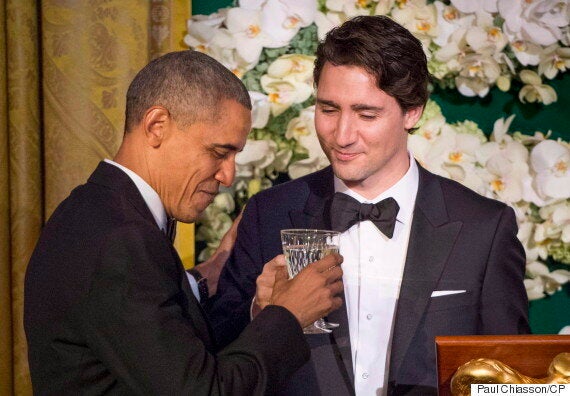 Prime Minister Justin Trudeau proposes a toast to U.S. President Barack Obama during a state dinner on March 10, 2016 in Washington. (Photo: Paul Chiasson/CP)
The prime minister noted that he received the script, which came in a custom leather slip case with "a personalized inscription," on March 10 — the day of the historic state dinner at the White House.
But that wasn't all the Trudeaus received from Obama and his wife.
The president and first lady also gave their counterparts a framed photo of a U.S. national park and an olive branch sculpture by Maryland artist Zachary Oxman — also "with a personalized inscription."
Trudeaus presented sculpture from Cree artist
The Trudeaus, of course, did not show up empty-handed. CBC News reported at the time the prime minister and his family gave the Obamas a soapstone sculpture carved by a Cree artist, and that Gregoire Trudeau presented the first lady with a cape beaded by a Quebec Mohawk designer.
According to The Toronto Star, the Obamas dogs, Bo and Sunny, also scored some Canadian-made all-weather booties.
PM received headdress from Alberta First Nation
Trudeau has received other interesting gifts in recent months, according to the updated registry.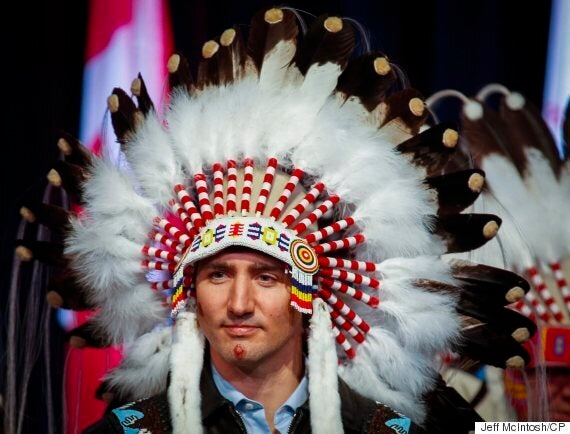 Prime Minister Justin Trudeau poses after receiving a ceremonial headdress while visiting the Tsuut'ina First Nation near Calgary, Alta., on March 4, 2016. (Photo: Jeff McIntosh/CP)
Trudeau also declared that Whistler Blackcomb ski resort in British Columbia provided "discounts on guides and lift tickets "during a family ski holiday in February.
With a file from The Canadian Press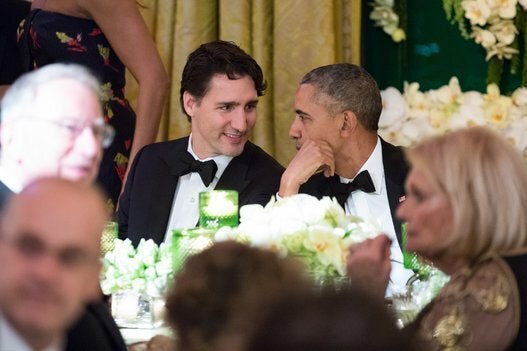 Trudeau's Historic Washington Visit