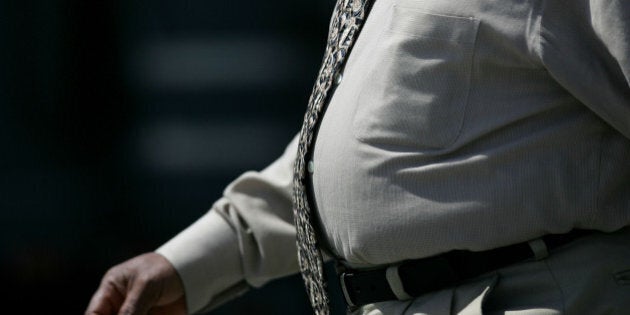 Hi there, Canada. Have you been carrying a few extra pounds lately?
The answer is a firm "yes" if you ask Statistics Canada (StatsCan). The data-gathering body released a report last week showing that the proportion of obese Canadians now sits at 20.2 per cent, up from just over 15 per cent in 2003.
StatsCan gathers its data using Body Mass Index (BMI), a measure that takes a person's height and weight into account.
Those who are 5'4", for example, are considered obese if they weigh over 174.4 pounds. People who are six feet tall are said to be obese if they tip the scales at over 220.7 pounds.
The number of men who report being obese sat at 21.8 per cent in 2014, up from just over 15 per cent in 2003. The proportion of obese women grew from 14.5 per cent to 18.7 per cent in the same time frame.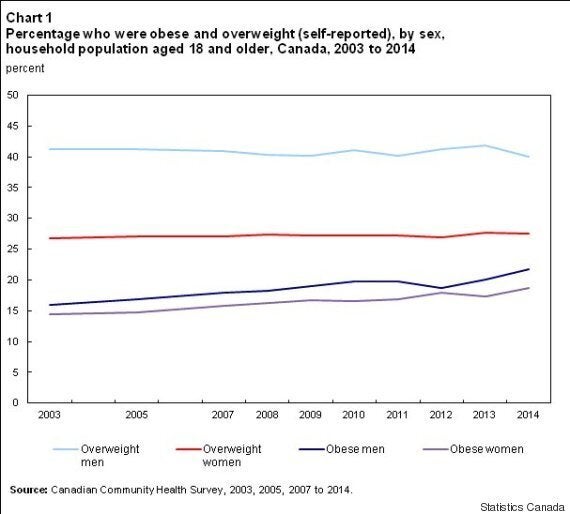 A growing trend was also witnessed when combining people who reported being obese and overweight.
Data cited in the report showed that the proportion of overweight and obese men jumped from 57.3 per cent in 2003 to 61.8 per cent in 2014, while for women, the number grew from 41.3 to 46.2 per cent in the same period.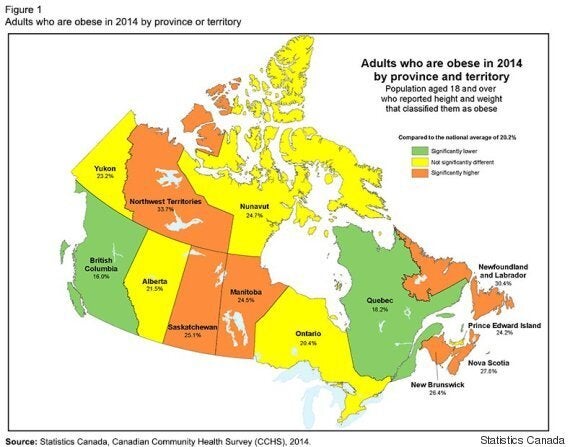 The highest proportion of obese people live in the Northwest Territories, at 33.7 per cent, according to StatsCan.
Obesity has been identified as a result of a lack of "food security," meaning access to nutritious and affordable meals.
At 13.7 per cent, the Northwest Territories had the second-worst food security rate in Canada in 2011-2012, behind Nunavut at 36.7 per cent, and ahead of Yukon at 12.4 per cent.
The high cost of food in Canada's north has long been a topic of discussion — cases of water have been known to cost as much as $105.
The higher rates of obesity in Atlantic Canada, meanwhile — 30.4 per cent of people in Newfounland and Labrador are considered obese — have been attributed to a lack of physical activity, The Canadian Press reported in 2013.
StatsCan found the lowest proportion of obese Canadians in British Columbia, at 16 per cent.
While BMI is trusted as an obesity measure by both Health Canada and the World Health Organization, there are questions about its efficacy.
The New York Times last year said that BMI doesn't take different fats into account, and that it was never intended to be used for people's weight, though it does get accurate results for sedentary people.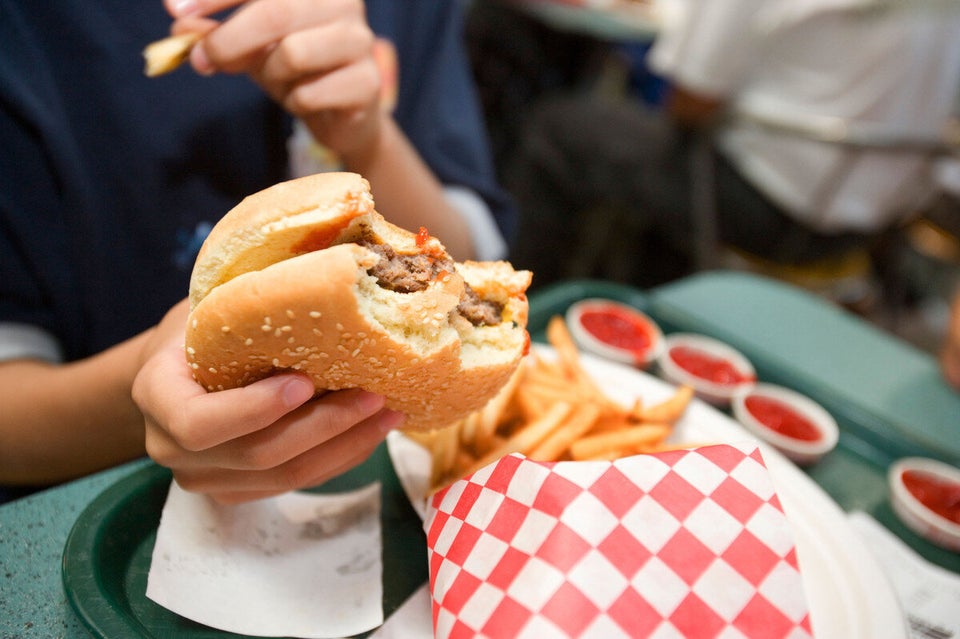 Facts About Childhood Obesity