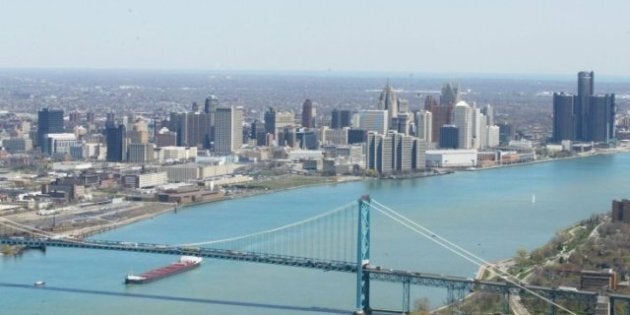 Occupy Detroit protesters joined forces with local Michigan activist groups Thursday to block a major U.S.-Canada border crossing during rush hour.
Some 100 activists created a human chain on the Detroit side of the Ambassador Bridge at around 5 p.m., shutting down traffic for an hour on a border crossing that carries more than 10,000 trucks per day.
The protest was targeted primarily at Manuel "Matty" Moroun, the owner of the Ambassador and the force behind an aggressive campaign in Michigan to prevent the construction of a new border bridge.
Protesters said Moroun's opposition to the construction of a new, public border crossing is keeping thousands of jobs from being created in Michigan.
No arrests were made during the protest, as organizers informed police and U.S. Department of Homeland Security agents that the occupiers would clear out by 6 p.m.
Other protesters drew attention to the fact Moroun had not completed his portion of the Gateway Project, a $230-million reconstruction initiative that would have removed heavy truck traffic from local streets on the Detroit side of the border.
"Today we made sure our Windsor sisters and brothers knew we were doing this," Democratic State Representative Rashida Tlaib said, as quoted at the Windsor Star. "They're tired as much as we are. They're tired of the trucks rumbling through their community. They're tired of the asthma rate increases. ... We may not be billionaires, but we have rights. We have power. The 99 per cent -- we may not have money, but the power of the people matters."
Canada's federal government has called a new crossing from Detroit to Windsor, Ontario, its "number one infrastructure priority."
Canada has even offered $550 million to Michigan to help realize the plan. About a quarter of U.S.-Canada trade crosses the border at Detroit, amounting to $150 billion of trade per year.
He owns a trucking enterprise that employs 5,000 people on both sides of the border, and critics say he built his empire thanks to his stranglehold on traffic across the Michigan-Ontario border.
Moroun's campaign has also received help from the Koch brothers, billionaire energy industrialists whose political pressure group, Americans For Prosperity, has been spending money on the effort to stop the bridge.
The group has been accused of running a smear campaign. Earlier this year, phone eviction notices appeared on the front doors of homes in Detroit's Delray neighbourhood. The notices, linked to AFP, alleged that residents would be evicted if the new bridge were to be built.
With earlier reports from the Huffington Post
Popular in the Community