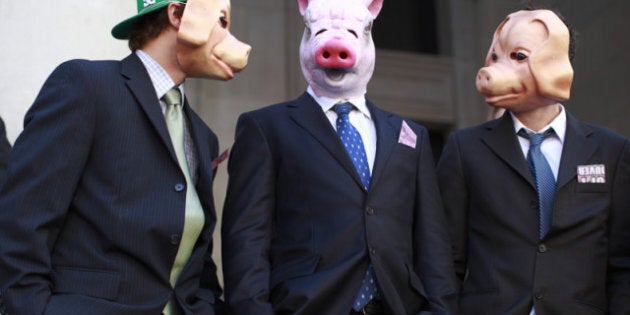 To say that Occupy Toronto has received comprehensive media coverage is an understatement.
Since the demonstrations kicked off on Saturday, a small army of reporters, photographers and TV trucks has followed every minor incarnation of the movement with unflagging devotion. Though nothing about the action has made it newsworthy in the traditional sense — participants have so far been more likely to break into song than break windows — the media has been a constant and formidable presence, treating everything from splinter protests on Bay Street to daily organizational meetings in St. James Park like major events.
The same is true in Vancouver, where demonstrator Eric Hamilton-Smith told The Huffington Post Canada by phone on Monday, "Every media institution that I can think of at one point or another has been trying to get an interview."
But as media continues to grapple with the meaning of a movement that is still trying (often somewhat incoherently) to define itself, experts say their continued presence may be the most meaningful message of all. Despite the disorganization of the General Assemblies and the lacklustre nature of the marches, observers maintain that the media's interest in Occupy Canada reflects the role social networking has come to play in protests — and, perhaps even more importantly, the sense that what's unfolding here is part of something big.
"I don't think we have seen anything quite like this in many years," says former Globe and Mail bureau chief Jeff Sallot, who got his start covering anti-Vietnam War protests in the late 1960s. "This goes farther than just things like Pentagon spending. It also is touching on the fundamental economics issues, even if the discussion is often reduced to a placard."
Generally speaking, when it comes to public demonstrations, news organizations are usually disinterested in the peaceful variety.
"When corporate media tends to cover protests, it's often the spectacle that they're covering, or the violence. As we all know, that makes good television in particular," explains Megan Boler, a media and policy studies expert at the University of Toronto, who says that there is often a "media blackout" on protests that don't fit this description.
But unless you count a shirtless man performing sun salutations in the gazebo in St. James Park as spectacle, that characterization is far removed from Occupy Toronto.
On Monday morning, guitars were the loudest sound in the tent city, where police presence was limited to a handful of bike cops chatting amongst themselves on a nearby sidewalk.
When asked about the demonstrators, one of the uniformed officers offered, "These are some of the nicest people I've ever met."
So how to explain the attention Occupy Canada is receiving?
To be sure, part of the motivation stems from the fact that news organizations know full well how quickly the tenor of demonstrations can change — a reality that is likely front of mind after the recent violent protests in Toronto and Vancouver at the G20 and the Stanley Cup final.
Hamilton-Smith, for one, believes that in Vancouver, some media outlets have tended to "fixate" on Stanley Cup riots and arrests at Occupy Wall Street in their coverage in an attempt "to create a juicy story."
(Occupy demonstrations in the U.S. and other countries — which have been underway since protesters jammed lower Manhattan more than a month ago — have at times sparked violence and mass arrests.)
But the coverage is seems to be about more than the desire to have preemptive boots on the ground.
Clearly, an important factor is social media, which has played a significant role in generating buzz around the Occupy movement. Across Canada, organizers have set up Facebook groups, Twitter profiles and online forums to allow participants to communicate and plan events publicly — which, as any reporter can attest, makes their job a helluva lot easier.
"As opposed to it being a kind of illegal, direct action where people are trying to keep off the radar, and take [people] by surprise, this is presenting itself, and intentionally being very public," says Boler, who is studying the impact of social media on protest movements. "And, it's using social media in such a way that journalists are able to know when something is going to happen, even beforehand."
Yet the Twitter-effect doesn't fully explain why Occupy protests have vaulted to Page One (or, in the case of this news organization, the "splash" at the top of the homepage).
As Jacqueline Kennelly, author of Citizen Youth: Culture, Activism, and Agency in a Neoliberal Era, points out, the road for Occupy Canada was paved, in large part, by Occupy Wall Street.
"It's not like they received the most coverage when they started. They had to camp out for a month," she says. "The perseverance of the Occupy Wall Street campers gave it some legitimacy."
Though Boler says some of the mainstream media interest in Occupy Wall Street came after the demonstrations "got hostile," it took hold in earnest when the message, however broad, began to strike a chord.
"Something has shifted. The shift to me happened with two things: One was when the slogan, 'We are the 99 per cent, came out.' The second was when, on October 15, at least 140 cities across the U.S. and all of these global cities protested," she says. "This touches a nerve of the 99 per cent — including journalists, who are not making six-figure incomes."
The extent to which this message is resonating with even mainstream media, she says, was made clear on Saturday in Times Square, when one of the oversized news tickers reported that Occupy Wall Street had gone worldwide.
"That was, in all of my 20 years of being involved in this as a scholar and an activist, the first time I have ever had that experience," says Boler, who was among the Occupy demonstrators in attendance at the time. "There we are in the streets and our actions have made it into the representation of corporate-owned news."
All of which, Sallot says, is giving the movement a boost — even though it may not always seem that way.
Despite the media's apparent discontent with participants' ability to articulate their demands in coherent fashion, as he sees it, "The coverage has helped the demonstrators."
The occupiers themselves, however, don't seem so sure.
During Saturday's General Assembly at St. James Park, demonstrators tried to intervene when they realized that their message — disorganized, loud, and confused – was the one that the mainstream media was getting too.
"Guys — there's cameras everywhere. CBC is here. CP24 is here," said one protester as the debate descended into argument. "They're recording us acting like this. This is what everyone is going to see."
But whatever message they are receiving, the public appears to be paying attention.
As occupiers filled their bowls with a goulash of donated vegetarian chili and roasted potatoes on Monday morning, the tent city in St. James Park was visited by a steady stream of office workers, dog-walkers and curious passersby.
Sales executive Chris Chant and his wife were among those who paused to look at the dozens of hand-drawn placards that had been placed on the grass near the main thoroughfare.
"We saw it on TV," he told HuffPost, "and just thought we'd have a look."
With files from Huffington Post Canada reporter Scaachi Koul