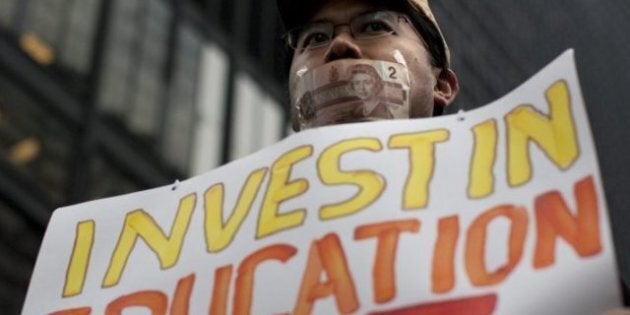 UPDATE: The cold drizzle that settled over Toronto Saturday afternoon didn't seem to dampen the spirits of Occupy Toronto protesters -- but can they last for the long haul?

Some protesters say they plan to settle in at Toronto's St. James Park for weeks. Some even say they plan to stay until December, when Toronto's winter will undoubtedly be bearing down on the city.

According to reports on Twitter Saturday night, police have been telling protesters that they won't ticket anyone for sleeping in the park the first night of the occupation.

But so far, neither the police, nor residents of the neighbourhood just east of Toronto's business district, have indicated how they will react to a long-term occupation aimed at drawing attention to the world's shaky financial infrastructure.

GALLERY: IMAGES OF #OCCUPYCANADA

An impromptu march broke off from the park protest as night set in, with about 50 people marching down Adelaide Street singing the national anthem.

Earlier in the day interim Liberal Party Leader Bob Rae showed up and told the media he saw the protest as a "spontaneous expression of people's concerns" about the global economy.

"We live in a country where we want to take care of each other. That's the definition of a good country in my view," Rae said. "And right now we're not taking good enough care of an awful lot of people."

Police arrested two individuals in Toronto's business district after a man was seen entering Commerce Court West office tower with a hammer. There were no injuries and no damage was reported.

The arrests took place around 4:30 p.m., several hours after the protest had left the business district and migrated to St. James Park. Protesters on the scene said the arrested were not part of the Occupy Toronto event.
STORY CONTINUES BELOW GALLERY
As the clock tower at Toronto's St. James Cathedral struck 12 noon on Saturday, several thousand demonstrators filed into the park below, hoisting colourful signs and chanting in unison.
Though grey clouds threatened rain, the mood on the ground at Occupy Toronto was joyous. As demonstrators gathered near a wooden gazebo, their bluesy rendition of "Where did the money go?" got a lift from a saxophone player. Meanwhile, a purple balloon bounced through the air as one young couple kissed passionately, drawing attention from photographers and onlookers.
Organizers declined to disclose the location of ground zero in advance of Saturday's protest, but it has now become clear that the movement will be based in St. James Park, a patch of green space in downtown Toronto that straddles the financial district and one of the city's grittier pockets.
Taking their cue from Occupy Wall Street, where thousands of demonstrators are holed up in lower Manhattan to fight perceived corporate greed and stand up for the so-called "99 per cent," demonstrators across Canada took to the streets on Saturday. From St. John's to Victoria, protesters raised signs and chanted slogans -- putting a made-in-Canada spin on the grievances that have been gaining steam south of the border.
The demonstration in Toronto kicked off at 10 a.m. with a few hundred people gathered on the steps of the TD Bank building at the corner of King and Bay Streets. Though green banners erected on the bank's exterior reminded patrons that TD was "still open for business," the placards hoisted by the protesters below were the focus of attention for the scores of media outlets that turned out to cover the event.
As in Manhattan, the perceived ills of the banking establishment was at the core of some of the frustration.
Appealing directly to the Minister of Finance, one of the signs urged Jim Flaherty to "support a transaction tax on the wealthy now."
"RBC CEO paid $44 million in 2007; RBC teller pay only $30 thousand!" read another.
But many of the demonstrators were motivated by other concerns. Those who marched along Adelaide Street and into St. James Park included First Nations rights activists, labour unions and environmentalists.
Dressed in pink costume glasses and carrying a CUPE sign, an Air Canada flight attendant told The Huffington Post that her motivation was the recent decision of Minister of Labour Lisa Raitt to block her union's right to strike.
"We're here because our negotiations were unsatisfactory for the worker. We had the right to strike but it was taken away from us," said the 30-year-old, who declined to give her name. "I really identify with the whole movement that's goes on here against corporate greed. Everyone seems to be affected by the same thing -- the rich keep getting richer and the poor keep getting poorer. I'm here for the middle class."
As he made his way towards the park, 33-year-old Adam Roach wore a placard that read, "The gap between rich and poor is growing faster in Canada than it is in the United States" -- a fact he attributed to The Globe and Mail.
"I just wanted to be very specific, and just pull information from the actual news that was out there already," he explained. "Providing a source that is a reliable source just kind of helps solidify our angles. It's the truth."
Not everyone, however, was on board.
Carrying a sign telling demonstrators to "blame yourselves" for feeling "envious" and "poor," self-proclaimed counter-protester Mel Glickman accused Occupy Toronto participants of "copying Wall Street."
"They don't even know [about] the conditions that started the Wall Street movement. They think it translates to Canada, which it does not," he said. "These are just envious people ... They want the rich to pay -- which, as a rich person, we do. I bet you my taxes are more than everyone's taxes here put together, and I resent this."
While Occupy protests in other countries turned violent on Saturday, the demonstrations across Canada have so far been peaceful.
In Halifax, demonstrators crowded into a park in the city's downtown, setting up tents, waving union banners, hoisting hand-drawn placards and talking politics.

Police estimated there were about 200 people in the Halifax demonstration. It was expected many would remain into the night.

There was a similar scene in Montreal where hundreds gathered at Victoria Square in the city's financial district.

The site was dotted with a half-dozen tents and coolers brought by those planning a long occupation.

Several demonstrators cited the Quebec government's refusal to hold an inquiry into corruption in the construction industry as an example of how governments fail to act on the demands of citizens.

In Winnipeg, dozens of people came out for the occupation demonstration.

Other Canadian cities slated to see protests included Calgary, Vancouver, Fredericton, Moncton, N.B.; Guelph, Windsor, Kingston and London in Ontario; Nanaimo, Courtenay, Duncan, Kelowna, Kamloops and Nelson in B.C.; Lethbridge, Alta., Regina and Ottawa.
Several demonstrators in Toronto told The Huffington Post Canada that they are pledging to occupy the park for "as long as it takes." More than a few toted backpacks and sleeping bags, and within a hour of the group's arrival, a handful of designated medics -- identified by red crosses taped to their arms -- set about pitching a tent in an area cordoned off with caution tape.
As he taped a cardboard sign to a nearby lamppost to identify the area, one volunteer medic, who identified himself as only as Jim, noted that his "personal and professional history with this sort of thing and with tear gas goes back to 1968."
Though he was initially "a little taken aback" with the idea of leading by consensus at the centre of the Occupy movement, he says, "I have come to find it a very interesting process."
Shortly before the scheduled evening General Assembly, children were running around on the grass, playing with mud and catching rain drops, while adults formed circles on dry spots to eat and play guitar.
While many of the demonstrators will leave for the night, police have told media that they will not ticket those who hole up in the park overnight.
As a fellow participant passed out sandwiches, 25-year-old Christopher Lampe expressed optimism about the potential impact of the movement.
"Everybody's waiting for someone else to make a change," said Lampe. "We have to do it. We're that generation."