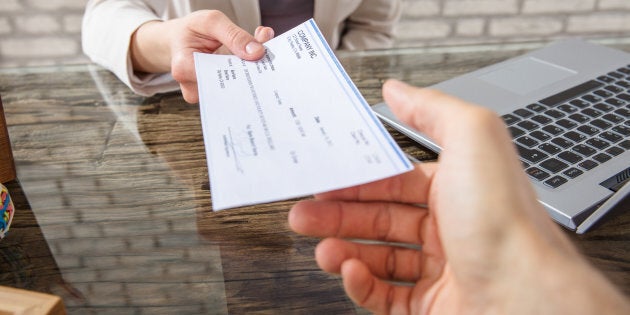 A decade after the Great Recession, the world's developed countries have seemingly recovered.
Unemployment rates are at or near record lows in many countries, including Canada and the U.S. And according to a new report from the Organization for Economic Co-operation and Development (OECD), the share of people with a job is now higher than it was before the financial crisis. In Canada, for instance, we have a major labour shortage, with some 400,000 unfilled jobs.
With employers desperate to hire, pay should be rising rapidly these days. But instead, wage growth is "missing in action," the OECD reported in its latest employment outlook, with the world's developed countries seeing "unprecedented wage stagnation."
Watch: The best cities in Canada for job-hunters (Story continues below)
In fact, wage growth is just half what it was in comparable times before the financial crisis. In 2007, when unemployment rates in the 35 relatively wealthy OECD member countries were roughly what it is today, wage growth clocked in at 5.8 per cent. In the fourth quarter of 2017, it came in at just 3.2 per cent.
The slowdown in Canada's wage growth wasn't quite as steep, but nor is it as strong as the OECD average. Between 2007 and 2017, Canadian wages grew an average of 1.1 per cent per year, down from an average of 1.6 per cent in the period before that.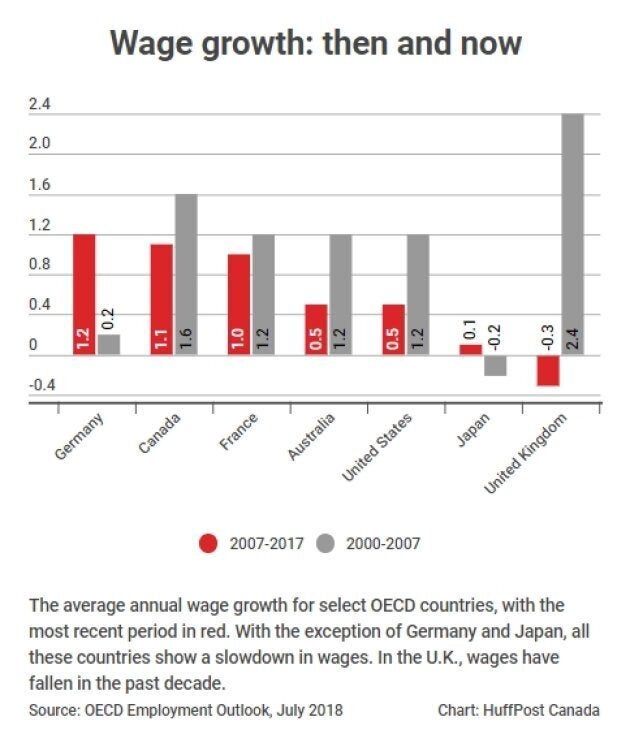 "This trend of wageless growth in the face of a rise in employment highlights the structural changes in our economies that the global crisis has deepened, and it underlines the urgent need for countries to help workers, especially the low-skilled," OECD Secretary-General Ángel Gurría said in a statement accompanying the wage report.
"Well-targeted policy measures and closer collaboration with social partners are needed to help workers adapt to and benefit from a rapidly evolving world of work, in order to achieve inclusive growth."
"Inclusive growth" seems to be one thing the global economy isn't seeing these days. An analysis of the OECD's data, carried out by The Guardian, found income among the top one per cent of earners grew about four times as fast as the median income. The OECD calls this a "long-standing trend."
'Superstar' tech companies to blame?
The OECD report offers a number of explanations for the stagnating wages, one being lower productivity. Another is that the quality of jobs available has worsened since the financial crisis, with people often taking on work for less pay than their previous position.
The share of people working part-time jobs has risen, and the share of working people living in poverty has also risen — to 10.6 per cent of all employed people, from 9.6 per cent before the crisis.
"The jobs destroyed during the crisis are not the same as those created in the recovery," the OECD report noted.
Companies are facing slower productivity growth, the OECD said, meaning they are having a harder time extracting more profit from their employees. That makes them reluctant to raise wages.
It also points to what it calls "superstar" tech companies, which develop with far fewer employees than traditional businesses. One famous example is the messaging app, WhatsApp, which had just 55 employees when it was bought by Facebook in 2014 for US$19 billion. That trend is reducing the amount of money in the economy that flows into wages, while increasing the amount going to shareholders and business owners, the OECD noted.
Canadian wage growth improves in recent months
Wages rose by an annual rate of 3.9 per cent in May, the fastest growth since 2012, but the rate slowed again in June, declining to 3.6 per cent.
However, a report at CIBC suggested those strong numbers may be an illusion, as they compare wages to data from a year earlier, when wage numbers were "implausibly low." The bank expects to see wage growth softening again as the year moves on.
Popular in the Community