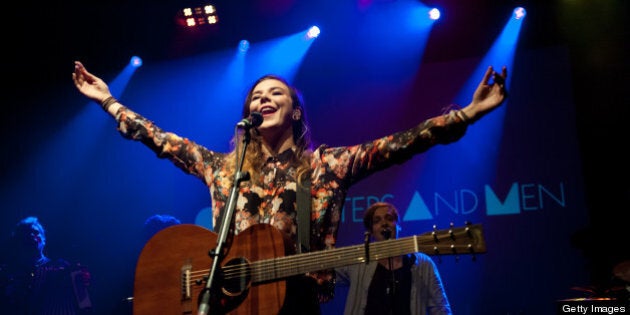 The single word that comes up most often when talking to Brynjar Leifsson, lead guitarist of the strange, sonorous Icelandic six-piece Of Monsters And Men, is "overwhelming."
Leifsson, who also provides backing vocals and baritone guitar for the indie pop group, seems at once overjoyed by his band's ascendant star, and bewildered by it. With overseas shows regularly selling out, Leifsson says that the reception is always "overwhelming; it's nice to see so many people who want to help us and who appreciate what we are doing, it's lots of fun and it is beautiful."
Their current tour has taken Of Monsters And Men far from their native homeland, with dates across the United States and Canada; including dates at Montreal's Lachine Canal on May 24 and Toronto's Echo Beach on May 25, where they're co-headlining CBC Music's first festival. Leifsson is already convinced that his band's reception in Canada has been some of the warmest of the tour.
"We get to these venues and people have told us in advance that it is a nice space to play, but then we get there and it is, like, amazing, and for us it's strange to be in a foreign country and all these people are here to watch us. It is consistently overwhelming and fun."
There are reasons that Of Monsters And Men appeal so much to Canadian audiences: their unique blend of folk and pop have garnered favourable comparisons to bands from Arcade Fire to Mumford And Sons, but they bring with them a kind of lilt and torque, an innate weirdness, that makes their music at once enticingly familiar and deliciously strange. Since their debut full-length "My Head Is An Animal" was released in April of 2012, their sound — brassy, capable of squalling discomfort and baroque delicacy, and vitally fresh — has propelled them to become the highest charting Icelandic act in North America in history.
"My Head Is An Animal" reached all the way to #6 on the Billboard chart, surpassing the avant-garde pop star generally considered Iceland's most famous musical export, Björk, whose "Volta" reached #9 on Billboard in 2007. This success is, again, something he admits is overwhelming.
"[Björk] is such an inspiration to us, and has done so many cool things," he says. "So even if we charted a little higher than she did, she is still the Queen of Iceland as far as we are concerned. We are proud of what we have done but we might never become legends like her."
Despite the constant shock of their success and all the potential pressure that comes along with it, one area in which Of Monsters And Men remain resolutely confident is their future plans. As soon as their current touring cycle is complete, the band will take their first extended break in more than two years in order to return to the studio and work on a follow-up full-length. While the band have been gathering ideas while touring, it's in the rehearsal space and the studio where the album will truly take shape. Leifsson refers to the writing process as an act of discovery.
"We know what all the ingredients are in advance but then we have to take the time to but them all together and go through the process before we really know if we have something delicious," he says.
With only the seeds or germs of ideas laid out so far, Leifsson does have some idea of which direction Of Monsters And Men will be heading creatively with their sophomore effort: towards something more experienced and wise, in contrast to the blithe innocent of their debut.
"Each album we write will be a product of that time, who we are and how we are changing. Our next album could be more mature and maybe darker."
However Of Monsters And Men manage to capture the next stage in their evolution, as they fill some of Canada's largest and most beautiful venues supporting their debut, even a darker and wiser band will have a very bright future ahead.
Of Monsters And Men play the CBCMusic.ca Music Festival on May 25 at Echo Beach in Toronto.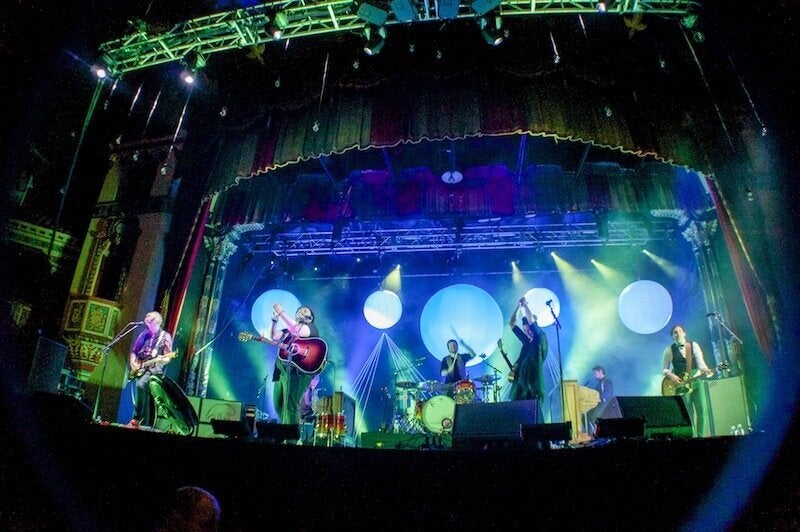 Of Monsters And Men Play The Riv