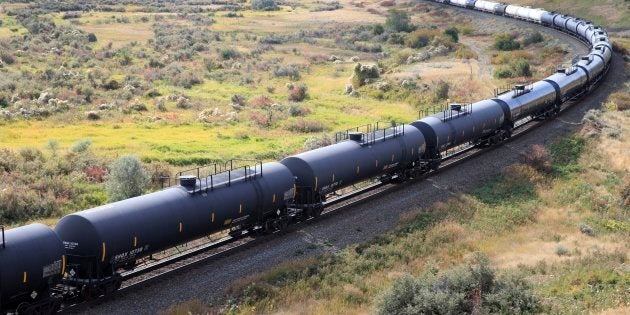 But none of that is stopping the oil patch from increasing production. And as one pipeline project after another fails to launch, the industry is relying more heavily than ever to ship its oil by rail.
According to Statistics Canada, the volume of oil on Canada's railroads has soared by 64.6 per cent in just the past year. And in the past seven years, the number of rail cars carrying oil across Canada has quadrupled.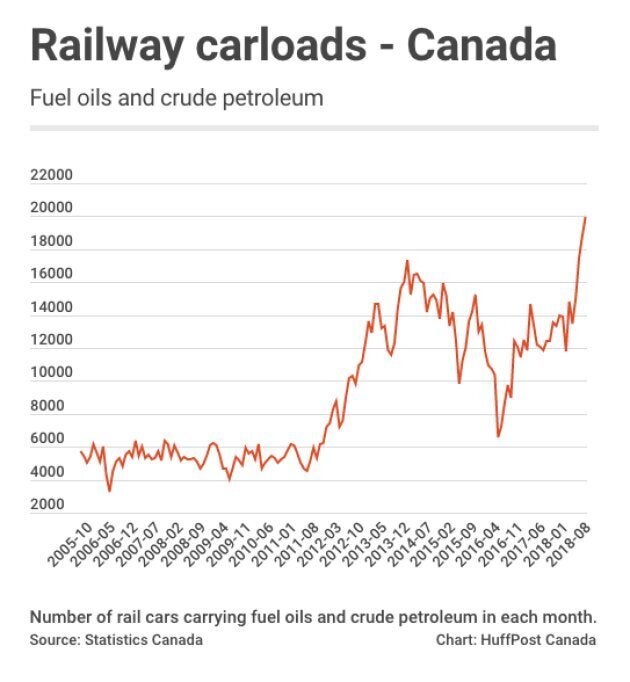 The spike in oil trains began around 2011, a few years before the July, 2013, disaster in which a 74-car oil train derailed in Lac-Megantic, Que., killing 47 people.
Besides the obvious risk to the environment and to human life, there is also the fact that oil producers are crowding out other industries that rely on rail.
This leads to "higher costs and shipping delays for other industries," Bank of Montreal senior economist Sal Guatieri wrote in a client note Tuesday.
"Surging railway loadings of oil contrast with flat loadings for shipments of wheat, copper, machinery and many other products in recent years."
And if you think these oil trains don't come through your neighbourhood, that they're somehow limited to Alberta, take a look at this map of the oil rail network in Canada, provided by the Canadian Association of Petroleum Producers: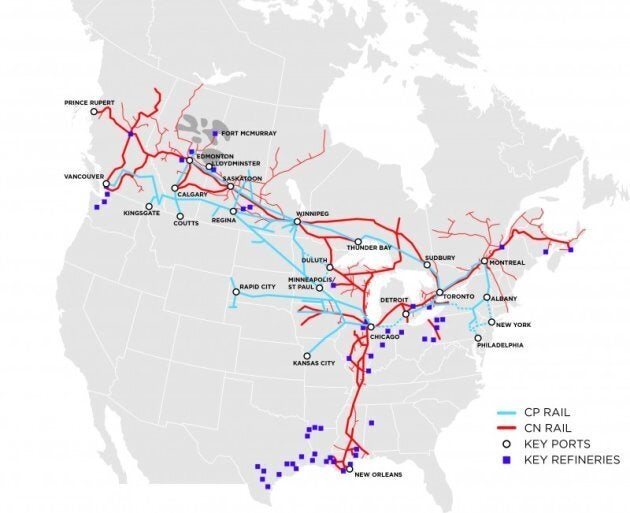 This massive expansion of oil-by-rail took place even as oil prices remained relatively weak, Canadian oil exports particularly so. This is especially true today; North American oil prices have dropped by some 31 per cent since a peak in early October, and closed at around US$53 on Tuesday.
Canadian oil has been selling at an enormous discount to that, recently trading below $14 a barrel. The last time global oil prices were anywhere near that low would have been the late 1990s.
Watch: 'Take advantage' of low gas prices while you can, analyst says. Story continues below.
But it's not just Canada that seems to be desperate to get as much of its oil out of the ground right now as possible.
"Saudi Arabia is pumping oil like never before, its output surging to a record 10.6 million barrels per day in October," National Bank of Canada economist Krishen Rangasamy wrote in a client note Wednesday.
"Iraq's output is also on the rise as production from the Kirkuk region comes back online. Those are more than offsetting declines in sanction-hit Iran."
Not to mention, U.S. oil extraction has surged in recent years to the point it is now the world's largest producer of crude.
Meanwhile, traders are losing faith in oil's prospects as the global economy shows signs of weakening.
"The deceleration of world economic growth ─ as evidenced by ugly (third-quarter economic) results in places such as Japan and the Eurozone ... has clearly hurt demand for oil," Rangasamy wrote.
Amidst all this, some executives in Canada's oil patch have called for the Alberta government to use its existing powers to limit the amount of oil being pumped. So far, the province hasn't indicated it plans to follow that advice.
Hey, at least we get cheaper gas
But there is one benefit to consumers from crude producers' race to the bottom of the oil deposit: Lower fuel prices.
"The free-fall on energy markets ... helped force down pump prices across Canada by 2.1 cents a litre to $1.13, their lowest since October 2017," analyst Dan McTeague of GasBuddy wrote this week.
"As pump prices now stand 5.6 cents a litre lower than on this same day last year, much of the credit can be given to the unexpected and likely temporary decline in oil prices, which could be subject to an upturn once OPEC and Russia agree to production curbs beginning in December."