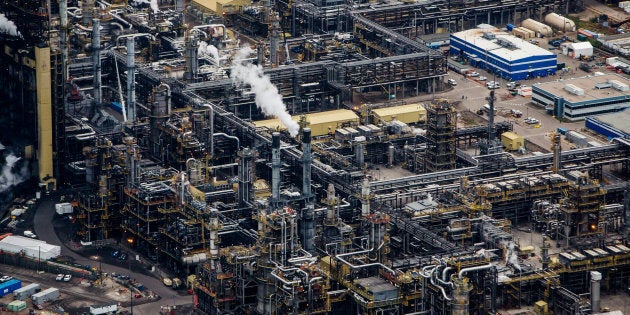 Global oil prices have soared to their highest levels in four years, in what should be bad news for Canadian consumers' budgets and good news for the country's oil exporters.
But Canada's oil industry has been shut out of the recent bonanza. Canadian oil exports are selling at their steepest discount in years, the result of industry and policymakers' inability to build pipelines to new, non-U.S. markets.
While climate groups and other industry opponents celebrate victories in delaying new pipelines, the lack of infrastructure hasn't slowed Canada's oil exporters: Rather, they are increasingly turning to rail. There are now more oil trains criss-crossing Canada than ever before, and their numbers are expected to continue growing rapidly in the coming months.
Western Canadian Select — the benchmark price for oilsands product — was trading at just above US$30 per barrel on Thursday, a 58-per-cent discount compared to West Texas Intermediate, the benchmark price for North American oil.
Canadian oil is currently the cheapest in the world, according to data compiled by OilPrice.com.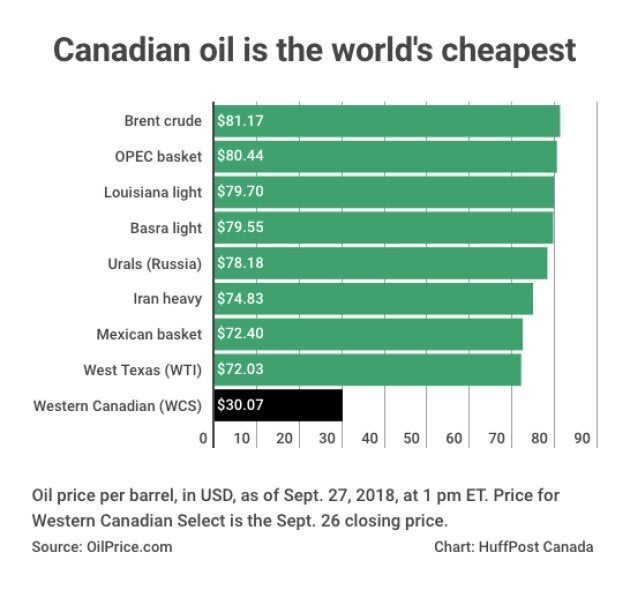 Though Canadian oil has long sold for less than other sources, the gap has rarely been this large. In a report Wednesday, Scotiabank said some contracts for oil were for as much as US$40 per barrel below the WTI price, an all-time record discount.
The discount "has been ridiculous — it's been outrageous, actually," Martin King, director of institutional research at GMP FirstEnergy, told the Financial Post.
Economists and industry insiders largely agree on the cause: The lack of infrastructure to get the oil to markets.
"We are using everything we can to ship our oil, whether rail or pipelines, and we're still left with rising inventory, causing prices to be weak," National Bank Financial economist Krishen Rangasamy told HuffPost Canada on Thursday.
Watch: Where does Canada get its oil from? Story continues after video.
For climate activists, the low price of Canadian oil is good news. The oilsands have some of the world's highest costs for starting new operations, so low oil prices mean few new projects will be coming online. But the industry can still sell oil from existing projects at a profit at these prices.
Where Canada's oil industry is headed "depends on what politicians do," Rangasamy said, adding that it would be good "if there could be some agreement at the national level about the need to diversify our trade partners."
Rangasamy mentioned the stalled plans to expand the Trans Mountain pipeline, which would have allowed Canada to export larger quantities of oil to Asian markets and become less dependent on the U.S. market.
The Federal Court of Appeal quashed the National Energy Board's approval of the project in August, ruling that the federal government had failed to consult adequately with stakeholders, including Indigenous communities, and had failed to take into account the impact of added oil tanker traffic on Canada's west coast.
It was the latest setback for an industry reeling from the failure of a number of other pipeline projects, including Northern Gateway and Energy East.
Many climate campaigners declared the Trans Mountain ruling a "massive victory" for Indigenous rights and environmental protection. But the ruling has cast a pall on the oil industry, with many observers questioning whether the industry will ever be able to build pipelines to deep-sea ports.
Record amount of oil on Canadian railroads
With pipeline capacity limited, oil exporters have been turning increasingly to shipping oil by rail. The amount of oil shipped on Canadian railroads hit a record high of 204,000 barrels per day in June, Scotiabank reported.
From an environmental safety perspective, oil-by-rail presents positives and negatives. Research suggests that oil spills involving rail cars are much smaller than pipeline spills. But oil-by-rail accidents are likelier to result in deaths, such as the oil train explosion in Lac-Megantic, Que. in 2013, which killed 47 people.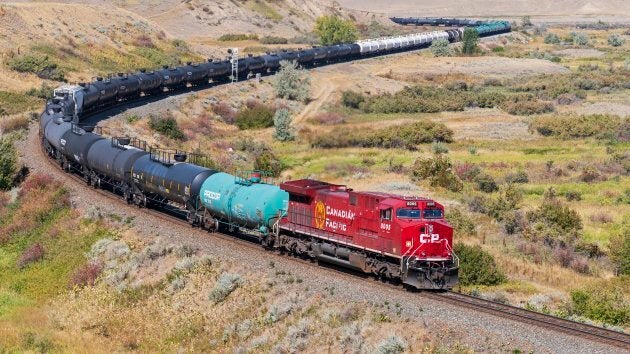 And with CN Rail and Canadian Pacific both committing to more space for oil shipments, Scotiabank analyst Rory Johnston predicted oil shipments would soar another 50 per cent by year's end, to around 300,000 barrels per day.
He said this would help reduce the discount on Canadian oil, to around US$18-$22 per barrel below benchmark North American prices.
Johnston said the industry is beginning to see rail shipments as less of a temporary solution, and more a permanent part of the landscape in "a Canadian energy sector seemingly unable to push a major pipeline project to the finish line."
CORRECTION:An earlier version of this article incorrectly cited Scotiabank's forecast for oil-by-rail shipments. The text has been edited to reflect that the forecast is for 300,000 barrels of oil to be shipped daily in Canada by the end of 2018.