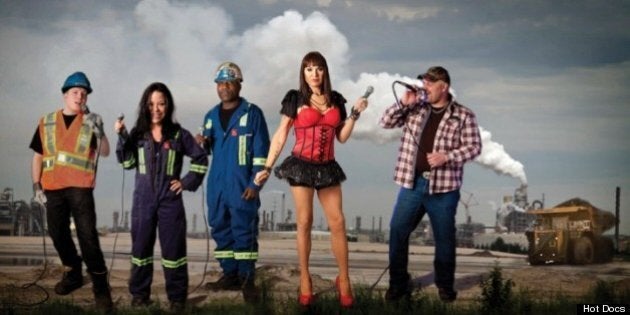 Long before "Oil Sands Karaoke" director Charles Wilkinson was a documentary filmmaker, he was a musician. So getting to make a film about a group of oil sands workers competing in a karaoke contest in Fort McMurray, Alberta — arguably Canada's most controversial town — was something of a lifelong dream come true for him.
"I've been a musician since I was, like, five. A professional musician until I was 19 or so. I play all the time. I sing all the time," Wilkinson tells the Huffington Post Canada. "I've been a filmmaker for my whole adult life and I never got to do anything about music before. When we got this idea, Tina [Schliessler], my partner and the producer of the movie said, 'You have to do this because it's made for you.' And it really, really is."
As a filmmaker dedicated to pushing past the all of the misinformation and rhetoric surrounding environmental issues and getting to the heart of the matter (his last film, "Peace Out," won a Special Jury Prize at Hot Docs 2012 for its reasoned and thoughtful approach to the natural gas fracturing and oil sands of Peace River, Alberta), Wilkinson's aim was to keep an open mind.
"I'm a product of my environment. I'm a southern Canadian, I have a reasonably good education, and you don't hang out in that environment without it rubbing off on you and the people I hang out with are very critical of oil and gas," he admits. "And so my natural tendency was to be critical. Not necessarily negative, but certainly critical. But with the work that we did on 'Peace Out,' I got a chance to talk to people who really know what they're talking about... We found out in specific what the deal is. It didn't make me feel any better. If anything, it made me feel worse. But it also made me understand that there are human beings involved. We need to talk about this stuff, but we should maybe try to be a bit more polite with each other. And that's what our goal was: to get people talking to each other on this."
As such, the director and his team wanted to find the best human beings possible to show the rest of the world what Fort McMurray is really like at work and at play. The documentary crew became talent scouts of sorts, filming at Bailey's, Fort McMurray's premiere karaoke bar, and looking for locals with good voices and better stories.
They soon found the right five people, including a pair haul truck drivers with a talent for tackling Britney Spears tunes and aboriginal entrepreneur Massey Whiteknife, better known on stage as Iceis Rain — a karaoke drag queen.
Story continues after "Oil Sands Karaoke" Trailer
Whiteknife says he pretty much wound up in the film by accident.
"I dressed up as Iceis [and] went to Bailey's. I was like 'Boy, it's really well lit in here. I don't want overhead lighting,'" Whiteknife recalls. Then a member of the production staff approached him with a waiver to sign if he wanted to be on camera. "I thought we were going to be extras."
"Long story short, he sang. He blew my mind," says Wilkinson.
Whiteknife leapt at the chance to join the project, both as an opportunity to share Iceis's skills and to share his own heartbreaking and inspiring story of overcoming bullying and abuse.
"I do a lot of anti-bullying work and I try to spread the message to aboriginals and other people that they can get out of the situation they're in, just like I did, and this was the perfect opportunity," he says. "It was very hard, but it was the best decision I ever made."
The Fort McMurray native was also eager to shed a different light on his beloved hometown.
"What this film does is it shows us Fort McMurray-ites that this is who we are. We're just like everybody else and we just happen to work in the oil sands. We all have lives and we all have a story, just like everybody else," he says. "Fort McMurray is a great place. I mean, there's families there, people move there because there's good schools. And the oil sands industry does engage the community. So it's not all about 'We're here to butcher the land.' A lot of people don't realize that."
"There's so much shouting that we don't talk," Wilkinson agrees, adding that in Fort McMurray's karaoke rooms it's not about being pro- or anti-oil. "There's this position on this side, this position on that side and we're really not getting anywhere. It's our belief that time is extremely short and this is a really serious issue and we all need to paddle in the same direction. So for us to have stumbled on this odd little microcosm where the two sides do get along really well, it's just an amazing thing."