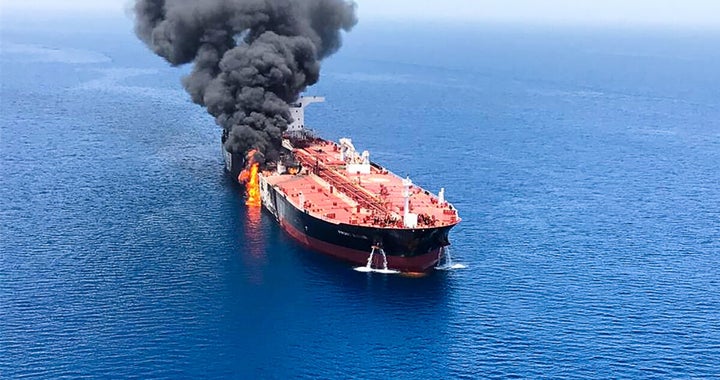 Who's torpedoing oil tankers?
Oil prices shot up by around five per cent on global markets Thursday after reports that two oil tankers in the Gulf of Oman came under attack in what is suspected to have been torpedo strikes. Crews from both vessels were safely evacuated, but late-breaking reports suggest one of the two ships has sunk. The Front Altair was carrying 75,000 metric tonnes of naphtha, a flammable oil. That's more than twice as much oil as the infamous Exxon Valdez was carrying when it broke open off the coast of Alaska in 1989. There is no word on who may have been responsible, and the incident follows attacks last month on four oil vessels in the same area. Both ships in the most recent attacks were headed for Japan.
Trump's loss is Canada's gain as tech workers flood north
Some 24,000 highly skilled tech workers and 16,000 relatives have moved to Canada over the past two years as part of the federal government's Global Skills Strategy, which provides temporary work permits in as little as two weeks for in-demand tech workers. The country is benefiting from U.S. President Donald Trump's crackdown on visas for tech workers, prompting many high-tech job-seekers to look to Canada instead. The majority of applicants under the program were from India, Immigration Minister Ahmed Hussein said, as quoted at Bloomberg News. A survey from global real estate firm CBRE last year found Toronto was the fastest-growing market for tech jobs in North America in 2017.
Watch: Canadian students really want to work for these companies. Story continues below.
Quebec may see first legal cannabis workers' strike
Employees at a government-run cannabis store in Montreal's Rosemont neighbourhood have voted unanimously to give their union a strike mandate in a dispute over wages, CTV News reports. If workers walk out, it will likely mark the first time that legal cannabis workers have gone on strike, in Canada or anywhere else. The United Food and Commercial Workers Union-Quebec says the $14-an-hour starting wage at SQDC, Quebec's provincial cannabis retailer, is too low. They argue employees are selling a product that requires health and safety precautions, making it a more demanding job than other retail work. The union says it hopes to reach an agreement with management before any walkout takes place.
Majority of Canadians wants Huawei banned from 5G
Fifty-three per cent of Canadians say they want Chinese telecom giant Huawei banned from participating in the country's next-generation 5G wireless network, according to a poll carried out for the Globe and Mail (paywall). Only 22 per cent disagreed and said Huawei should be allowed to participate, while 25 per cent were unsure. The U.S. and Australia have both banned Huawei from their 5G networks, while New Zealand has limited the company's involvement. The U.S. says the Chinese government can use Huawei equipment for spying.
The poll implies there may be little appetite for former Prime Minister Jean Chretien's proposal to halt Huawei CFO Meng Wanzhou's extradition to the U.S., in order to repair relations between China and Canada. Meng has been under house arrest in Vancouver since last year.
A note of caution to Canadians from the Land Down Under
Australia has a very similar economy to Canada's: its population is heavily urban but the economy depends on resources in the countryside. It's trade-dependent, and it has weathered recent global crises better than large economies. Notably, it's seen a huge run-up in house prices, pushed forward in part by Chinese investors. If that all sounds familiar, it should be noted that Australia's housing market is now in full-blown crash mode, with hundreds of thousands of homeowners owing more on their mortgage than their house is worth. House repossessions are on the rise. "It's a problem that isn't going away," said Justin Stevenson, director of Legal Aid WA, which helps distressed homeowners. For Canadians, the lesson here is clear: Don't overstretch when you buy a house. We don't want this to be yet another way we are like Australia.