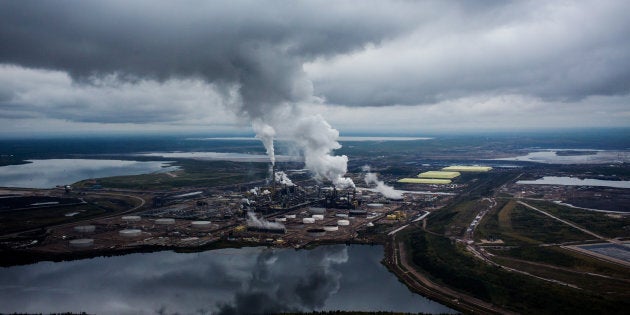 Canadian oil can't get to the world, and the world won't pay for what it can't have. The result? Canadian crude was trading at a 77-per-cent discount to benchmark North American oil at the end of this week.
Prices have fallen for much of the past two weeks, with Western Canadian Select (WCS) — the benchmark price for product from the oilsands — dropping to US$16 a barrel on Friday. That pretty much ties for the lowest prices in records going back to 2009, and it's down nearly 37 per cent since its close on Monday.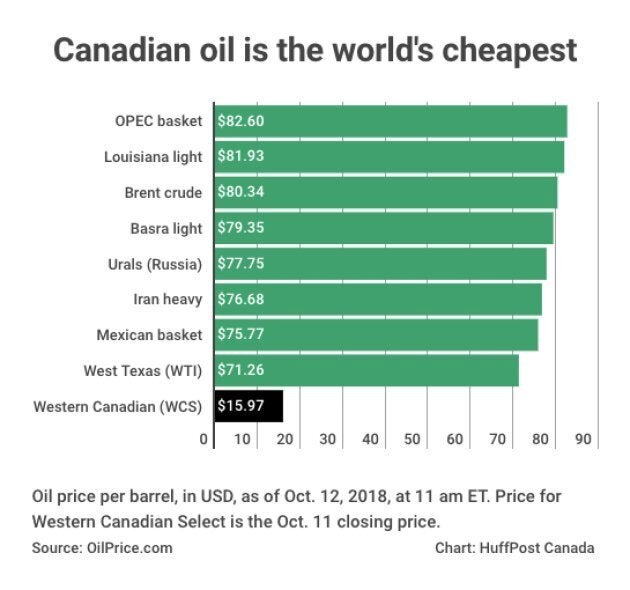 By comparison, West Texas Intermediate (WTI) — the benchmark price for North American oil — was trading at US$71.50 on Friday, down about 3.8 per cent since Monday. The global benchmark, Brent crude, was trading at US$80.60, down 3.9 per cent.
The weakness in markets this week was part of the reason for the slide, but the real problem is the inability of Canadian oil producers to get their product to market, Bank of Montreal senior economist Sal Guatieri wrote in a client note.
Earlier on HuffPost: Trudeau says he's determined to get pipeline built (story continues below)
"Blame the lack of pipeline capacity to export oil and, to a lesser extent, outages at some refineries, resulting in a glut," he wrote in a client note.
"Suffice it to say that the low prices are a negative for Canada's trade balance, economy and the loonie."
Canada's industry is simply pumping too much oil, economists at National Bank of Canada wrote.
"Canadian producers are being forced to accept discounted WCS prices largely because of bloated inventories," wrote Krishen Rangasamy and Marc Pinsonneault.
"Unless transportation capacity increases in the coming months, Albertan oil producers may want to pare back output to allow inventories to be absorbed."
But they noted that cutting production would only bring the discount on Canadian oil to "more normal levels." Without new infrastructure to carry oil to markets, Canadian crude's status as the world's bargain-basement oil is set to continue.
Popular in the Community