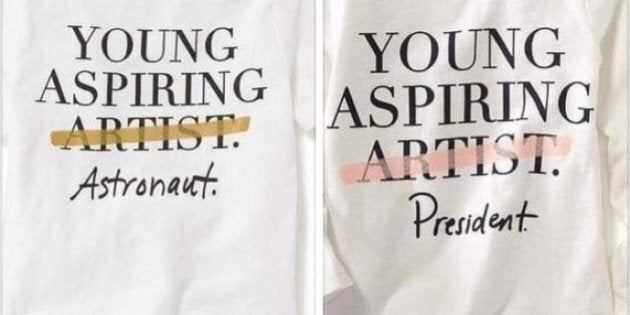 Old Navy has discontinued one particular shirt for toddler girls after the internet declared: "hell, no!"
The offending item is simple enough, long-sleeved and white. But the words splashed across the front, which suggested children shouldn't aspire to become artists, ignited fury on Twitter and other social media sites.
The irony of the shirt was not lost on the interwebs.
And many vowed never to step in an Old Navy store again.
The company promptly responded and stopped selling the toddler shirt. A spokesperson told The Daily Mail: "At Old Navy we take our responsibility to our customers seriously. We would never intentionally offend anyone, and we are sorry if that has been the case. Our toddler tees come in a variety of designs including tees that feature ballerinas, unicorns, trucks and dinosaurs and include phrases like, 'Free Spirit.' They are meant to appeal to a wide range of aspirations. With this particular tee, as a result of customer feedback, we have decided to discontinue the design and will work to remove the item from our stores."
But leave it to artists to get creative in their response to the shirt. Perhaps Old Navy should consider one of these designs as a replacement?