Three words from Conservative Leader Stephen Harper — "old-stock Canadians" — could add a new element to the last half of the most unpredictable election race in decades.
Harper lauded "controlled and legal immigration" as something that has always helped the economy.
"We have two-and-a-half million newcomers in this country who are overwhelmingly contributing positively to this country," he said. "They're entrepreneurs. They're family people. They're growing our economy, working hard."
But Liberal Leader Justin Trudeau threw a wildcard into the mix by shifting the discussion to the Syrian refugee crisis and arguing Canada is not doing enough.
Trudeau accused Harper of talking a good game about standing up to tyrants and terrorists, but said is the families who fight to stay together and hope for a better life in Canada who are doing just that.
"And they cross the oceans and they make it to Canada and what does Mr. Harper do? He takes away their health care," Trudeau said, referencing the Harper government's cuts to refugee health services.
"The fact is we need to once again be a country that is open and welcoming," Trudeau said. "Yes, we need to be concerned about security but we don't take that as the excuse to close our doors."
'Refugees are about the economy'
When moderator David Walmsley, editor-in-chief of The Globe, said he wanted to bring the conversation "back" to the economy, Trudeau shot back that "refugees are about the economy, David."
Harper said his government has not taken health care away from immigrants and refugees.
"The only time we've removed it is where we have clearly bogus refugee claimants who have been refused and turned down," he said. "We do not offer them a better health care plan than the ordinary Canadian can receive."
Harper said that policy is something that new and "existing and old-stock Canadians agree with."
The Tory leader said Canada has been one of the top countries for refugee resettlement, a claim immediately called untrue by Trudeau.
And then Harper targeted both Trudeau and NDP Leader Thomas Mulcair's position on refugees.
"These guys would have had, in the last two weeks, us throwing open our borders and literally hundreds of thousands of people coming without any kind of security check or documentation," he said.
The Liberal leader again called that remark untrue and accused Harper of pandering to fears.
Mulcair agreed with his Liberal adversary, saying Canadians want a prime minister who understands the "urgency" of the crisis.
"Mr. Harper, unfortunately, and it's undignified, is fear-mongering," Mulcair said. "It's completely false to affirm that any of the parties in Canada would want to throw open the doors to people without any regard to security."
Mulcair noted that retired general Rick Hillier, former chief of the defence staff, has said that the government should stop using security concerns as a reason not to take action.
"So, Mr. Harper, why don't you stop using the security excuse as a pretext to do nothing?" Mulcair said, looking at the Conservative leader.
Harper shot back that he has vowed to bring in more refugees and match funds for humanitarian support.
Though Trudeau and Mulcair did not immediately pounce on Harper's "old-stock Canadians" quote, it did not go unnoticed.
After the debate, the Liberal leader told reporters that Harper's choice of words show he is "choosing to divide Canadians" against one another.
Trudeau was not the only one to flag the remark on Twitter:
Liberals have vowed to immediately bring in 25,000 refugees from Syria, while the NDP has said it will bring in 10,000 refugees before the end of the year. Tories have pledged to bring in 10,000 refugees over four years.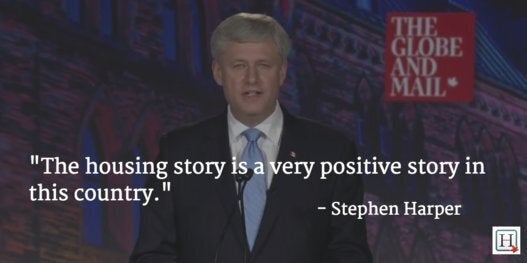 Best Quotes From Globe And Mail Election Debate
Popular in the Community