Olivia Chow's blistering response to a racially-charged question at a recent debate, which some have suggested was her finest moment in the Toronto mayoral campaign, is the focal point of her first television ad.
In a spot titled "Everyone Counts" Chow is shown speaking with passion about the need to bring Torontonians together.
"No matter where we came from, what colour of our skin, what background, what income level, what neighbourhood we came from, it doesn't matter," she says in the clip. "We are good Torontonians in this good city of ours, in this beautiful country. Everyone counts when I'm your new mayor."
The ad ends with the tagline: "She'll fight for a better Toronto. She'll fight for you."
The commercial was released online Tuesday and will begin airing on TV starting Wednesday as part of a six-figure ad buy.
The clip comes from an exchange earlier this month at the Corso Italia debate in which an elderly man questioned Chow's qualifications, resurfaced the old canard that she lived for free in public housing and seemed to suggest that, unlike other immigrants, she contributed less to the city by not founding companies and instead working mostly in public life.
Chow, who came to Canada from Hong Kong in 1970 at the age of 13, rose to her feet to angrily question what her being an immigrant has to do with the election.
"I am a Canadian. I am a proud Torontonian," she said to growing applause.
After telling the debate attendee he was "absolutely wrong" that she lived for free in public housing, Chow went on to describe the need for more affordable housing in the city. Her entire response yielded a standing ovation.
Watch the exchange below:
Chow's campaign has dealt with several incidents of overt racism since she entered the race in March.
According to The Toronto Star, her campaign has been forced to delete far more offensive posts to her Facebook page than either of her main rivals, John Tory and Doug Ford.
And at one debate in September, a Ford supporter heckled from the audience that she should "go back to China."
Ford later denounced the comment, telling The Globe and Mail that while he didn't know who said it, "if they want to talk that way, they're not part of this campaign." Tory also told reporters the racist remark was unacceptable.
But Chow has called out her rivals for not speaking out right away in the face of hateful remarks.
"When we see it, when we hear it, we need to stop it, we need to call it out immediately," she said at a Centennial College debate last week.
Tory said that he did not feel the need to speak out during the "go back to China" incident because Chow was already speaking "very eloquently" about the matter, CBC News reports.
Late last month, Chow released an online video showing how Toronto has changed since she came to the city years ago. The ad, which highlighted Chow's personal connection to Canada's largest city, was widely lauded online.
The Chow campaign also released a second ad online Wednesday criticizing Tory as a flip-flopper who will "say anything" to get elected.
Recent polls suggest Tory continues to lead the race, with Ford in second place and Chow sitting third. Toronto voters head to the polls on Oct. 27.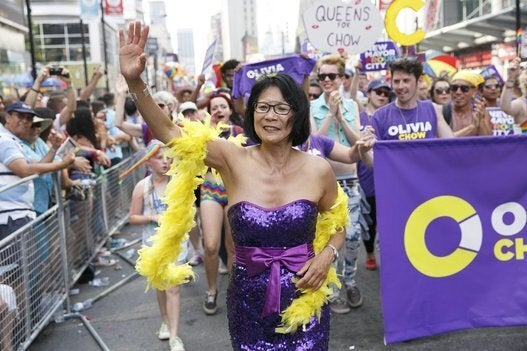 Olivia Chow Through The Years

With files from Michael Bolen