Toronto mayoral candidate Olivia Chow has apologized for a recent campaign appearance with WWE legend The Iron Sheik, whose lewd, racist, homophobic, and sexist tweets have raised eyebrows in recent years.
The Iron Sheik, whose real name is Khosrow Vaziri, met with Chow at a Toronto sandwich shop on Saturday, hours before the premiere of a documentary on his journey from Iran to the heights of pro wrestling.
The 72-year-old had apparently invited Rob Ford to meet up but Chow, arguably the Toronto mayor's top challenger this October, showed up instead.
Chow posed with The Sheik's golden wrestling belt and even won an endorsement from the WWE Hall of Famer.
"God bless her, and I want all the people in Toronto to vote for Olivia Chow to become the mayor of Toronto," he said, according to The Toronto Sun.
But The Sheik, who boasts 420,000 followers on Twitter, isn't exactly the type of person most would associate with the former NDP member of Parliament.
In fact, it is possible he is now better known for his bizarre outbursts on Twitter than his career in the squared circle.
For context, we have embedded some below but be warned, there is some extremely offensive language.
The National Post's Matt Gurney wrote Monday that it was odd, "to say the least," that a "progressive darling" like Chow would associate with a former wrestler who, Gurney writes, is either insane or engaged in "one gigantic, vulgar bit of performance art taken to the extreme."
Gurney also suggested Chow was getting a free pass from criticism.
"If this was Mr. Ford, people would be slamming him, demanding to know how he can associate with someone like The Iron Sheik," he wrote.
This is the second time Ford has avoided meeting The Sheik. The wrestler showed up at Toronto city hall in November to challenge the mayor, then embroiled in the crack video scandal, to a fight.
But Chow took responsibility and apologized Monday afternoon.
Her communications director, Jamey Heath, told The Toronto Sun that the meet-up was spontaneous and suggested the campaign should have done a better job vetting The Sheik.
"Let's be honest, she is not a supporter of rape. She has no record of anti-gay activities and marched in her first Pride parade in the 1980s. Olivia does not endorse racism – and for those reasons, sent out a tweet that clearly said that she had not read those, she should've read them and she apologized," he said.
Many online commended Chow for owning up to her apparent gaffe.
Toronto voters head to the polls on Oct. 27.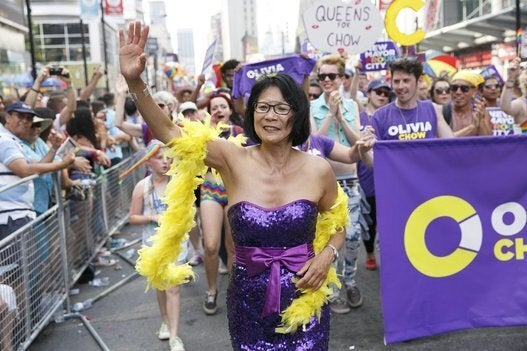 Olivia Chow Through The Years
Popular in the Community