A former Ontario Progressive Conservative MPP says Olivia Chow proved herself to be a "major league biatch" during a Toronto mayoral debate on Tuesday.
But Chow's campaign says Peter Shurman's remarks point to a double-standard that can occur when women run for office.
Shurman joined National Post columnist Christie Blatchford on a panel discussing a raucous debate in Scarborough the night before in which mayoral frontrunners Chow, Rob Ford and John Tory had a number of heated exchanges.
The segment opened with a clip of Tory going after Rob Ford over cost overruns on city projects that have occurred under his watch.
"We know what you were doing and it wasn't managing taxpayers' money," Tory is heard yelling.
Moore wondered if Tory was attempting to shed the perception that he is "too nice" to be mayor.
Shurman, who was a member of Tory's caucus when he was leader of the Ontario PCs, suggested Tory's more aggressive tone will help him win in October. "We're seeing the tip of the iceberg that's going to unfold," he said.
Shurman said Karen Stintz and David Soknaki can't win and that the race is now between Tory and Ford — a curious conclusion when one considers virtually every poll has Chow either leading or near the top of the heap.
"Olivia is a continuation of (former Toronto mayor David) Miller and she proved herself to be, last night, pardon me, a major league biatch and not worthy of listening to, as far as I'm concerned," he said.
You can listen to the full show below. The discussion on the Toronto debate begins at around the 19:20 mark:
Blatchford agreed Tory had a good night and showed "fire in his belly" that has always been there.
"I didn't find him to be bitchy at all. Olivia was bitchy. And not a terribly attractive candidate, frankly," Blatchford said.
When Moore pressed her about whether it was appropriate to refer to a female candidate as bitchy, Blatchford said she meant Chow's "cattiness" and "small-mindedness" in suggesting Ford and Tory are one and the same.
Tory used to host a show on Newstalk 1010, but gave it up once he decided to run for mayor.
Jamey Heath, communications director for Chow's campaign, called Shurman's remarks "disgraceful" in an email to The Huffington Post Canada.
Heath believes Chow is owed an apology from Shurman. He also suggested the remarks point to not one, but two double-standards at play.
"As usual, men being aggressive are seen as tough, while women are called names," he wrote. "But there's also a double-standard in that Rob Ford's many factual errors are taken through the ringer, while Mr. Tory has a series of patently false statements that the establishment refuses to call him on."
The remarks from Shurman and Blatchford left TV producer Adam Barken was unimpressed.
And Chow later took to Twitter to address the remark as well.
Chow threw a number of digs at Tory and Ford Tuesday night, and received a fair amount of shots from them as well.
In her opening remarks, she called on Torontonians to rally around her to oust Ford from office.
"Since Rob Ford came back, we've seen the best and worst of our city," she said. "Rob Ford isn't going to resign, so join me in firing him."
Chow was also the only candidate to directly reference Ford's substance abuse issues (though Tory also threw a thinly-veiled jab).
"Mr. Ford, even when you're clean and sober, you can't stick to the truth," she said.
Toronto voters head to the polls on October 27.
UPDATE: Shurman apologized for the remark Thursday on Newstalk 1010.

"Could I have used better language? Sure I could have used better language, but I expressed something visceral," he said.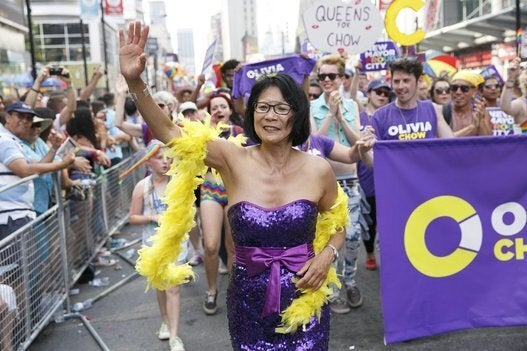 Olivia Chow Through The Years
Popular in the Community