Whether we chalk it up to name recognition or political thrust from a weighty role in Ottawa, it once seemed October was Olivia Chow's election to lose. After all, she had spent a year meticulously planning for it including using her MP funded tax dollars to distribute, shall we say, "municipally focused" mailings in her riding of Trinity-Spadina.
And yet, the latest polling shows a grim final chapter as a veteran politician stumbles to the finish line running on fumes consisting largely of reactive catch-up.
Chow has had many missteps along the trail whether it be her shortcomings as an orator or in planning a campaign centred on attacking the wrong threat, Rob Ford. Her largest failing however began even before the gun sounded with the miscalculation about what would fuel this election, transit. This was always an election about a city in crisis mode which could have been predicted years before Ford's gravy train derailed.
There are four subsets of the Transit debate which Chow and her team have fumbled causing irreversible detriment to her campaign.
1. Transit Woes- In April, Chow labelled a downtown relief line a "non-election" issue which immediately created a defensive. Instead of pivoting with the onslaught of criticism, Chow doubled down. She publicly floated a date for completion nearly two decades in the future even against a consensus from experts that the system need expedited treatment. When pressed, Chow explained the need to wait on a study, the second most offensive "s" word in the eyes of exhausted transit users.
2. Buses, Buses, Buses- Following the collateral damage from statements against the downtown relief line, Chow pushed to increase bus capacity by 10 per cent on the city's busiest routes by keeping soon-to-be-retired buses in service. However, the TTC immediately put the brakes declaring that many of the fleet is too aged and pointing out the obvious funding shortfalls.
The dirty secret is that many of Chow's base who utilizes these routes find bus service, especially in a harsh winter climate, to be an antiquated method of transport. The proposal also isolates undecided voters who bike and/or drive who favour unclogging congestion on roads by way of surface rail or subways. Decrepit old buses, days from going to pasture will clog like no other when they lay inanimate, hazards flashing in the middle of city streets.
3. Smart Track- I wrote in August about my support for Smart Track. Ironically, Chows own step son, Councillor Mike Layton has been floating a similar plan for his ward since 2012 which offloads current streetcar congestion onto parallel GO Train Tracks. It could be argued Torys plan is a derivative since it operates on 90% public rail. Chows own plan, launched late summer, would arrive with terrible optics that felt copycat and frenetic. In an effort to dislodge Tory's plan, she attempted to brand herself a fiscal conservative, against a prolonged tax-and spend political record.
4. Scarborough Subway- If ever there was an indicator of Chow's inability to build consensus among parties it's her fixation with the Scarborough subway. Irrespective of the project's merit for funding (which should not have happened) from three government's, Chow is seeking to thwart a done deal, even without her party's president, Neethan Shan who endorsed it. Even on Monday, Chow blamed a lack of accessible stations on The Scarborough Subway inviting a government institution, for the second time, to publicly explain funding allocation to her. These types of regressive fixations are the reason why the downtown relief line plans were drawn up decades ago with no shovels in the ground. It's a reminder for exhausted voters than progress, whether in Scarborough or anywhere else can be traded for political gain.
Chow has dangerously slipped too fast and too far in polling for a miraculous rebound in such a scant time frame.
Voters are gridlocked, stranded and unapologetic in demanding expedited change from Day 1. Chow's ideas are too late, too small and too old school for this electorate.
She may very well be a good-hearted, industrious politician but her efforts as a pioneer and consensus builder leave little to be lauded.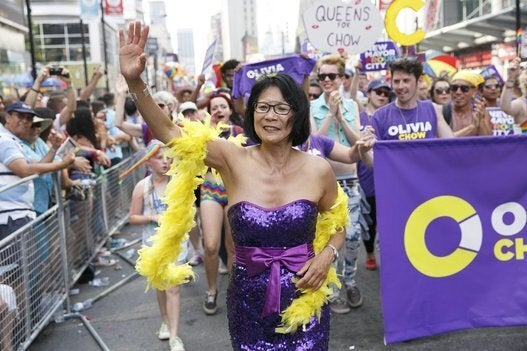 Olivia Chow Through The Years