While Olivia Chow is still weighing whether or not to run for Toronto mayor this October, one thing is certain: she wants Rob Ford out of the job.
The NDP MP recently sat down with the CBC's George Stroumboulopoulos and, in an interview that will air Monday night, Chow was asked whether she will run for a federal seat in 2015.
"I know where you're leading," she responded. "I've been really upfront. Yes, I have been seriously considering running for being mayor of the city of Toronto."
While that remark is consistent with what she has been telling reporters lately, Chow, currently promoting her new book "My Journey," also worked in a shot at Ford.
"I love this city and I think we deserve a lot better than Rob Ford," she said. "I certainly think our kids need a better role model."
Polls have shown the former city councillor and widow of late NDP leader Jack Layton would be a front-runner if she were to make the leap back to municipal politics.
However, a Forum Research poll taken after the Toronto ice storm showed Ford's approval rating has jumped to 47 per cent. The results also showed Ford would beat Chow, radio host John Tory, Councillor Karen Stintz and former budget chief David Soknacki in a hypothetical five-way battle.
This is not the first time Chow has expressed disappointment in Ford, who admitted in November to smoking crack cocaine in a "drunken stupor."
"A good place to start would be for him to now face up to the truth, and to tell it," she wrote. "Our city deserves better."
But Councillor Doug Ford, the mayor's brother and campaign manager, has long said "Ford Nation" isn't sweating Chow's potential entrance into the race.
Doug Ford took another swipe at Chow last spring when he asked reporters to investigate her telephone town halls, in which she invited Torontonians to discuss gridlock issues. Chow currently serves as the NDP transit critic.
"My concern is who's paying for Olivia Chow's tele-town hall meetings? That's a serious matter. Is she breaking the election laws? Or is she using her office in Ottawa to do these tele-town hall meetings? Is she jumping out of the gate early?" he asked reporters, according to The Globe and Mail.
Chow's full interview with Stroumboulopoulos airs on Monday, January 20 at 7 and 11:30 p.m. on CBC.
Toronto voters head to the polls on October 27.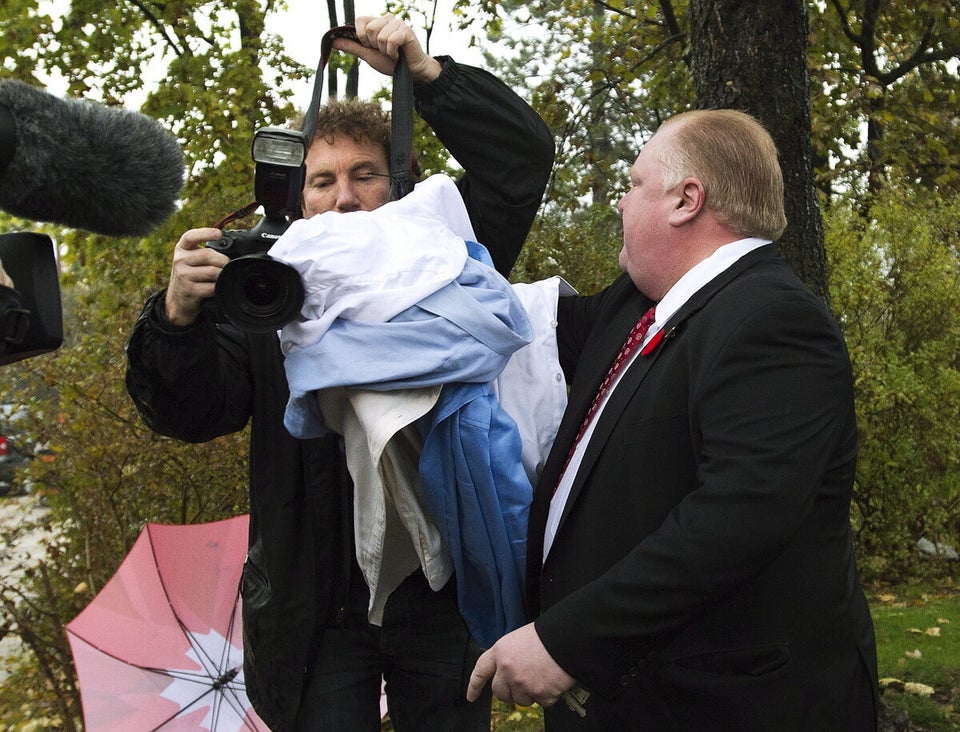 Rob Ford Shoves Photographers
Popular in the Community