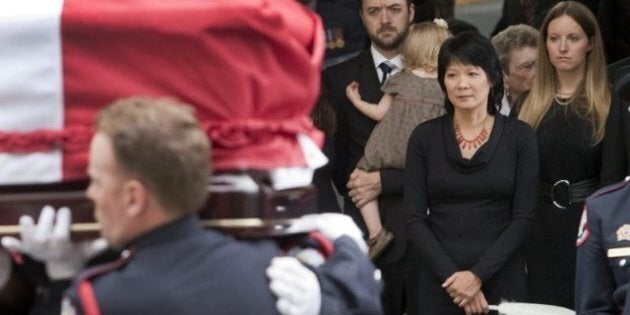 Jack Layton's widow Olivia Chow refuses to disclose the type of cancer that killed her husband, suggesting it would dash the hopes of other cancer patients suffering from the same illness.
In a wide-ranging, often emotional interview with the CBC's Peter Mansbridge, Chow recounted the NDP leader's last days, her own private battle with grief, and the reason Layton withheld details of his cancer and his treatment.
"If you have that different type of cancer and here is Jack, after a very short period of time — he died. Would you get discouraged? I might. Right? You know, some people that have his type of cancer may live a long time," she said.
"I'm sure there's a leader there that can do the kind of work that (he did) – maybe even better. It's very possible," she said in the interview that aired Monday night.
Chow insisted that Layton's second cancer, a different type from the prostate cancer for which he underwent treatment, was unknown at the time of the election campaign this spring.
"No. We were – he was fine. You saw him," Chow tells Mansbridge, who asked if there was any talk or fear about his health during the campaign.
Chow said only at the end of the Parliamentary session did Layton start experiencing pain in his right leg — the leg opposite to where he'd had hip surgery in March.
"It was just the last few days that he started getting – that pain was intensifying. At first he thought it was his leg that was injured…you know sometimes, one leg is injured, and the other leg starts hurting? We thought that was it… But that wasn't the case. And then we did tests and more tests and more tests, and…" Chow recounted.
The MP for Trinity-Spadina said it took a while to find out what Layton had but even after the diagnosis and the beginning of his treatment, the couple remained hopeful.
"We didn't know. We didn't know how. We just knew the last few days that (death) was coming," she said.
Even at the end of July, when a very ill Layton told Canadians he was stepping down from his leadership post to concentrate on his treatment, Chow insisted her husband thought he could beat his new cancer.
"He was full of hope," she said.
But in the last week before his death, Chow noted, Layton knew he was going to die.
"I told him that things are in order. He wrote something to say that he has no fear because he knows that he can trust me. That his soul is his spirit. That when he passes on in his next journey that I will be with him. That was really touching. He wrote it on his iPad a week before," she recounted.
He was quite sick in the days preceding his death but his last hours, as he was taking his last breaths, were peaceful, she said.
"In those final hours, I knew he was in trouble," Chow said, so she phoned his friends and family who spent the day with him. Late that night, after they had left, she called them again.
"They all came back. We were able to say goodbye. And I realized how blessed we are," she said. "It was very difficult but he had no fear. He had no fear. He was ready, so I thought, okay. So we all held him," Chow said, weeping.
Chow said she is now "managing."
"The first day or two was really difficult. I spent most of Monday crying. It was hard. And coping. I go swimming quite a bit," she said. "Swimming has the advantage of — you can cry and people won't see you. Swimming is something that he and I did a lot together. So I thought, okay, let's get back in the water. And that was — that was helpful," she said.
People noted during Layton's lying-in-state that Chow acted at times more like the comforter than the person who needed comforting.
She told Mansbridge she grieves privately. She said she made the bed four or five times one morning to get things under control but she felt the strength to share Layton and comfort people who hadn't known him as well.
"I felt that it's important to comfort them, to tell them the spirit lives on. If we keep that inside us, that goodness, then it's part of us," she said.
Chow said she was thankful for Prime Minister Stephen Harper's offer of a state funeral and she dismissed criticism that the event was too political.
"Jack lived his life in a political life. That's who he is. You can't not talk about his values. His values as a New Democrat, the values of equality, of generosity. It will be not true to him if we take that part out," she said.
The funeral, she added, had been sketched out in broad strokes by Layton and she felt the end product had done him justice.
Chow said she'll dismiss any efforts to draft her into the leadership race and she doesn't think Layton's son, Michael Layton, a Toronto city councillor, is ready to follow in his father's footsteps just yet.
"Mike has big shoes to fill and too much pressure is not good. So I don't think (so) – he's happy being at city hall, being a city councillor and I'm happy being a member of Parliament and continue the work that Jack has done."
Chow said she's been immensely touched by the public's outpouring of affection for Layton.
"I'm so thankful for their outpouring because it's like a big blanket that helps me cope and my family and all the friends because all the outpouring made it quite a bit easier to continue," she said.
Her husband, Chow said, touched Canadians by making them believe that there is a "goodness inside us" and people don't need to be cynical, they can be loving.
She was especially touched, Chow said, by the notes from children telling Layton "thank you for making us believe" and "making the world a better place."
"'Thank you for inspiring us to vote. I will keep hope alive. All of those messages,' I felt tremendously encouraged that, yeah, that's what public service is supposed to do, to lift people up and make them feel that they can do something for each other," she said.
Below: Olivia Chow speaks to the CBC's Peter Mansbridge in Toronto (CBC)