After finishing third in the Toronto mayoral race that once seemed hers to win, Olivia Chow told reporters she needed to take some time for herself.
Soon enough, though, she will need to find a job.
And a new poll suggests she may be best suited for a gig that is currently taken: Ontario NDP leader.
According to Forum Research numbers released Monday, Chow moving to Ontario provincial politics would be a game-changer for a party that finished third in the June election. The vote was sparked after NDP Leader Andrea Horwath said she couldn't support the big-spending budget of Ontario Premier Kathleen Wynne.
When no leaders were mentioned, 40 per cent of Ontario voters told the firm they would support the Liberals, while 35 per cent backed the Progressive Conservatives. Nineteen per cent expressed support for the NDP.
Those kinds of numbers would result in a slim Liberal majority of 56 seats, with the PCs improving by nine seats to 37 and the NDP dropping seven seats to 14.
But things change substantially when Chow, a former NDP MP, is put forward as the Ontario NDP leader. In that scenario, 28 per cent said they would support the NDP, 29 per cent would support the PCs and 33 per cent would support the Liberals.
In short, the numbers point to a three-way horserace with Chow as leader.
Doug Ford, who finished a respectable second in the Toronto mayoral race, has already announced he's strongly considering a bid for Ontario PC leader. In fact, he claims he's the only Tory who can beat Wynne — a comment that has already ruffled feathers.
According to the survey, MPP Christine Elliot remains the frontrunner among the five declared contenders (plus Ford), with 26 per cent support. Ford is second at 18 per cent and MPP Lisa MacLeod is well back at seven per cent.
The interactive voice response phone poll surveyed 1,104 Ontarians on Friday and Saturday. It has a margin of error of plus or minus three per cent, 19 times out of 20.
Ontario Tories will pick a new leader in May. The deadline for candidates to file nomination papers is Jan. 30.
Chow has not publicly expressed any interest in the Ontario NDP leadership and though Horwath faced criticism after the disappointing results in the spring, she has vowed she's not going anywhere.
In June, Horwath said Ontarians handed Wynne a majority because they feared a PC government under former leader Tim Hudak, who promised to slash 100,000 public sector jobs to help slay the deficit.
"The people of this province, they made a decision to basically choose fear or to vote out of fear as opposed to choose positive change," she said at the time.
But Horwath was accused throughout the campaign of alienating the party's labour base with a platform that was seen by some long-time supporters as too populist and too conservative.
In a letter obtained by the media during the campaign, 34 NDP stalwarts blasted Horwath for tacking "to the right of the Liberals in an attempt to win Conservative votes."
Many public sector unions sided with the Liberals to defeat the PCs.
In a speech to the Elementary Teachers' Federation of Ontario in August, Horwath acknowledged some of the party's traditional supporters were turned off by her platform.
"There's no doubt that we have some learning to do in terms of how we approached our campaign," she said. "It's something that I take seriously and that I'm very concerned about."
Horwath faces an automatic leadership review at the party's convention next weekend.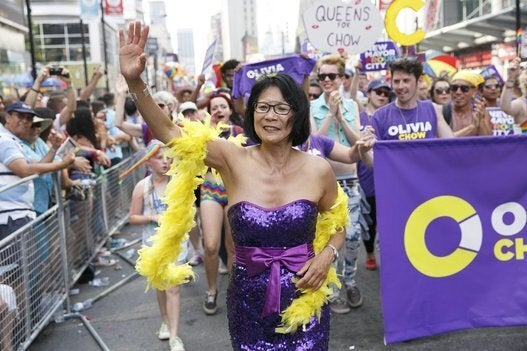 Olivia Chow Through The Years

With files from The Canadian Press