Toronto MP Olivia Chow, who is considering a run for mayor in 2014, has weighed in on the scandal that has engulfed Canada's biggest city.
Here is her full statement, which has already been shared hundreds of times.
Dear friends,

I believe in restorative justice. Which is the idea that we need to look for ways to help people who make serious mistakes in their lives -- as and when they take responsibility for their actions, and accept accountability.

Like all Torontonians, I was very disappointed to learn yesterday from Chief Bill Blair that Mayor Rob Ford has not been telling the people of Toronto the truth about the video widely reported in the media in recent months. Many of yesterday's revelations about Mayor Ford's closest associates, activities and personal problems are also deeply troubling.

Mayor Ford obviously faces some serious challenges in his life. I hope he finds help soon.

I also believe that as our Mayor -- head of our city administration and Toronto's representative to the province, the country, and the world -- he must take responsibility for his actions. A good place to start would be for him to now face up to the truth, and to tell it.

Our city deserves better.

Olivia
"I'm listening to people's advice," she said. "Jack wanted to be mayor. Maybe I want to be a mayor, too, but maybe not. Perhaps I won't be able to do it. I am considering it."
Chow's potential candidacy has been rumoured for well over a year.
A Forum Research poll from last November showed 40 per cent of Torontonians would vote for Chow, 35 per cent would back Ford and 13 per cent would support Councillor Adam Vaughan, with 12 per cent undecided.
But Councillor Doug Ford, the mayor's brother, said at the time "Ford Nation" wasn't worried about the popular NDP MP.
"Olivia Chow is no Jack Layton," he told The National Post. But Ford did concede Chow could be an option for those who want a "tax and spend government."
Doug Ford took another swipe at Chow this spring when he asked reporters to investigate the telephone town halls where she invites Torontonians to discuss gridlock issues. Chow currently serves as the NDP transit critic.
"My concern is who's paying for Olivia Chow's tele town hall meetings? That's a serious matter. Is she breaking the election laws? Or is she using her office in Ottawa to do these tele town hall meetings? Is she jumping out of the gate early?" he asked reporters, according to The Globe and Mail.
Ford has said he will be a candidate in the next election. Councillor Karen Stintz has also confirmed she's in the race.
Ford predicted earlier this week that the upcoming campaign will be a "bloodbath." It's a safe bet that many Canadians will be paying close attention now that Toronto police have seized a video that media outlets allege appears to show Ford smoking crack cocaine.
But will Chow run? Should she? Tell us in the comments.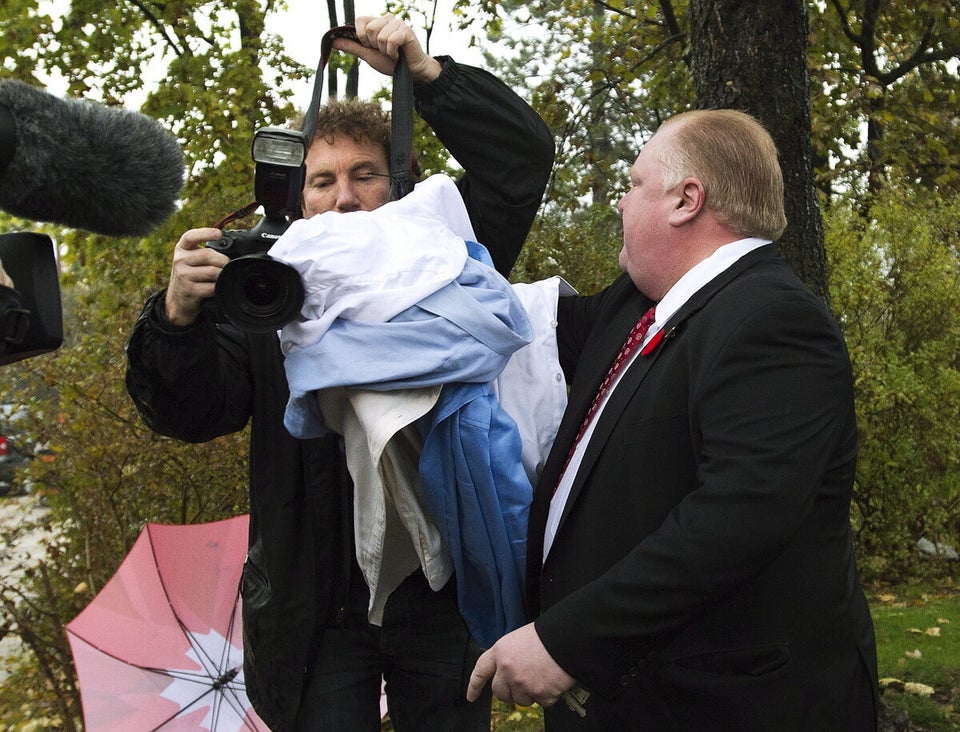 Rob Ford Shoves Photographers