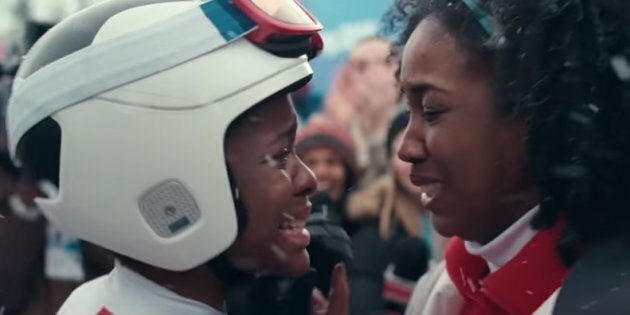 The Olympics have barely started and we're already crying ... over the commercials.
Watch P&G's "Thank you, Mom" commercial — part of the company's #LoveOverBias campaign — and see if you have dry eyes. We dare you.
The commercial, set to a version of "Ooh Child (Things Are Gonna Get Easier)," asks us to see each other through a mom's eyes. It shows moms supporting their kids as they chase their dreams from a young age, and gazing at them with the love that only a parent can feel as they help their children train through all the highs and lows.
The commercial also highlights the struggles faced by kids of colour and those who don't 'fit the mold,' opening with an African-American mom watching with concern as her daughter idolizes white skiers. In another segment, a mom strokes the black eye on figure-skating son's face. Another mom fits a hijab over her daughter's skating costume and, later, another helps her young son who has a prosthetic leg step down off a training bus.
"We're using our voice as an Olympic Games sponsor to celebrate a mom's role in helping her kids overcome bias and seeing their potential no matter what others see. Just imagine what the world could be if we all saw each other through a mom's eyes," P&G writes on their website.
We're not the only ones choking up. Twitter users also felt all the feels after viewing the commercial, which was released in November 2017.
It's going to be a teary few weeks, isn't it.