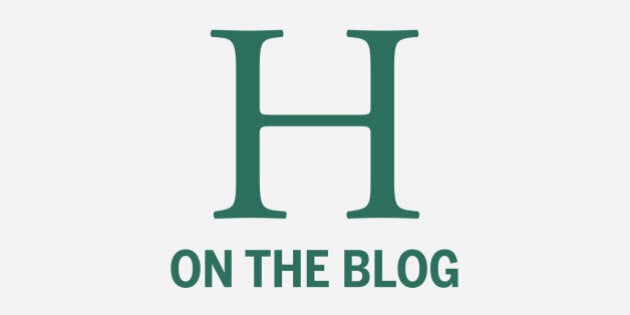 I didn't watch much animation until I was in my 30s. In the fall of 1991 I was unemployed, but instead of looking for work, I would walk over to the NFB library on St. Denis street in Montreal every day and watch movies. This was my introduction to the animated short form, something I had seen very little of before. Two things happened as I was sifting through the NFB animation collection: one was excitement at having discovered such a wonderful treasure of films, and the other was a voice in me that said loud and clear "I want to do this." I wanted to write, I wanted to draw, I wanted to be serious and funny, and with this art form I could do all three.
To me animation has always been a way to tell personal stories. And although my sources of inspiration, or the themes of my films may be quite serious, even a tad dark, I love humour. I am drawn to funny things, funny animation, funny cartoons, stand-up comedians, all kinds of comedies, Woody Allen movies, TV comedy shows with laugh tracks. I can frequently be seen uncontrollably crying with laughter sitting on the bus in my headphone bubble listening to David Sedaris tell his stories. Once when I was going through a particularly mournful period, a friend gave me "Out of Sheer Rage" by Geoff Dyer. Read this and you'll feel better, at least temporarily. And she was right. Last but not least, I love it when people laugh at my jokes. My husband thinks I am funny, and I think I am incredibly lucky to have a husband who gets my sense of humour.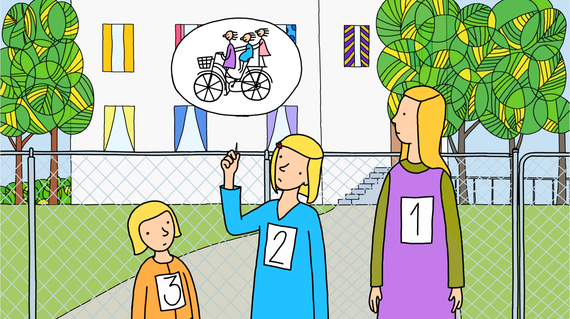 I have a drawing style that is rather naive, and a naive, simple, understated animation style adds a powerful dimension to what I try to express visually in a story. Movement adds humour, subtlety and depth. A shrug, for example, is no longer just a drawing of shoulders pulled up to the ears. It can also be rolled eyes, raised eyebrows, a corner of the mouth up or down, shifting the body, a sound, a piece of music.
Simple things can become so rich. This possibility of expanding a simple style into something more complex, is part of what made me fall in love with animating. Most people are baffled by how long animation takes, how many drawings are involved to make a film, even a very short one. But where others see endless toil, I see a kind of immediacy, an almost instant gratification in making something more expressive than it was just a few hours ago.
I try to tell stories that have a universal and timeless quality. My stories are personal, but I don't make them for me and they aren't really about me either. Ideally what I try to do is to shed some light on how I have experienced some tiny part of what it means to me be a human being, and hope that it resonates on some level with the audience. I think that's why I have never been so interested in animating a short film based on stories that I have not written myself. I just don't think I could sustain interest or passion long enough. I have to be able to feel where the story comes from, to have some sense of connection.
So far the short films that I have made are based on stories about family. Family history, family beginnings, family dynamics. I don't have a specific method or approach for writing these stories. When I wrote My Grandmother Ironed The King's Shirts I was acutely interested in my family history, something I had not been so interested in before my father died.
I was struck by how parts of my father's family's history were almost like soundbites designed to raise the family status a notch above its real position, which was somewhere in the middle class. An uncle was a fabulously successful art dealer, a great grandfather had owned one of Norway's first cars, an aunt owned bakery in a fancy neighbourhood, there was a recipient of a medal of honour, a couple of resistance fighters, and last but not least my grandmother who had ironed the king's shirts. But had she? And wasn't there an interesting similarity between how superficially we know our family's history and our country's history? And out of this came a story about a meek little grandmother transformed by the war to become a feisty resistance fighter, in her own way.
The Danish Poet was inspired by a kind of self-examining "how did I end up here" question. I felt like my life was about to veer off in a direction that had been determined by a combination of destiny and biology, more than by careful planning.
I remembered a childhood idea I had that everybody started out as seeds floating around in outer space, and were randomly selected by adults wanting children. My life as a child in Norway was therefore just a total fluke. I could just as easily have ended up in a family in the Amazon jungle, Greenland or Australia. So was it all a total fluke? And if so, where and when does this chain of flukelike events begin, and are some more important than others? And if such and such had not happened generations back, would I even be here. And so on.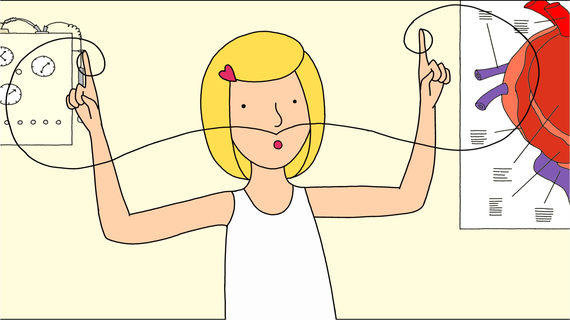 I have taken inspiration from my own life and my family's history to write and animate those two films. But neither of them are true stories. Me And My Moulton is different from the two others in a sense that much of it is a true story. It is also based on real people and actual events. My family presented as I perceived them at the time. More importantly I am describing quite truthfully feelings I had at the time, feelings of alienation, loneliness, some shame and inadequacy at communicating my feelings to others. Other characters have been altered somewhat in an attempt to protect their privacy, but by and large, and my sisters agree with me in this, it is a fairly accurate snap shot of an epoch of our family at the time.
Family relationships are an important and big source of inspiration to me. It is a practically bottomless well, from which I will probably continue to draw. There was a point in my life when I wanted to study psychology. I am interested in family dynamics and how parents carry with them their own upbringing when they raise their children. Patterns of behaviour are shaped generations ago and passed on to the next unless someone breaks the patters. Meanwhile, as one psychologist has put it: "Children swim in their parents' unconscious like fish swim in the sea."
But as "serious" as family matters may be, it is also a tremendous source of humour. I look forward to continuing to make animated stories that attempt to bridge the two.
Popular in the Community