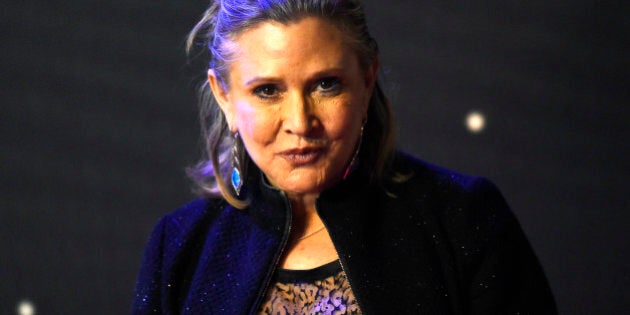 When someone dies unexpectedly from something like sudden cardiac arrest as appears to be the case with Carrie Fisher, it is a tragedy. And it is more of a tragedy when the person is young like Ms Fisher was at age 60. But what is an unconscionable travesty, are the blogs being written about her by the anti-psychiatry people who are using her death to promote their beliefs.
Like many people, Ms Fisher suffered with bipolar disorder and like many with that condition, she self medicated with alcohol and drugs. But she was also a spokesperson for the increased understanding of mental illness and the use of properly prescribed medications. Her ashes are in a giant sized replica of a prozac capsule.
In polite society, it is not appropriate, most of our mothers told us, to speak ill of the dead. Maybe it is OK for people like Hitler and his ilk, but of Carrie Fisher? No, but so far I've seen four blogs attacking her and her death in order for someone to make a political point.
The first one was the nastiest posted to the Boston Globe Facebook page set up for their excellent series on mental illness in Massachusetts. It is titled "Carrie Fisher: Victim of Psychiatry" written by someone called John C Hancock but you have to search to find his name. There is no indication who he is or what his qualifications might be. Mr Hancock attributes her death to "the roller coaster of psychotropic drugging and psychiatric incarceration that would eventually cause her premature death at age 60".
More mainstream critiques can be found on Robert Whitaker's webpage Mad In America where there are three blogs suggesting that Ms Fisher was killed by psychiatry. Those who follow me on Huffington Post are aware that I've critiqued Whitaker a number of times.
The first blog appeared on December 31 written by Corrina West whose business it is to provide support for those with emotional distress. Many of the anti-psychiatrists consider mental illness not to be an illness but emotional stress or trauma but more of that shortly. Her blog focuses on how psych meds can increase the risk of cardiovascular disease and death with the implication that Ms Fisher is a victim of psychiatric medication.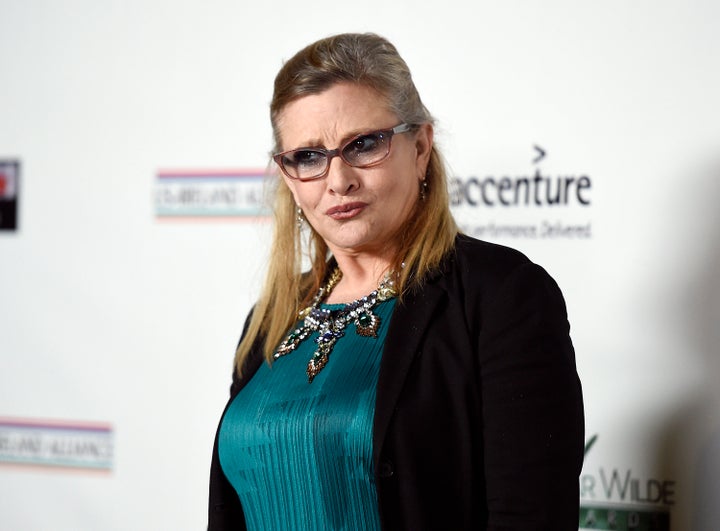 Honoree Carrie Fisher poses at the Oscar Wilde Awards at director J.J. Abrams' Bad Robot production company in Santa Monica, California February 19, 2015. (REUTERS/Kevork Djansezian)
I can't argue with the studies she presents but we have no idea what caused Ms Fisher's heart problem and the results of the autopsy are not yet available. Her sudden cardiac event could just as likely have been caused by her drug and alcohol abuse over many years. The Mayo Clinic states that the usual cause of a sudden cardiac arrest is a heart abnormality.
Among the risk factors are smoking, alcohol use and drug use so it is a bit premature to blame her death on psychiatric medication. She also arrested 15 minutes before he flight from London to LA landed so it is also possible she developed a thrombosis (blood clot) from sitting for so long and it broke off and went to her heart.
Many of the pain meds (the non steroidal anti-inflammatory group) that we buy over the counter for headaches, sore muscles, and other conditions can also increase our risk of heart problems. Why pick on her psych meds as a cause when you don't even know what she took or for how long?
Next came Phillip Hickley, a retired psychologist who did his own blog on January 2 and who talks about how psychiatry is not medicine and suggests as well that Carrie was a victim of that evil discipline. He goes on to describe what he calls psychiatry's modus operandi:
First they sell you the "illness" that they've invented.

Then they sell you the drugs to "treat" the "illness."

Then they sell you more drugs to counteract the adverse effects.

Then they sell you electric shocks to the brain.

Then you die prematurely.

Then they wring their hands in mock anguish, and say what a terrible illness this is, and that without their "safe and effective treatments", you would have died a lot sooner.
Then, later that same day, Noel Hunter posted her blog on Mad in America entitled "Carrie Fisher, Bipolar Disorder, and the Spread of False Information" She uses Fisher's death to point out to her readers that bipolar is not real and that it is related to trauma and stress. Again with the stress and emotion.
According to the National Institute for Mental Health in the US, "there is no single cause for bipolar disorder. "Instead, it is likely that many factors contribute to the illness or increase risk." They then list three - The first is brain structure and functioning whereby some studies have shown differences between those with bipolar and healthy controls. Genetics is another potential cause along with family history.
"Those who are susceptible to bipolar disorder or other psychotic illnesses are impacted by two types of stress, sleep and sensory deprivation. They don't cause bipolar, they exacerbate it."
I'm presently reading How Can I Help: A Week in My Life as a Psychiatrist by Dr David Goldbloom and Dr Pier Bryden. Goldbloom points out on P 78 that the first reported case of bipolar was described by Aretaeus of Cappadocia (CE 150-200) so it has been around for a long time. I imagine that stress and trauma have been for some time too. Psychiatrist, Dr David Laing Dawson, writes that humans are not designed for stress free environments. We all need a little stress although some thrive on it and others don't.
But, regardless of our preference for stress, "We experience and research tell us that most of us cope quite well with flood, fire, disaster, famine, and pestilence. The stress seekers and the stress averse alike. These are singular calls to action that focus the brain and our survival instincts. And that includes those of us vulnerable to psychotic illness."
Those who are susceptible to bipolar disorder or other psychotic illnesses are impacted by two types of stress, sleep and sensory deprivation. They don't cause bipolar, they exacerbate it.
Of course, you can ignore the research of the NIMH and all the other scientists and organizations that have studied this condition if you wish. But, why use the unfortunate passing of a well known celebrity (or even an unknown) to promulgate your views? It is disgusting.
Follow HuffPost Canada Blogs on Facebook