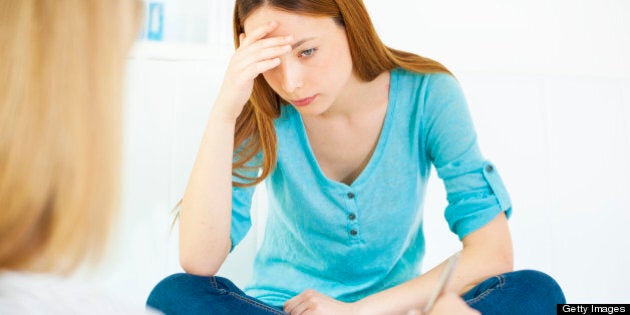 I have always wondered about what motivates people to give. It is one thing to give what you don't need, but it is something completely different when you part ways with your hard earned money. Worthy causes that touch us personally often can get us to give back. Now take a moment, and imagine if you were on a tight budget and had just quit your job... would you still part with your money for a good cause?
That is exactly what Patricia Tomasi from Kick Ass Dreams did. Here is Patricia's astounding story of self-discovery, and how she still manages to share her limited wealth with others.
Patricia Tomasi worked as a broadcast journalist and television news anchor for CBC, CTV, and Global News, she also spent a decade as the media relations specialist for the Ontario Ombudsman and the Minister of Transportation.
After a life long battle with depression, anxiety and panic, Patricia turned to the universe for answers to cope with her unhappiness. She did the unthinkable and listened to her inner voice and did something most of us would not dare to do. Patricia quit her job to pursue her Kick Ass Dreams.
She has a wonderful blog and a column in "O.Canada.com" detailing her brave and fun journey. In her words, her readers get a "full frontal" of her finances, and learn a very important lesson about cutting back and spending less.
Since quitting her job, she has released her book and has had a ton of success as a yoga instructor, Holistic life coach, actor, writer and a mental health advocate.
Patricia has been blessed to work through her depression through yoga and meditation, which made her a big advocate for Mental Health Awareness. It wasn't a coincidence that her book launched on Feburary 12, the day that Bell Let's Talk took place.
In true Patricia's Kick Ass fashion, the book launch was no ordinary event. She drew her audience in to a one-woman theatrical musical performance about her journey through depression, and anxiety, and how she grabbed life by the horns and went for her kick ass dreams of acting, writing, and life coaching.
Here is what got me; Patricia is very frank about her finances, she walks us through what she once earned, and how much she should be earning every month. So one would think that as a person who is very pragmatic about her situation, would really hold on tight to her book launch/musical earnings. Not so much.
Here is what she wrote in one of her blogs about her illogical decision.
I was totally intrigued by this, so I had to ask Patricia the following:
When you are on a budget, why would you give money to a cause, when you can easily keep that for yourself?
"The night my life changed forever was when I chose to commit my life to healing, learning the truth, reclaiming my passions and helping others manifest their kick ass dreams, I committed to paying it forward in immense gratitude to the magical universe that saved my life and so much more."
Why give specifically to Partners for Mental Health?
"When I was getting ready for my book launch, I asked the universe, to whom should I donate the proceeds? A tweet popped up on my phone. It was from Partners for Mental Health, a national non-profit organization committed to changing the way we think about and treat mental illness. Since I healed from post partum depression, anxiety and panic through non-traditional means, meditation and chakra balancing, and since I had become a staunch advocate for complementary health care with a focus on mental health, I was ecstatic to donate 100% of the proceeds of my book launch to Partners for Mental Health.
I met with President Jeff Moat and became even more certain that the money would be going to the right hands. He's an amazing advocate and mobilizer on a topic dear to my heart. All this after quitting my very financially stable and secure corporate job to follow my dreams and with piles of debt. I trusted the universe and it paid off, literally. In only three months, I have become debt free and am living the life of my dreams. It was a lot of hard work and truthfully I began preparing for this shift a couple of years ago, but even when I had doubts and debt and wondered if following my passions and dreams was the right thing to do, I thought back to that dark night of the soul when I was on the verge of another terrifying panic attack and chose to call a higher power instead of 911. It was the best decision I ever made. Simply, that's why I give. Because I was given a second chance."
I ask you this; would you be able to do what Patricia did?