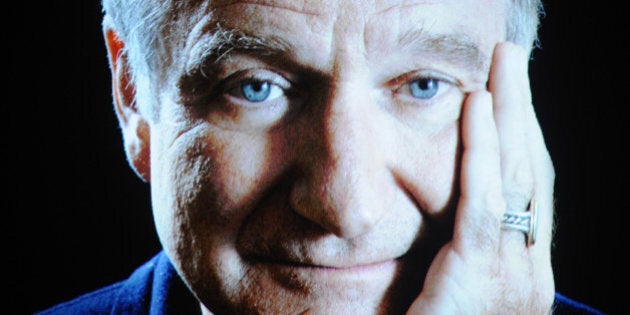 Last year, our collective hearts took a big hit. We lost Robin Williams, our man of 1,000 voices, a cavalcade of characters, a wired Gumby body with an electric brain, and one very deep -- and wildly inclusive -- heart. Beyond his comedy and acting fame, Robin was a staunch advocate and supporter of the homeless, veterans of war, underdogs and the disenfranchised.
Even with all of his gifts, Robin felt like one of us. He made us feel like we were all in this together. We imagined we could sit down with him and share a few laughs or, even, tears. We just knew, instinctively, that Robin would accept us, just as we were, with our toes poking out of our socks. Robin struck a common chord within each of us that resonated galaxy-wide.
On August 11, 2014, Robin's life shockingly ended in suicide. Much commentary ensued over the past year. On this first-year anniversary of his passing, it seems more than appropriate to ask the question: What have we learned from Robin Williams' suicide?
His tragic death has given us these new insights:
Robin's death took suicide out of the closet.
With his genius comedy and acting, Robin excelled at taking us out to the edge, expanding our thoughts and opening our minds. Curiously, he has done that very thing with his death. Robin's suicide has helped break the taboo, stigma and shame attached to suicide. His death made suicide part of the global conversation. We've learned that we CAN talk about suicide. And in talking, we can air out a very uncomfortable topic and cast light on dark places of pain and despair.
Suicide turns out to be everywhere.
Once Robin helped us open that closet door, we realized that suicide is everywhere. Everyone knows someone (who knows someone) who has thought about suicide, acted upon suicidal thoughts, or died as a result of suicide. It falls into that six degrees of separation phenomenon -- it's more prevalent than we imagined. In fact, suicide has become a global epidemic. The World Health Organization (WHO) tells us that every 40 seconds, on average, someone dies by suicide around the globe. That speaks to a whole lot of pain.
We have a need to know why.
Suicide is counter-intuitive to life and it leaves us wanting answers; reasons; something to make sense of this act. Why did our wonderful Robin take his life? It was unfathomable to us. Speculations and theories abounded. One tabloid blasted that Robin was murdered. People have a very hard time accepting suicide, and an especially difficult time when it's the suicide of one of their heroes. We wonder, wasn't our love and adoration enough?
Robin's suicide was a very emotional event. It left us stunned. "Mork-ness" notwithstanding, Robin was just like us -- all too human. His celebrity status didn't make him exempt or change the fact that he had to deal with -- and sought help for -- his own "stuff." Robin's death unearthed his struggles with long-term depression and substance abuse, each a primary factor in many suicides. But it was the coroner's report that provided the missing piece: Robin's autopsy revealed "diffuse Lewy body dementia" due to his Parkinson's disease. This form of dementia with the attendant extreme anxiety was critical, per the coroner, in Robin's suicide.
Suicide is complicated. It's the result of cumulative stressors, dire circumstances, and traumatic events and experiences. We can never really know everything a suicidal loved one is thinking or feeling. However, we do know that risk factors -- such as money issues, family history (think mental illness, substance abuse and violence), trauma (like PTSD), physical issues (i.e., brain injury, intractable pain), extreme psychological pain and social issues (such as bullying) -- can increase suicidality.
It helps to have a context, or, at the very least, an inkling of what might have led up to that final decision. With an understanding of suicide, we can begin to accept the unacceptable and the unimaginable.
Robin Williams was not a coward.
The shame and secrecy, taint and taboo of suicide lead to criticism and judgment. To the newscasters who suggested otherwise, let me be clear, suicide is not an act of cowardice. Rather, it is an act stemming from extreme pain. Suicide happens for a lot of reasons, but cowardice is not one of them. Pain of every shape and kind is the predominant catalyst. Compassion, not judgment, is the only response to suicide.
Dealing with suicidal grief is a hero's journey.
People can be cruel, unconscious and inappropriate to those left behind. The surviving loved ones are often judged to be wanting in some way because of the suicide. Robin's daughter, Zelda, was forced to withdraw temporarily from social media due to the verbal abuse and attacks posted following her father's death. Suicide rocks family members and turns their world upside down. And, in the case of Robin Williams' family, the shock and grief were played out on the world stage.
Suicide leaves loved ones in a tangle of jumbled emotions, forced to sort through complicated grief and trauma. Our compassion needs to extend to the surviving family members and loved ones who are left to pick up the pieces of their shattered lives. Dealing with suicidal grief is not for the faint of heart. It is, indeed, a hero's journey.
Robin Williams' death has made us realize that suicide is about us -- not them. His death has increased our comfort zone so that we can talk about suicide a bit more freely and openly. And that discussion opens the door for more healing, understanding and compassion. This is an enormous gift to the planet.
Thank you, Robin, for your wonderfully multi-dimensional self -- your art and craft, your goodness and caring, and the impact of your death. You have left a permanent tattoo on many a heart. And, your starlight continues to shine.