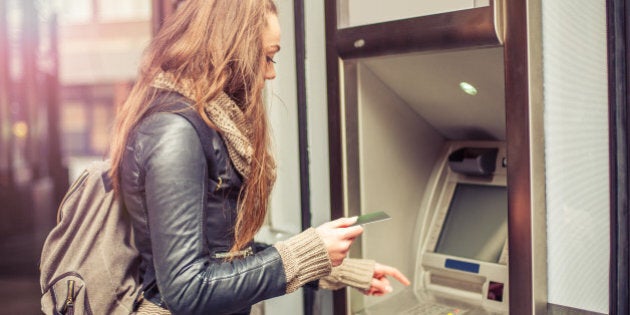 It's not often you hear a bank executive admit to stressing about money. Meeting Mary* -- a sophisticated, confident young woman whose tasteful dress signals a sharp attention to detail -- it's hard to imagine her thinking twice about a credit card bill.
"Regardless of having a pretty decent job, a defined benefit pension, a savings framework and no dependents, my main worry is that we won't have enough for a comfortable retirement," says Mary. "And more importantly, that should one (or both of us) develop health issues, will we be able to take care of each other comfortably with what we have?"
Mary's not taking anything for granted. "We love to shop, love to travel and I love to share what we have with others," she says. "So, it's a balancing act. Enjoy life now but plan for the future too."
Money worries exist across income levels, and across the country. A new study fielded by Ipsos has found that three in 10 Canadians say they feel insecure about their financial health, defined as "a state of overall well-being where a person can fully meet current and future financial obligations to enjoy the things that matter most in life."
The 2016 Sun Life Canadian Health Index reports that 18 per cent are somewhat insecure and 12 per cent are very insecure. Another 24 per cent say they're neither secure nor insecure.
This all comes at the end of a year in which the country's key stock index has enjoyed a solid run. The S&P/TSX Composite index is up more than 16 per cent year to date as of the end of November. The national unemployment rate has fallen from 7.2 per cent in January to 6.8 per cent in November. Not a huge shift, but a move in the right direction.
Economic growth remains stubbornly soft though. In October, the International Monetary Fund predicted just 1.2 per cent growth for Canada this year and 1.9 per cent next year. Eight years after the financial crisis, our economy has yet to break out of its funk.
Canadians are feeling it, personally.
"I can just manage to make expenses meet income, but there isn't room for savings," says Kate, a divorced mom working to support herself and kids with special needs. "In addition to my salary, I freelance, when I can, and I volunteer."
Kate's experience as a single parent is common. "I've had to tailor my career to be able to support the needs of my family," she says. "As a result, I have not had the career stability or continuous high-earning potential, with contingent benefits, that might be expected."
Dwayne is a 57-year-old marketing leader with a wife and three kids. "I can see the end of the corporate working life runway," he says. "But we still have high university tuitions to contend with while trying to eliminate our mortgage and have enough savings/investments in place for retirement. This scenario requires that my wife and I both continue to maintain or grow incomes that feel more at risk now than any other time in my life."
None of this gets easier with age.
Lee is a semi-retired media executive who, despite feeling he's achieved a degree of financial security, doesn't feel completely at ease.
"When you are retired, there is always the nagging fear you don't have enough money; that you will run out," he says. "I think it is very important to have a proper financial plan - a plan that looks at your expenses and your money to see if the two exist in the same stratosphere. Once you have that plan, it is important to review it every few years, especially if you go through a major lifestyle change due to health, a new home etc."
These folks are coping in a variety of ways:
"I've chosen to manage two properties, one of which carries a mortgage," says Kate. "Under different circumstances, at my age, I should not be so debt-leveraged. My real estate investments are my retirement savings fund ... I take advantage of the tax deductions and credits that are available to me. I have a home equity line of credit, which assists with emergencies. But that is only a good idea with low interest rates."
"We've been laser focused on a few key priorities for the last few years," says Dwayne. "We have eliminated all non-mortgage debt and focused on a pay-yourself-first approach to my company group RRSP matching program to bolster our retirement savings. With our oldest graduated, moved out and working, her younger sister in her last year of her program and our son in first year engineering at university, we are into the bottom third of our RESP savings. But we've been able to augment that with annual bonus money ... As for stress, it's so important to include resources to do some of the things that you enjoy as part of your overall budgeting. That's what gives you the drive to keep going."
"I budget, or keep track of my money expenses, to see if we're on track," says Lee. "I also tend to delay large expenditures. Not sure there's any logic to it. But that's how I cope."
Me, I'm just plain stingy. Later this month, my family will see me in the same Christmas sweater I've imposed on them for the last three years. That is only partly a fashion decision.
*Names have all been changed.
Kevin Press is assistant vice-president, market insights at Sun Life Financial.
Follow HuffPost Canada Blogs on Facebook