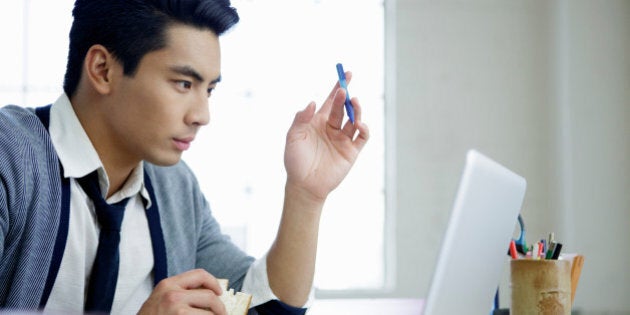 According to Alberta's Centre for Innovation Studies, Canada has the second-highest level of entrepreneurial activity in the world. Having been with eBay Canada for more than a decade, and having spoken to eBay sellers across the country, I have firsthand proof that the entrepreneurial spirit is incredibly strong in Canada.
eBay Canada's Entrepreneur of the Year awards -- now in their 12th year -- provide a great vehicle to recognize and celebrate successful online entrepreneurs. I'm always so impressed with the entrepreneurial journeys sellers describe in their award submissions. While there is no manual outlining how to be successful, there are certainly commonalities shared by Entrepreneur of the Year award winners. Here are five traits shared by most successful online entrepreneurs:
They are strategic; they map out their growth

A recent BDC survey of Canadian entrepreneurs found that successful businesses are much more likely (71 per cent) to have a strategic plan than less successful companies (46 per cent). Christine Deslauriers of Blezard Valley, Ontario, is an example of this. Using her knowledge of Canadian specialized sportswear, she built a business plan on the premise that she could purchase overstock figure skating inventory directly from Canadian manufacturers. In addition to her physical store, part of her strategy was to open an online store on eBay so she could increase her inventory depth, which helped her purchasing power and margins. Building on her sales success, she quickly expanded her product offerings both online and offline to include gymnastics, dance and sports swimwear.

They think globally from the outset

Kimberley Wotherspoon runs the online operations for a hardware and building supply store in Dartmouth, Nova Scotia. When she was first hired, she was tasked with improving the store's website traffic and making the online ordering process easier for Canadian contractors and retail customers. However, being an "intrepreneur" (an entrepreneur within a company), she didn't stop there; she wanted to find a way to reach a larger audience and generate incremental sales. Selling through a global online marketplace was her solution. Today, more than 60 per cent of her business's online orders are exported to countries such as Australia, United Kingdom, Norway, Italy and the United States.

They focus on niches to differentiate themselves from the competition

Finding a niche was the way Jean-Francois Lapointe of Gatineau, Quebec, successfully created an online business for his bicycle shop. Knowing his online competition were big retail chains who had greater buying power, he recognized that in order to compete, he would have to specialize: He started by focusing on selling high-end bike suspensions to bike enthusiasts all over the world, and today he is the largest online bike parts and accessories reseller in Canada.

They are passionate and resourceful

Farishta Zarify discovered her passion for fashion could be turned into a successful online business after she sold her own high-end designer gown on eBay and noted the number of interested buyers. Taking advantage of the marketplace's low selling cost, and using her own personal dress collection as her start-up inventory, she launched her business. Within the first six months she was able to quite her other job and focus on her online business full-time, sourcing and selling through this single ecommerce channel. Today, has repeat customers across the globe and her business continues to grow.

They are resilient; they learn from failure and pivot in the face of obstacles
Shortly after opening his first bricks-and-mortar home improvement store, Michel Robidoux of Ste-Julie, Quebec was facing bankruptcy. Confident that going online was the solution, he created his own website, but quickly found he couldn't generate the traffic necessary to drive sales. Rather than give up, Michel doubled-down on ecommerce by listing his inventory on online marketplaces. That's when things 'clicked'; Michel found the success he needed to not only keep his business open, but to expand it. Thanks to his online sales, he's seen dramatic increases in all aspects of his business: revenue, retail square footage, inventory assortment, and employees.
These stories illustrate five traits that are core to online entrepreneurial success. It all boils down to focusing on an area of passion or expertise, being strategic and planful, thinking globally from the outset, and being prepared for failure while aggressively pushing for success.
What other traits do you think contribute to an online entrepreneurs' success?