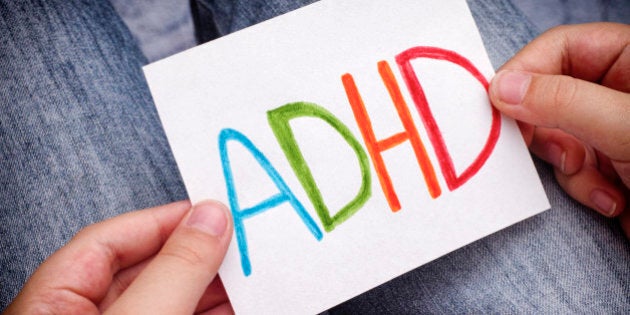 Long wait times for therapy for children with Attention Deficit Hyperactivity Disorder (ADHD) are leaving many parents, including myself, wondering about the effectiveness of Ontario's current strategy.
"We're seeing some successes in some jurisdictions," says Minister of Child and Youth Services, Michael Coteau. "If you're telling me that your daughter has been waiting for a year, to me, that's too long."
Science has shown therapy to be crucial in the treatment of ADHD. In some cases, therapy has been shown to reduce medication and get rid of it altogether. The American Academy of Pediatrics recommends preschool aged children (4-5 years) try therapy first before medication. But due to long wait lists, children with ADHD aren't able to access therapy quick enough in Ontario.
While the Moving on Mental Health initiative in Ontario began with the intention of lowering wait times for therapy for children with mental health conditions, four years on, children with ADHD are still waiting months and in many cases, years for therapy.
Children like Lauren Sydney's son who waited a whopping five years to receive occupational therapy.
"It took until grade three to get assessed," says Lauren. "He finally got it halfway through grade five."
Children like Barb McCarthy's son, who waited two years for an assessment before being put back on another waiting list for therapy.
"There were a lot of challenges during that time," says Barb. "There were constant ongoing delays at school for assessments and access to services."
Children, like my daughter, first diagnosed at age five. Right off the bat, we were given three types of medication to try and were never told about therapy until I inquired. She's now seven and still on a waiting list to see a therapist.
As part of Moving on Mental Health, lead agencies were identified across 33 service areas in Ontario to help reduce wait times for therapy.
One of those lead agencies is New Path Youth and Family Counselling Services of Simcoe County, where my daughter is currently on a wait list.
"There are a limited number of child and adolescent psychiatrists in Barrie and Simcoe County," New Path Manager, Lisa Hickling Miller explains. "Our intake department is always busy."
Last year, New Path completed over 1200 intake interviews for new clients.
Theories as to why wait lists continue to grow include the increasing demand on the system as more children are diagnosed with a mental health condition in combination with a shortage of psychiatrists in Ontario.
"People are able to obtain non-medical services without a waiting list," says Doron Almagor, chair of the Canadian ADHD Resource Alliance, "but need to pay unless they have a good private insurance plan for psychologists, social workers, occupational therapists or the others that provide these services."
Frustrated with waiting, parents with the means take matters into their own hands.
Amanda Osmond of Barrie pays $160 weekly for therapy from a psychologist for her seven year old son with ADHD.
"Our pediatrician has been zero help besides providing meds so we decided to see a behavioral psychologist and pay out of pocket," says Amanda. "It would be wonderful if it was covered."
A psychologist can be around $200 an hour. Private clinics have programs sometimes, but they can charge $600+ per person.
"It's a two-tiered system," says Heidi Bernhardt, director of CADDAC. "You can often get in to see a psychologist very quickly, but the cost is out of pocket."
To help parents navigate the system and learn more about ADHD, CADDAC offers a two-day program called the Parental Readiness Education Program (ADHD PREP) that examines treatment options, parenting strategies and advocacy skills.
"I developed it because of the great needs and lack of resources," says Heidi. "Physicians don't have time to do this or may not have the training to do this."
Dr. Sylvain Roy, a neuropsychologist at the Centre for Addiction and Mental Health is hoping to increase access to psychologists in primary care settings to help with the long waitlists.
"We were told by the ministry of health that adding psychologists under OHIP would never happen," says Dr. Roy. "Psychologists and neuropsychologists routinely diagnose and provide psychotherapeutic services including cognitive rehabilitation to those with ADHD. Very few of us work in family health teams or community health centres which would be most effective."
I don't pretend to know the best way to reduce wait times in Ontario and I appreciate the effort being put forth, but being a parent of a child with ADHD and speaking with other parents like me currently navigating the system, I think what might help would be allowing psychologists to start delivering much-needed therapy, since it's already being done privately.
If assessments, diagnoses and therapy administered by a private psychologist is accepted by school boards, why can't it be covered under OHIP?
"I don't know what the actual answer is," says Minister Coteau. "I know that we still have a lot more work to do."
Follow HuffPost Canada Blogs on Facebook