Holyday's win isn't confirmed yet, but his victory would secure the Ontario Progressive Conservative party its first Toronto seat since 1999.
Holyday — who had the help of Mayor Rob Ford — and Milczyn campaigned to the last minute, but ultimately the Tories' candidate was projected to win the seat.
The Liberals, who had previously held all five ridings, lost three seats in Thursday's by-elections, but held on in Scarborough-Guildwood with Mitzie Hunter's win, and in the Ottawa-South riding with John Fraser's victory.
The Ontario NDP bagged two seats: in the Windsor-Tecumseh with Percy Hatfield cruising to an easy win, and in London West with Peggy Sattler.
More from The Canadian Press, by Maria Babbage
TORONTO — Humbled by the loss of three seats in the first electoral test of her leadership, Premier Kathleen Wynne acknowledged Thursday that Ontario voters delivered a "verdict on the recent past" and the scandals that have plagued the minority Liberals.

"I have heard that verdict," she said after the results were announced.

"I have heard it and I accept it. The next election will be about the future. That's what we're working toward."

But Wynne also delivered her own ruling of her predecessor Dalton McGuinty's administration, condemning the political management of the controversial cancellation of two gas plants as "heavy handed" and "secretive."

"Correcting the mistake that was made in the first place cost more money than it should have, and as a member of the government that made those decisions, I could not be more sorry about that, and I mean that," she said.

"I absolutely mean that."

The byelections were the first opportunity for voters to judge Wynne after six months on the job, dogged by the controversies she inherited from McGuinty.

By the end of the night, the Liberals managed to hang on to two of the five seats they had on the line, Scarborough-Guildwood and Ottawa South — McGuinty's old riding and a family stronghold.

The New Democrats nabbed the two ridings of Windsor-Tecumseh and London West, while the Progressive Conservatives scored their first win in Toronto in 14 years.

Even though the Tories fell behind their rivals, they said Etobicoke Lakeshore was a major victory for the party, which needs to make a breakthrough in Canada's largest city to have any hope of winning the next election.

"It is thrilling to win our first seat here in the city of Toronto since 1999," Hudak said from Tory candidate Doug Holyday's victory party.

"And let me say this too: our first seat since '99 and friends, more to come for the PCs here in the city of Toronto and across our great province."

Tory hopes for the west Toronto riding were pinned to star candidate Holyday, the city's deputy mayor, who was pitted against fellow city councillor and Liberal rival Peter Milczyn.

The two opened up neck and neck, but Holyday pulled ahead with nearly 47 per cent of the vote, leaving Milczyn behind with 42 per cent.

The tough race between the two sparked a war of words between the governing Liberals and Toronto Mayor Rob Ford, who campaigned hard for Holyday.

Ford called the government "corrupt" and compared voting for the Liberals to handing a gun to a bank thief and telling him to rob another bank.

Transportation Minister Glen Murray fired back, labelled Holyday a "mouthpiece candidate" who was running on Ford's coattails.

Ford defended his involvement in the Tories' Toronto byelections campaigns, saying he "wasn't going to sit back and watch this Liberal nonsense carry on."

"We've got inroads in a very hard Liberal riding," he said Thursday. "We did well right around the horns. So we're making a breakthrough, slowly but surely."

On the other side of Toronto, it was a tight three-way race in Scarborough, with Liberal Mitzie Hunter finally surging ahead of the Tories and NDP with nearly 36 per cent of the vote.

McGuinty's former assistant, John Fraser, eaked out a victory in Ottawa over his Tory rival Matt Young with 42 per cent of the vote, compared to Young's 39 per cent.

The New Democrats were beaming after former TV reporter and city councillor Percy Hatfield won by a landslide in Windsor, with 61 per cent of the vote in a riding previously held by former cabinet minister Dwight Duncan.

Their smiles grew even wider as Peggy Sattler claimed London West with 42 per cent of the vote. The Liberals' star candidate, foe-turned-friend union leader Ken Coran, fell flat — a distant third with just 15.8 per cent of the ballots cast.

Thousands of voters have spoken and want a change at Queen's Park, said NDP Leader Andrea Horwath.

"They voted to send a message, they've had enough of an arrogant government that takes them for granted," she said in Windsor.

"They've had enough of a government that's more concerned with managing the fallout from the latest scandal than with creating jobs and improving the health-care system."

A Liberal supporter in Scarborough said he's not bothered by the loss of three seats, but acknowledged that it's a setback.

"The party may have been asleep at the wheel for a bit but the province expects them to wake up," said Andrew Fryer, 25.

Wynne signalled weeks ago that the byelections would be tough for her minority government, despite their attempt to renew the party following McGuinty's surprise resignation last fall amid a cloud of controversy.

Finance Minister Charles Sousa echoed that sentiment as the results rolled in Thursday night.

"In a byelection, it's always more difficult for a sitting government to retain all those ridings," he said.

"I certainly recognize that the people of Windsor and London have spoken. We're listening, we recognize that it's a byelection, an indication that all governments have to be more attentive to the needs of the communities."

The politically motivated cancellations of the two gas plants in Oakville and Mississauga have been the albatross around Wynne's neck.

A steady stream of damaging documents trickled out this week, reminding voters that they'd be paying the $585 million bill and providing ammunition for the opposition parties in the dying days of the campaigns.

"With respect to the political management of this issue — with which I was not involved — I'm not comfortable with what I've heard," Wynne said.

"I think there was a heavy handedness and a secretiveness that is not what we are about. The people of Ontario have a right to much better than that."

Wynne will still lead a minority government Friday, regardless of the outcomes of the byelections. The Liberals were just one seat short of a majority before the five resignations by McGuinty and four former cabinet ministers.

After Thursday's vote, the current party standings in the Ontario 107-seat legislature are:

Ontario Liberal Party — 50 seats.

Progressive Conservative Party of Ontario — 37 seats.

New Democratic Party of Ontario — 20.

- With files from Keith Leslie and Jeff Mackey.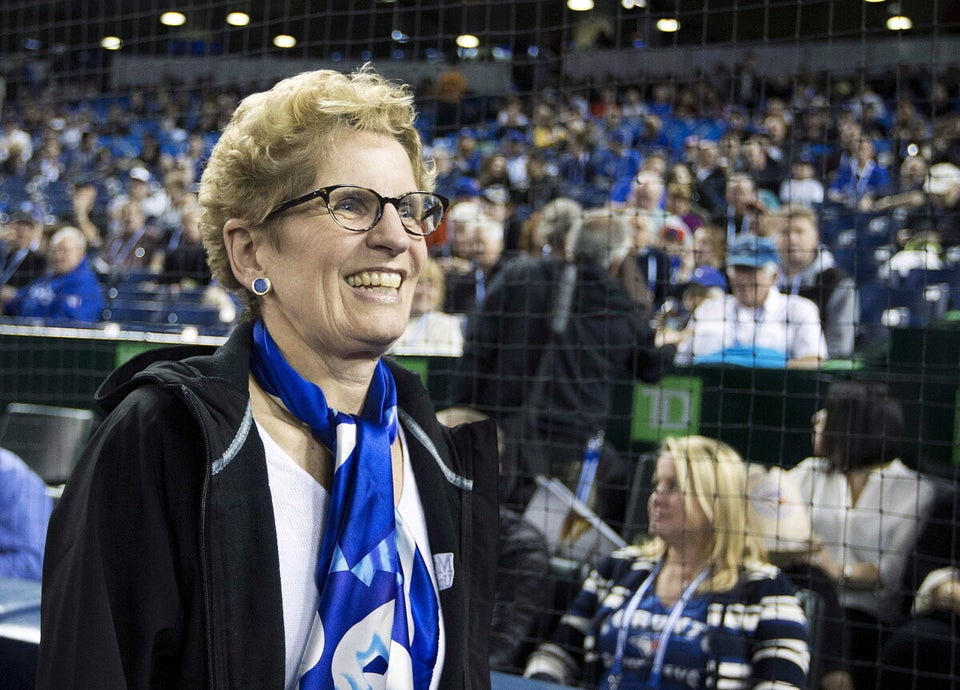 The Many Faces Of Kathleen Wynne