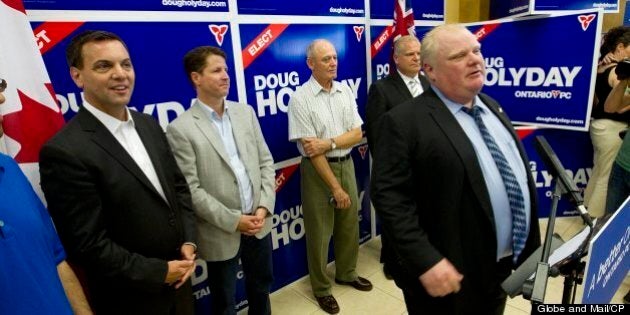 Five Ontario ridings will be heading to the polls on Thursday, in an early test for Premier Kathleen Wynne's Liberal government.
Oh what's that? You haven't been paying attention? Too busy cottaging, barbecuing and enjoying the weather to pay attention to politics? Well, we've got a handy-dandy cheat sheet for you political watchers. If you live in one of these five ridings, do a bit more research on the issues and the candidates and go out and vote on Thursday.
OK, so which five ridings are we talking about?
There are five all together. Two in Toronto (Scarborough−Guildwood and Etobicoke−Lakeshore), and the ridings of London West, Windsor−Tecumseh, Ottawa South.
So who held the ridings before?
They were all held by Liberals, a few of them by key Liberal ministers. Former finance minister Dwight Duncan held Windsor-Tecumseh, education minister Laurel Broten held Etobicoke-Lakeshore, former energy minister Chris Bentley was in London West and Dalton McGuinty held Ottawa South. Notice a pattern?
So this won't bring down the government?
Nope. If the Liberals lose all five seats they'll still have a minority government.
Phooey! So what's the big deal?
The elections are widely seen as a test for relatively new Premier Kathleen Wynne and for Conservative leader Tim Hudak. Wynne has been facing the fallout from a number of scandals including the hundreds of millions spent on a cancelled gas plant in the GTA and a long, ugly fight with teachers unions.
For Hudak, the election will be a way to see if he's on the right track, mercilessly attacking the Liberals and refusing to prop up the Liberal minority. Also, a good night for him would shut up a lot of his naysayers.
I don't live in one of these ridings... so which one(s) are the most interesting?
Probably Etobicoke-Lakeshore. You've got two former Toronto city councillors, Doug Holyday running for the Tories and Peter Milczyn running for the Liberals. Holyday is the city's deputy mayor and a close ally of Rob Ford, and Milczyn has represented parts of the riding for over a decade now. Polls have these two running neck-and-neck. A win for the Tories would provide a much-needed Toronto riding for the Tories, who have been shut out of the province's largest city.
A close second is Scarborough-Guildwood where plans to build a subway are a hot topic. That riding also has the odd spectre of Adam Giambrone, former TTC chair trying to revive his political career. Both ridings of course have the added excitement of Mayor Rob Ford going on the attack. He's been very vocal about slamming Wynne and the Liberals. "You cannot . . . reward a corrupt government. So if you say you want to go and vote Liberal, then you're basically just giving a bank robber another gun and saying 'Go rob another bank,' " the mayor said earlier. Of course this is the same Liberal government that has said it'll offer $1.4-billion for that subway that Ford wants so much.
Watching Liberal candidate and former Ontario Secondary School Teachers' Federation head Ken Coran run for the government that he fought with just a few months ago also has a certain amount of schadenfreude. He's fighting for the seat in London West.
What are some of the key factors?
In the Toronto-area ridings, the Ford brothers have been raising a lot of noise about subways and against the Liberals. So we'll see if Ford Nation can be rallied into showing up at the ballot box. There's also the fact that Hudak has been sticking to his "throw the bums out" message pretty tightly.
What are we, fortune tellers? Pundit Eric Grenier thinks that three of the ridings are potentially very close. Scarborough-Guildwood should remain Liberal while Windsor will be painted NDP orange.
Results should be available after 10:00 pm ET unless, of course, the races are tight, then we could be in for a late night.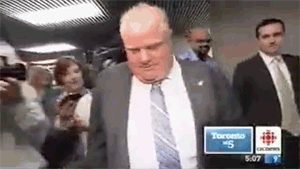 Best Rob Ford GIFs