The Ontario government will appeal a Superior Court decision that struck down a law cutting the number of Toronto city councillors weeks before an election, Premier Doug Ford told reporters Monday. He also said legislature would come back early to pass a new version of the bill to include a little-used charter clause that allows provincial governments to overrule justices.
"He's the judge. I'm the premier," Ford said.
MPPs will come back to work Wednesday instead of on Sept. 24 as planned. Ford said lawyers of all political stripes agreed that the Better Local Governments Act, or Bill 5, was constitutional.
He's the judge. I'm the premier.Doug Ford
"We vetted this upside down, sideways, backwards," the premier said. "When we heard this decision, do you know how many people fell out of their chairs?"
Justice Edward Belobaba ruled that the law was unconstitutional because a municipal election was already underway.
Court calls cuts undemocratic
The move "cannot be demonstrably justified in a free and democratic society," Justice Edward Belobaba said in his decision.
"The matter before me is unprecedented," Belobaba wrote. "The Province has clearly crossed the line."
Cutting council is within the province's rights, but the legislation Ontario used has two "constitutional deficiencies," Belobaba ruled. The bill breaches the Charter of Rights and Freedoms in two ways:
it violates candidates' right to freedom of expression because it was introduced in the middle of an ongoing campaign

it violates voters' right to effective representation because it doubles the population of city wards from an average of 61,000 to 111,000.
'Crickets'
One line in the justice's decision drew a lot of attention online.
Belobaba asked rhetorically why the province changed the size of all wards when it said it was concerned about the size of six specific wards.
"Why impose a decision ... that is far worse, in terms of achieving effective representation, than the original problem? ... Why do so in the middle of the City's election?" he wrote. "Crickets."
A reporter played the sound of crickets while press waited two hours for the premier, whose noon press conference was pushed back multiple times until 2:00 p.m.
It is unclear whether the election, scheduled for Oct. 22, will be able to continue as planned. The City of Toronto said in a statement it was preparing for a 47-ward election on Oct. 22. Ford said the city should be planning for a 24-ward election.
Ford's PC government introduced the legislation in July to reduce the number of city councillors from 47 to 25. He argued the change would improve the city's decision-making process and save local taxpayers $25 million over four years.
Story continues after video
Now, the government will need to pass a new version of the bill to invoke section 33 of the charter, known as the notwithstanding clause. It has never been used in Ontario before.
"Most governments avoid even talking about it because it has a reputation as if it only exists to override charter rights, rather than say express disagreement with a judicial decision," University of Waterloo political science professor Emmett Macfarlane told HuffPost Canada in an interview.
"It's politically unpopular, but it might play with Doug Ford's base, and so he might see it as a legitimate option."
Federal cabinet minister Dominic LeBlanc called Ford's use of the clause "disappointing."
"The notwithstanding clause is an extraordinary part of the constitution that should only be used in the most exceptional cases, after serious and sober consideration," the minister for intergovernmental affairs said in a release.
Opposition leader Andrea Horwath said she was astounded by Ford's move to invoke the notwithstanding clause.
"Doug Ford is literally suspending the charter of rights of Ontario people in order to plow ahead with his revenge plot," she told reporters Monday. "I think it's a very sad day for democracy in Ontario."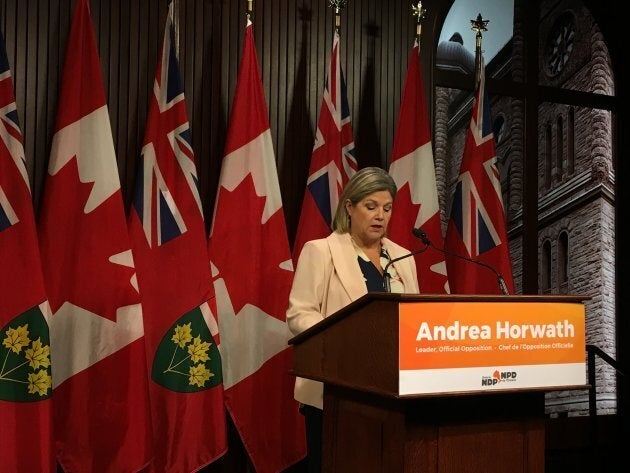 Horwath accused Ford of trying to cut city council to settle personal and political vendettas with councillors. She also noted that the premier who promised to eliminate wasteful government spending was pouring money into court battles.
"That is not being for the people," she said.
With files from Mohamed Omar