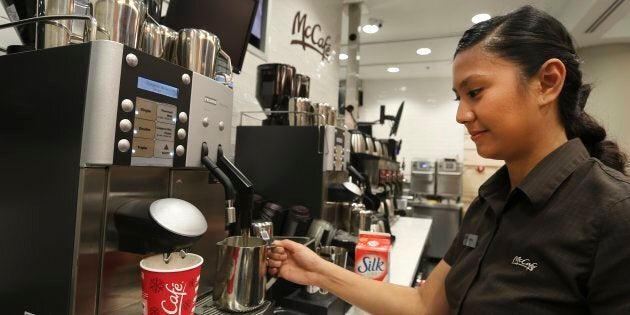 One of Ontario's most prominent business groups is calling on the government of Doug Ford to repeal the comprehensive labour law reforms passed by the previous Liberal government that saw the province's minimum wage hiked to $14 an hour.
But the Ontario Chamber of Commerce says it isn't trying to roll back that minimum wage hike — it just wants a halt to the planned next phase of the hike, which will see the minimum wage rise to $15 an hour next year.
Premier Doug Ford has said he wants to stop the hike to $15, but his government has taken no concrete steps in that direction yet.
Aside from the minimum wage increases, the previous Liberal government's Bill 148, known as the Fair Workplaces, Better Jobs Act, contains a host of changes to labour laws, most of them favourable to employees.
On-call scheduling
Among the changes the chamber objects to are rules dealing with on-call scheduling, under which employees often have very little notice of their upcoming work shifts. Critics of the policy say it impedes on life outside of work, harming employees' ability to raise children or enjoy a social life. A number of U.S. retailers have ended the practice, after pressure from state attorneys-general.
Bill 148 allows employees in Ontario to refuse a shift that is scheduled less than 96 hours before its start, with some exceptions. It also requires employers to pay for a minimum of three hours of work in case a shift is cancelled or reduced, if the employee would regularly have worked at that time.
The chamber's vice president for policy, Ashley Challinor, said these regulations have hit the agriculture, tourism and restaurant industries particularly hard. Businesses are unable to properly staff their operations, and they "pay a financial penalty" for things beyond their control, such as a rainy day that reduces attendance at a tourist attraction, Challinor argued.
Expansion of emergency leave
The chamber also objects to expanded emergency leave. Under previous regulations, employees at companies with 50 or more people were entitled to take 10 unpaid days per year in emergency leave. Bill 148 expanded that to include small businesses.
That move "was not properly communicated to employers or employees, so a number of our members (had) shifts they were unable to fill," Challinor told HuffPost Canada.
She said many businesses reported a sudden spike in absences after the new rule took effect.
"Bill 148 has made it much more difficult for businesses to operate and to grow and makes it harder for the economy to connect workers with jobs," Challinor said.
She said companies have reported decreases in staff hours, a decline in capital investment and increased use of automation.
Wage hike no obstacle to job growth
But while the chamber argues that job growth has been slowed by the labour reforms, there is little evidence of a negative impact to Ontario's economy from the legislation.
Though the province saw a considerable decline in employment in January, the first month of the higher new minimum wage, the job market has rebounded strongly since. The province clocked a 5.4-per-cent unemployment rate in July, the lowest in 18 years.
The sectors of Ontario's economy that rely most on minimum wage workers have outperformed compared to other provinces, in terms of jobs. The accommodation and food services sector saw job growth that was stronger than the Canadian average since the start of the year, while retail and wholesale have seen job losses — but at a slower rate than other parts of Canada.
Businesses left out?
Challinor said the chamber's main objection to the legislation came down to a sense that businesses weren't properly consulted on the changes.
"The bill imposed a lot of new financial and administrative burdens on business very quickly, and in a compounding sort of way," she said. "Employers were not substantially consulted, and their concerns were not built into Bill 148."
She said the chamber would like to see the minimum wage halted at the $14-an-hour mark, with future increases tied to the rate of inflation, as was the case before Bill 148.