Three hours after a judge granted an urgent hearing for Greenpeace's lawsuit over the assault on the Ontario's climate law, the Ford government blinked.
In a small but significant victory for democracy as something more than voting once every four years, the PC government posted their proposed climate legislation for public comment on the Environmental Bill of Rights registry. Now Ontario residents can have a say about the province's new climate plan, or lack thereof.
To date, Premier Doug Ford has adopted a Trump-inspired shock and awe approach to government where he charges forward on multiple fronts to try to implement changes before anyone can read the fine print. This kind of policy-by-press-release may get them the headlines they want, but it makes for lousy laws.
This is clearest in the use of the notwithstanding clause to overrule a court decision that found Ford was free to cut the size of Toronto's city council, he just couldn't do it in the middle of an election. He justified this extraordinary action – bypassing Canada's Charter of Rights and Freedoms – on the grounds that he's the boss and if you don't like it, then vote him out next election day (although he had no such qualms about asking the courts to overrule the carbon pricing policy of the duly-elected federal government).
A healthy democracy, on the other hand, welcomes citizen participation in decision-making every day, not just every four years.
Fortunately, our rights aren't wholly reliant on the premier's good will. Ford can't use the notwithstanding clause to get around the legal challenge brought by Greenpeace and Ecojustice because it is based on the rights granted under the province's own Environmental Bill of Rights (EBR), not the Charter.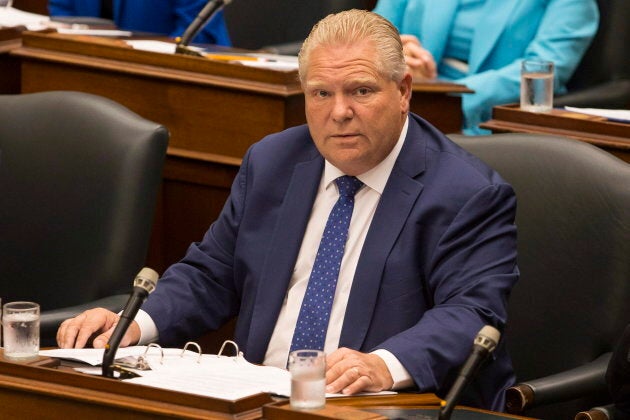 Over the last 25 years, these rights have been respected by governments from all three parties. The EBR recognizes that while it's primarily the Ontario government's job to protect the natural environment, Ontarians have the right to participate in – and hold the government accountable for – decisions that significantly affect the environment.
To quote Gord Downie, who personally used the protections in the EBR to defend the earth he loved:
"This is our air and our water, these things belong to us. Every licence to pollute, every environmental impact, must be considered carefully and publicly. These are our environmental rights, rights as important as any others, rights that must be respected."- Gord Downie
We launched our lawsuit to defend those rights as the Ford government tries to ram through its wholesale revision of Ontario's laws for combating climate change. We argue that the Ford government unlawfully failed to provide for public consultation on both the regulation that ended Ontario's cap-and-trade program and on Bill 4, the Cap and Trade Cancellation Act, 2018, that is currently before the legislature. The case also asks the Court to quash the regulation.
So it was significant that the government, perhaps reading the writing on the wall and wanting to avoid another loss in court, put Bill 4 out for a 30-day consultation immediately after we were granted an early court date. The government has also promised the Court that they won't pass Bill 4 before the public consultation process is complete.
This pause will allow for greater scrutiny of a bill that proposes to rip up the current legislative regime for addressing climate crisis without anything to replace it. Bill 4 eliminates the cap-and- trade system and thus the programs funded by this price on pollution that helped Ontario households and businesses be part of the low-carbon economy. Equally concerning, it also removes the legislated greenhouse gas reduction targets that tell businesses where our economy is going.
This year's more intense wildfires, flash floods and hurricanes are sending a clear message: failing to act on climate change already has an enormous cost. Those costs are only going to go higher, so if the Ford government doesn't want to use carbon pricing, then they need to tell Ontarians what they will do instead to address the climate crisis.
At a minimum, Ontario's new climate plan should be consistent with meeting the goal set out in the Paris climate agreement of keeping warming well below 2 degrees Celsius. That will require building more efficient homes and offices that use less energy and thus cut energy costs. It means better public transit and switching to vehicles powered by renewable energy. These kinds of measures will create good, green jobs in the economy of the future.
It shouldn't take a lawsuit to force a government to listen to people – including some who may not have voted for them – but now that we have this opportunity, let's seize it.
Have you been affected personally by this or another issue? Share your story on HuffPost Canada blogs. We feature the best of Canadian opinion and perspectives. Find out how to contribute here.
Popular in the Community