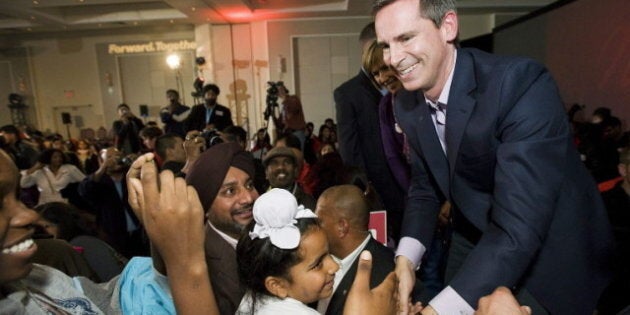 In the aftermath of the Ontario election, party leaders must work in a minority government while facing enormous challenges. The Huffington Post Canada's Ontario Election Debate Hub, who took readers through every step of the race, will now analyze the results and look forward to their respective party's future. As always the Debate Hub includes three of the smartest and most plugged-in politicos in the province: John Duffy of the McGuinty camp; Jason Lietaer (@jasonlietaer) in Hudak's corner; and Heather Fraser (@ottawafraser) for Horwath.

Nine-hundred years ago when I was in high school, we did a mapping exercise one day, where we divided the province according to its regional economic geography. We sketched out where in Ontario folks extract or harvest products from the earth (primary economic activity), where they manufacture finished goods (secondary) and where tertiary activity (the service industry) takes place.
I didn't keep the map, but after last night, I don't have to. It's now the political map of Ontario. Agricultural Ontario is Tory blue. Logging and mining Ontario is mostly NDP orange, as is, generally speaking, the half of manufacturing Ontario that is having a hard go of it as industry restructures globally. The rest -- services-producing, middle-class heavy, optimistic, socially-included Ontario -- is Liberal red. If you prefer, use the Highway system: The TransCanada and the QEW are NDP, Highway 7 and the 403 are PC, and the vote-rich 401 belongs to the premier. But one way or another, the "spatial fix" as Richard Florida refers to it, of Ontario's politics is remarkably clear coming out of last night's election.
This spatial fix is of critical importance in envisioning the course of the province's returning "major minority" government. Last night's results revealed a somewhat divided province which needs to be brought together onto a positive course in an uncertain world. That issue, much more than the minutiae of tie-vote parliamentarianism or even the pressing fiscal challenge, lies at the heart of what happens next.
The typical Liberal instinct is usually to add to the included core a dollop of government spending here and there to bring this or that riding/community/group/quilting circle into the tent. However, the ongoing buffeting of Ontario's economy will make this difficult, and could even put segments of the included core at economic risk. Moreover, the fiscal room to buy-in the excluded will be very limited, not only by current financial pressures on the government, but by the same global economic headwinds that threaten all of us. "You have to grow the economy," thundered Paul Tsongas in the 1992 Democratic Presidential nomination campaign, not just fiddle with finances or tinker with taxes. This will be Premier McGuinty's critical challenge.
Mr. Hudak has other issues on his plate. His party gathered up every rural vote under the clear blue sky, but precious little else. His promise to Progressive Conservatives after the failure of John Tory's version of the party was that his right-wing populist approach could breach the suburbs and even win in the big cities, as it had under Mike Harris. Why this didn't happen, and whose fault that is, will be the subject of much discussion in PC ranks. (My two cents: it wasn't the platform, guys, it was the whole strategy behind it.) That said, Mr. Hudak's team held together under severe pressure and staged a nice rally in the last 48 hours to head off a truly grim outcome for themselves. Grace under pressure, Jason. Kudos to you.
Heather, my congratulations on a successful introduction of Andrea Horwath to the Ontario electorate. And a great job your team did of managing public expectations even as the NDP's loftier ambitions receded from view. In the cold light of day, a couple of items emerge. First, the NDP did not stage a Layton-esque breakthrough last night. Look at the numbers: three points fewer in Ontario than the federal party achieved last May, and five fewer seats. The big urban gains associated with Mr. Layton's wave didn't happen, and seats like Trinity-Spadina were almost lost. As said on Tuesday, Ms. Horwath's NDP looks less like Mr. Layton's and more like the old NDP of Donald MacDonald, Stephen Lewis, and Mike Cassidy. Big in the hard-rock and hard-hit industrial areas, with a smattering of deep urban cores, but not much else (losing in Ottawa Centre is indicative). The collapsing Green vote, which appears to have gone Liberal, played a big part in heading off any NDP urban surge. There's a lesson there, as Peter Tabuns might be pointing out this morning.
A final note about what lies ahead. Dalton McGuinty is the most consistently under-rated politician of his generation, and now, very clearly, one of the most successful. The team around him is a tough, battle-tested, fiercely disciplined group, especially on Game Day. To him and his team go very high honours, and the challenge of charting the choppy waters ahead.
Thanks to Jason and Heather, and all our readers, for joining us on this part of the cruise. Happy Thanksgiving.

The mapping task John is talking about must have been a staple of the curriculum for decades, because I too completed said exercise. When I did it in grade school I was living on a farm outside my hometown of Delhi, and I even remember as a kid looking at the maps and seeing that "we" were primary producers. I also distinctly remember thinking "tertiary" was a funny word that required tons of silly jokes.
I want to thank both of you for a fun debate. It was nice to trade ideas, stories and the odd barb with a group who got the jokes and kept things into perspective. So often, especially in the new social media world, discourse can get pretty heated very fast and it was nice to disagree without putdowns and insults. And thanks to the Huffington Post Canada for having us on -- I think it truly was a Worthwhile Canadian Initiative.
I want to congratulate my Liberal friends on their win. There are some fantastic people over on the Liberal team -- I think of Chris Morley, Jamison Steeve and Gerald Butts, for example -- that I respect and have enjoyed working with at various times. They did a solid job under difficult circumstances in this campaign and my hats off to them.
I will have more to say about polling in days ahead. Increasingly, it is becoming a story in modern campaigns, and not in a good way. We have researchers who are asserting things and not held to account; they are attacking each other and their methodologies; and in this campaign were using such wildly different tools that it was hard to keep track of which way was up.
Here's the bottom line though: polls count. Politicians and teams say that polls don't count when they're not going their way, but momentum and morale are a big part of campaigning. Good polls can lift a sagging ship, and can devastate one that is otherwise on course. For my money, we are seeing too many pollsters framing punditry in the cloak of research, and having an impact on the race in ways that are not helpful. Why does it matter to Conservatives? Because nearly always, traditional pollsters underestimate Conservative support and we faced negative momentum stories heading into both the last federal election day and into this campaign finish, which defined the narrative in the end. If accurate, OK. If you are wrong, it can have a huge impact. But more on that in the days ahead.
I'm not going to pretend to be entirely happy with this result. We clearly could have done better and I believe will do so next time. But we did accomplish some very important things that satisfy us: our new leader went through and survived a tough battle (which has helped no less than first-time losers Chretien, Harper, Harris, and Rae); we attracted some top-flight candidates throughout the province; and we gained some serious ground, defeating several of Mr. McGuinty's top ministers.
The Liberals like to tell a story about 1999 -- that if there was a swing of only 8,000 votes, they would have knocked off Mike Harris. I haven't looked at the numbers, but I think you'll find a similar story in this campaign. The Liberals beat us by 16 seats, which means that turning only eight seats from Liberal to Tory would have made the difference. Not a lot of votes or room for error.
Which brings us to our challenge -- the one articulated by our leader this morning. To win, we must do better in the GTA. Can it be done? Of course. Stephen Harper ran for prime minister in 2004, 2006, 2008 and 2011. Only the last time did he make a significant breakthrough in Toronto. It takes time, effort and commitment. That's our challenge.
When John spoke earlier about the map I am reminded by the federal map as well. The Liberal party has moved away from a national party to one centred in Toronto, Montreal and Vancouver. A similar phenomenon is happening provincially. If I were a Liberal, this is not a welcome trend. Although they won a victory last night, they cannot continue to hope to govern the province or the country if they are persona non grata outside major cities. And I don't believe that it's good for anyone to have the country or province split into a rural/urban divide. Mr. McGuinty's slogan was "Forward.Together." He's got a wide geographic swath covering about 80 per cent of the province that doesn't appear to be "together" with Mr. McGuinty at all. The Liberals pride themselves on inclusiveness. I'm interested to see how they fix this huge problem which could impact electoral fortunes for generations.
I think Heather must be pleased with the results for the NDP. Some very good pickups -- and surviving and late scare in Trinity Spadina -- made for a strong night for Ms. Horwath. She introduced herself to Ontarians -- and impressed them with her affect and attitude. The challenge now is to add some policy heft. This is another trend that is not moving in favour of the Liberals -- a stronger NDP makes Liberal majority governments much more difficult to achieve.
I looked at the pictures last night and saw a subdued scene in both Niagara Falls and Ottawa. Although there were successes on both sides, nobody got exactly what they wanted. I saw a slightly happier scene in Hamilton -- the NDP was pleased, and should have been. No longer fighting for party status and with the ability to be a significant broker, it remains to be seen whether the party can achieve that same types of results that Mr. Layton delivered federally. From a Liberal point of view, these facts signify storm clouds on the horizon.
I imagine John remembers very well the last Liberal leader who was knocked down to a minority by an upstart conservative leader. In Paul Martin's instance, everybody started to smell blood -- the Conservatives and the NDP in equal measure. Mr McGuinty will have to use all his considerable skill to turn the tide in his favour, especially during difficult economic times. He has proven very resilient. We will soon know if he's up to the challenge.

As has been the case all along, some very astute analysis from my friends in the other two parties. There is much to learn from looking at these results.
One striking factor to me is the low turnout. Clearly not all citizens are convinced that voting matters and that is a worrying sign that we are not connecting with people in a way that makes them feel compelled to exercise their democratic right. This should be a concern to all of us.
Meanwhile, the voters have spoken and they have sent Dalton McGuinty back to the premier's office -- but with reduced numbers. Surely this will require a change in approach as we all contemplate how best to make the legislature work for people.
My congratulations to the Liberal team. We now find ourselves in interesting times. The question for today is what now? Will McGuinty take voters message to heart? Will he work with the other parties to provide a government that delivers?
With a bigger caucus behind her, Andrea Horwath and the New Democrats will continue to push for "positive change that puts people first."
The NDP did have a good, solid, smart campaign. Perhaps, like my colleagues I would have liked more for my party. But the best result in two decades is nothing to sneeze at. And the gains in the north are a lesson to the Liberals not to take voters for granted.
The federal party under Jack Layton grew incrementally in three elections before the 2011 breakthrough. Andrea Horwath and her new caucus will have to prove themselves to achieve an even more significant growth, outside of the regions you both outline. I'm confident Horwath will continue to impress, innovate and build. She can be proud of these gains -- and the win in Bramalea-Gore-Malton is evidence that this kind of growth is on the horizon for the NDP.
But we mustn't spend too much time on the tea leaves. Now is the time for all MPPs to roll up their sleeves and get busy to solve the many challenges ahead.
Congratulations to all the candidates who stepped forward to serve -- and thanks to John and Jason for a great debate. It's been fun!