By Michael Coren, Jerry Dias, Bernie M. Farber, Kay Gardner, Sandy Hudson, David Miller, Charles Pascal, Judy Rebick, Kristyn Wong-Tam
Elections are about choices. Voters must choose the candidate and the party that they believe are best able to improve their lives and that of their families.
Over the course of the last few weeks, we believe the choice that confronts Ontarians on June 7 has clarified.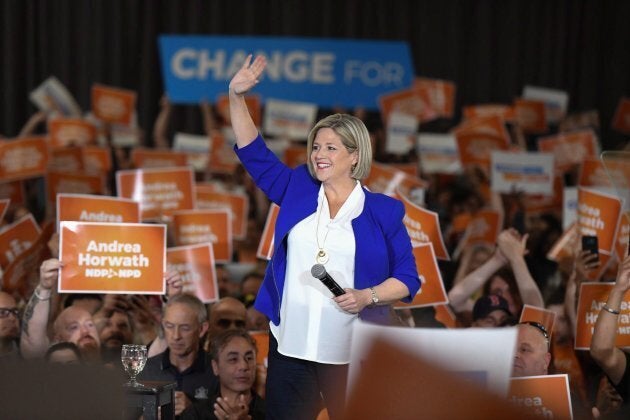 We have lost track of the number of scandals embroiling Doug Ford and the Progressive Conservative Party. Multiple police investigations continue into the nominations of Conservative candidates, the conduct of Conservative candidates and the possible theft of private, personal, data of Highway 407 users allegedly used for political gain. Most recently, a lawsuit within the Ford family has dominated the headlines, reminding us all of the turbulence and chaos that enveloped Doug Ford and his brother at Toronto City Hall. During that time, any progress in the city was impeded by the Ford family's private challenges.
Doug Ford has refused to release a complete and costed platform, while at the same time vowing to slash $6 billion from the provincial budget. The size of this number would necessitate closing hospitals and schools, firing nurses and teachers, and depriving Ontarians of vital public services.
Four years of his government would render Ontario unrecognizable and the majority of Ontarians worse off.
Doug Ford is not worthy of being premier. Four years of his government would render Ontario unrecognizable and the majority of Ontarians worse off.
Though we have different political backgrounds, we believe that it's time for progressives to rally around Andrea Horwath and the Ontario NDP. Ms. Horwath has run a positive and principled campaign and deserves the opportunity to govern. The NDP platform would result in Ontarians benefitting from lower drug prices, improved public schools and a higher minimum wage. This is the sort of progress we can get behind.
At this juncture, only the Ontario NDP can stop Doug Ford. We agree with Andrea Horwath that Doug Ford doesn't need to be kept in check after election day, he needs to be defeated on election day.
This election will be very close and may boil down to a handful of votes in a small number of ridings. We will be voting on Thursday to safeguard progress for Ontario families and urge every progressive in this province to do the same.
Ontario cannot afford Premier Doug Ford. Andrea Horwath is the only answer.
Michael Coren is a writer and broadcaster (former conservative)
Jerry Dias is the President of Unifor
Bernie M. Farber is a social justice advocate (ran in Thornill, Ont. as Ontario Liberal in 2011)
Kay Gardner is a former Toronto City Councillor
Sandy Hudson is a Toronto-based activist (unaffiliated progressive)
David Miller was the Mayor of Toronto 2003-2010 (no current party affiliation)
Charles Pascal is a former Ontario Deputy Minister (worked for all three parties as an advisor and senior bureaucrat)
Judy Rebick is an author and broadcaster (voiced concerns last election calling Ontario NDP platform insufficiently progressive)
Kristyn Wong-Tam is a Toronto City Councillor (unaffiliated progressive)