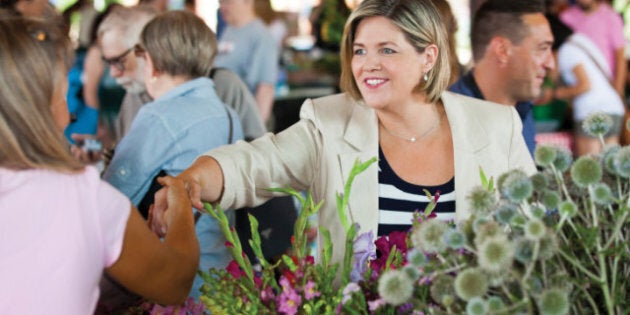 One cannot underestimate Ontario Premier Dalton McGuinty. While he is not an overly charismatic leader, he has become an extremely good political campaigner.
In 2007 McGuinty faced a Progressive Conservative leader, John Tory, who was politically moderate, likeable, and (at least it seemed) electable. Tory's earlier mayoral campaign in Toronto was supported by many Liberals, and he was hardly a right wing neoconservative.
Initially, 2007 looked it would be a close election, with a real possibility that McGuinty would be a one-term premier. However, in an act of campaign genius (even if an exaggeration of an issue) McGuinty's campaign used John Tory's plank on providing funding for faith schools, a relatively minor item designed to appease social conservatives, to paint John Tory into a socially conservative corner.
Now, in 2011, McGuinty is bidding for a third term as premier, a feat which to some political observers seemed an overstretch of his political fortunes. Less than a month ago, McGuinty's Liberals badly trailed Progressive Conservative leader Tim Hudak, a leader from the right wing Mike Harris tradition.
Furthermore, McGuinty had to contend with the aftermath of the 2011 federal election where the Conservative majority was essentially won by breaking through in Liberal strongholds in greater Toronto. Also, in this election the Liberals finished behind the NDP in seat count, including in Ontario where, while the Liberals won a greater percentage of the vote than the NDP, the NDP finished ahead of them in seats.
More recently, however, McGuinty has narrowed the gap with his Progressive Conservative opponent and an NDP surge in the province (so far at least) has not materialized. According to a recent Nanos poll, as choice for Premier, McGuinty has gone from trailing Hudak to being in a statistical tie -- with 30.3 per cent for McGuinty and 28.7 per cent for Hudak. In that same poll, NDP leader Andrea Horwath's support stood at 12.2 per cent, which is lower than the NDP's 2007 showing of 16 per cent under then-leader Howard Hampton.
Liberals seem to be benefiting from fears of right wing governments at three major levels -- in the Ontario legislature, in addition to existing right wing governments in Ottawa and municipally in Toronto under Rob Ford. Furthermore, recent weaknesses of Mayor Ford have likely not helped the Progressive Conservative cause.
For the NDP, it is worth noting that in the last federal election their wins were primarily in traditional strongholds -- downtown Toronto, northern Ontario, and industrial heartlands such as Hamilton and Windsor. The NDP failed to gain enough traction to win seats in suburban Toronto and among immigrants.
Furthermore, the McGuinty Liberals have been able to outflank the NDP on the left on environmental conservation. The NDP position of phasing out the provincial portion of the HST on gasoline (and holding down gas prices) has come under fire from environmentalists, including the David Suzuki Foundation. Especially, as this policy creates the potential to encourage greater car use in areas like Toronto which suffers from traffic congestion and the infrastructure costs of maintaining massive multi-lane roads.
The NDP policy, which at one point would have easily scored political points, is unpopular today where conservation is a greater concern, and in a province where traffic congestion in major urban centres is a serious problem. This holds lessons for the NDP as, where the social democratic Labour Party in Britain was able to successfully campaign towards the centre, in Canada this can be more difficult where a strong Liberal Party stands in the way.
On the environment especially, the Ontario Liberals can present themselves as more progressive than the NDP. The Liberals have been endorsed by environmentalist David Suzuki, and have a strong conservation track record including promoting green forms of power such as windmills, and curbing urban sprawl - and protecting forests and farmlands -- through the imposition of a greenbelt around greater Toronto and the urbanized "Golden Horseshoe" region around western Lake Ontario.
Though, despite these shortcomings on the issue of conservation, it is important to note that the NDP have been a strong and spirited presence in the Ontario legislature, a strong third party presence that has held establishment parties to account. Furthermore, previous NDP leader Howard Hampton deserves credit for tirelessly leading his party at a difficult time in the aftermath of the party's devastating 1995 defeat under Bob Rae.
As well, the Ontario NDP does offer some strong local candidates in this election, including one I personally know as she is married to a friend of mine I have known since junior high. At 29 years old, Sarah Campbell, who is running in Howard Hampton's old northern Ontario riding of Kenora Rainy River, is a rising star in the NDP, a community activist personally endorsed by Hampton during her nomination race.
The Ontario election overall is an interesting one to watch as a litmus test for the staying power of Conservative and NDP gains, and to see whether rumours of the Liberal Party's demise may truly be exaggerated. While the ultimate test will be on election day, current opinion polls are showing the Liberals to have incredible staying power as contenders for power.