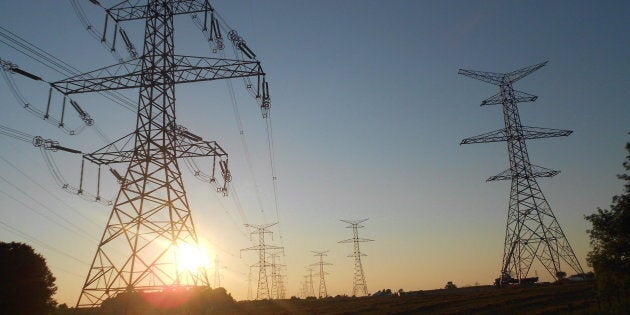 Ontario will face electricity shortages in the coming years, as the loss of supply from a planned shutdown of a major nuclear power plant is made worse by the provincial government's cancellation of renewable energy projects.
In a recent forecast, the Independent Electricity System Operator (IESO) — the Crown corporation that runs the province's electric grid — predicted that, if nothing changes, Ontario will start seeing electricity shortages during peak summer periods starting in 2023 and continuing thereafter. The report also forecasts shortages during peak winter usage from 2025 to 2028.
The province will be short about 1,400 megawatts of capacity by 2023. That's the equivalent of roughly half the output of Ontario's Pickering nuclear power plant, which serves 1.5 million people.
Watch: Two-thirds of Canada's energy comes from renewable sources (story continues below)
The IESO says the plant's shutdown, which will take places in stages from 2022 to 2024, is the principal reason for the looming shortage. The plant is coming to the end of its life cycle. Long-running refurbishments at other nuclear power plants will also limit the province's electricity supply.
But the cancellation of 758 renewable energy projects, which the government of Premier Doug Ford announced as one of its first moves, widens the gap even further. Ontario will forgo the production of some 443 megawatts of energy, according to earlier reports.
The government argues the projects were too expensive, and cancelling them will save taxpayers some $790 million. Industry insiders disputed that estimate, noting that the cancellations themselves could end up costing taxpayers money. They said the cancellations would mean job losses.
In an email to HuffPost Canada, the IESO stressed that there is time to address the problem.
"There is no immediate need to act to fill the gap now," a spokesperson wrote, adding that "the potential gap emerging in the next five years is proportionally very small."
The spokesperson said the best approach "is to wait until we have more certainty about the size of the capacity gap. There are enough lower cost resources that can be developed with a three year lead time to meet a 2023 resource gap."
Carbon emissions on the rise again
The shutdown of the Pickering plant, combined with fewer planned renewable energy sources in the mix, means that Ontario will rely more on natural gas plants to generate electricity in the coming years, the IESO report showed.
That means carbon emissions from electricity generation will begin to rise again in the coming years — though not to the high levels seen before the previous provincial Liberal government eliminated the use of coal-fired plants.
In its long-term forecast, the IESO sees carbon emissions from electricity rising from less than 3 megatonnes per year today, to more than 10 megatonnes by 2035. However, that is still far less than the 35 megatonnes recorded in 2005, before coal plants began to be phased out.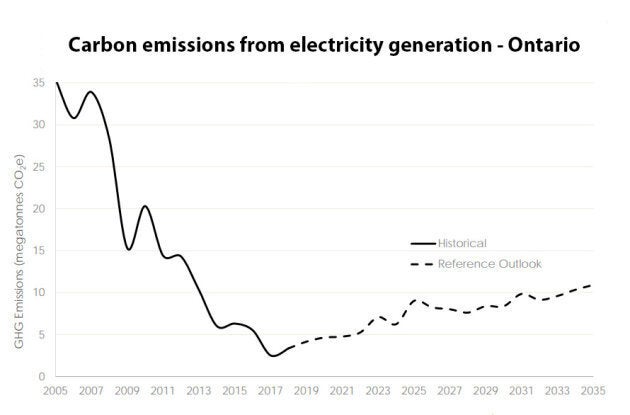 — With a file from The Canadian Press