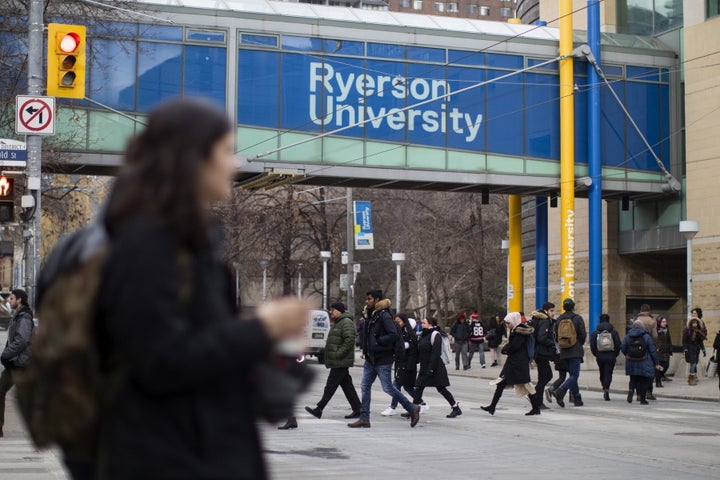 TORONTO — Ontario's universities could lose hundreds of millions of dollars if the provincial government goes through with its plan to tie funding to "arbitrary" performance metrics, a faculty association is warning.
"This is not what a government should be doing," Rahul Sapra, president of the Ontario Confederation of University Faculty Associations (OCUFA), told HuffPost Canada Wednesday.
The "rash and drastic" change will sink the quality of post-secondary education and exacerbate differences between schools, OCUFA, which represents 17,000 faculty members and academic librarians, said in a press release.
The list of metrics was provided to institutions this spring, OCUFA says, but the government has refused to provide further details.
Ontario will withhold funding from schools that don't meet targets for things like:
Graduation rate,

Proportion of graduates working full-time in their field,

How much money graduates earn,

The number of students in courses that include "experiential" learning,

How much research funding a school secures from private companies,

The proportion of students that are from the local community.
"These metrics will not actually measure 'performance' but are likely to be used as an excuse to cut university budgets," the release says.
OCUFA estimates that as much as $500 million will be cut from college and university budgets because of the change. That number is based on a scenario in which all schools score between 75 to 80 per cent but don't meet 100 per cent of the targets set, OCUFA spokesman Ben Lewis said in an email.
Ontario's Progressive Conservative government plans to increase the percentage of funding for colleges and universities that is tied to performance measures starting next year.
By 2024/2025, 60 per cent of provincial funding for post-secondary schools will be tied to performance. Previously, that number was less than two per cent.
Watch: Student protesters are thrown out of Ontario legislature. Story continues after video.
The government says the plan will help students succeed in the job market. A spokesman for Minister of Training, Colleges and Universities Ross Romano did not respond to HuffPost's questions.
Sapra said the metrics were created without any consultation. Neither the current minister nor the former minister, Merrilee Fullerton, responded to OCUFA's requests for meetings, he said.
"What will be the target? Why should we achieve that? How will we achieve that? The government has said nothing about that," Sapra said.
The change will likely lead to layoffs and more precarious work at Ontario's post-secondary schools, he said.
"What will be the target? Why should we achieve that? How will we achieve that?"
"We are very worried about contract faculty, that that number will go up, precarious work will go up, because universities will be underfunded."
He said the move is "puzzling" but not that surprising since it came from Ontario Premier Doug Ford.
"This is the politics of Doug Ford," Sapra said. "Students are suffering."