A Dutch artist claims the Ontario government is paying an inflated rate for a rip-off version of his giant rubber duck — and says going with the original would have saved the province money.
"We could have brought the real duck to Canada 150 years for a much lower costs than that will be paid now," Kim Engbers told HuffPost Canada. She did not offer a specific number when asked for how much the artist would have charged.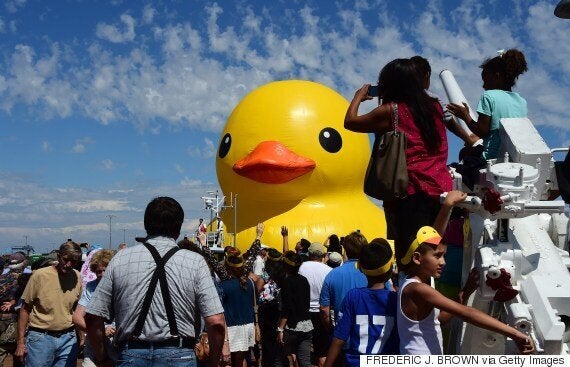 The duck is also at the centre of a copyright dispute. Engbers claims the original duck design was stolen by American events producer Craig Samborski in 2014 after a partnership to bring the installation to Los Angeles soured.
"[He] has stolen our patterns and concept and makes it into a joke on his tour of Tall Ship water festivals and sells it as a marketing prop," Engbers said, calling the American promoter a "fraud and a thief."
"Everybody deserves seeing the original installation," she said, adding that it's short-sighted for organizers to pay and exhibit stolen art for a celebration of Canada's 150th birthday.
Hofman is dismayed to see the giant duck commercialized since it goes against his original vision to use the inflatable animal to promote positivity and lift morale in public spaces.
"I could have sold him a dozen times, but I will not do it, because I don't wish this adventure to be over. I focus on the duck as being an artwork that should never lose its magic," Hofman said in a statement.
"I would like to reassure my colleague that my department did not fund this duck."

— Heritage Minister Mélanie Joly
This week, kerfuffles broke out in both the Ontario legislative assembly and House of Commons over how Canada 150-related funding is being used to pay for the six-storey mallard.
On Thursday, Conservative MP Lisa Raitt used the duck to take a fresh jab at Prime Minister Justin Trudeau's family vacation to the Aga Khan's private island.
She joked that the duck could be used as a beach toy for Trudeau's "next visit to billionaire island."
Watch her statement below:
Heritage Minister Mélanie Joly addressed the controversy in question period Tuesday, saying her department funded an indigenous music and dance showcase — not the huge duck.
"I would like to reassure my colleague that my department did not fund this duck," Joly said. She added that the federal funding received by the provincial government was intended to support the Ontario 150 tour's indigenous music and dance program.
The duck was brought up twice this week by MPPs in the Ontario legislature, most notably by Progressive Conservative Rick Nicholls who called it an "absurd waste" of tax dollars.
"It is an absolute clusterduck," he said Monday.
Festival organizers received a $121,000 provincial grant for the Ontario 150 tour. It's the exact same amount that Samborski is charging organizers to rent the yellow mallard.
Ryan Whaley, a representative for Samborski justified the cost, saying "it is very much a large-scale operation." He told HuffPost Canada the cost includes the rental fee, a support team, and use of a semi-truck and crane.
Whaley brushed off the Dutch artist's claims of intellectual property theft, saying that their World's Largest Rubber Duck is registered with the U.S. patent and trademark office.
"The duck brings similes to the faces of her admirers and really this is a lot of drama for a large bathtub toy," he said.
The Most Important Stories Sent To You

'The Daily Brief' connects you with our best stories sent right to your inbox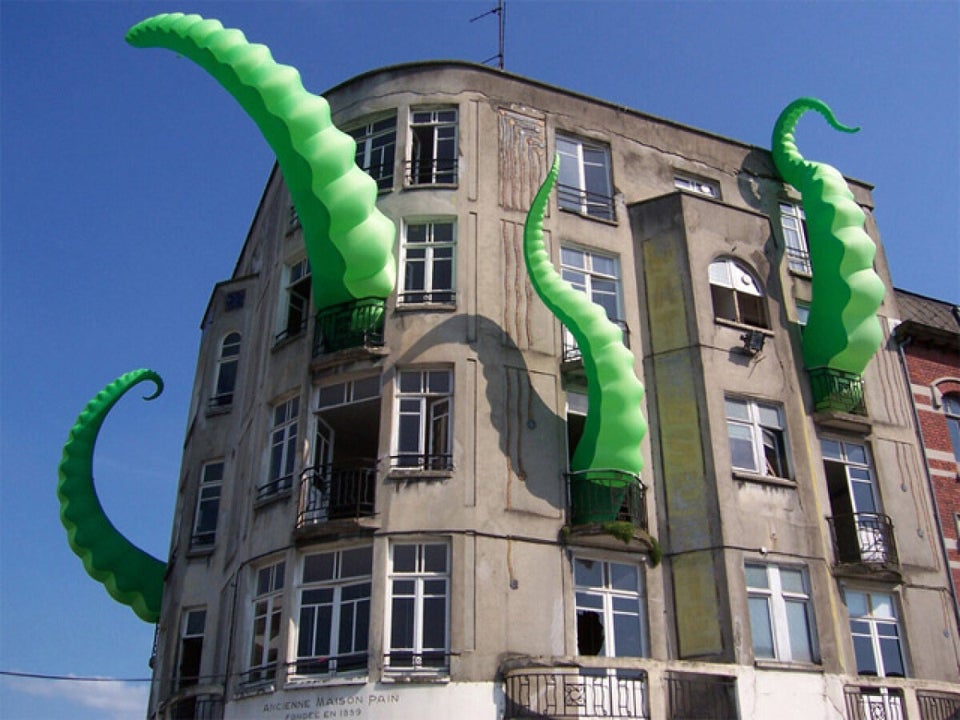 Best Inflatable Art