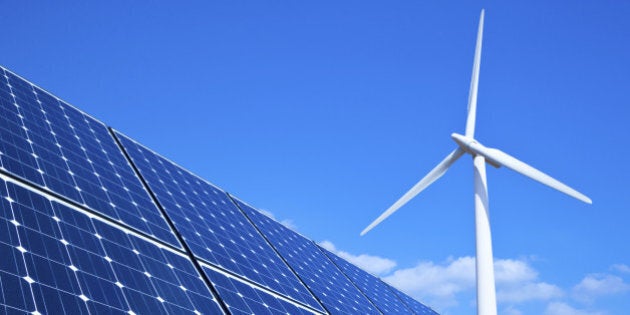 I've worked for many years on environment and energy policy in Ontario, and one of my greatest frustrations is how the story of this province's shift from polluting fossil fuels to clean renewables has become twisted.
This twisting was on display in a recent editorial in the Globe and Mail, one of Canada's most prominent newspapers. The piece has so many misleading facts that I have to take a moment to set the record straight. So here goes:
The editorial begins by referencing Auditor General Bonnie Lysyk's report about Ontario's electricity system. Based on the editorial, you'd think the auditor general (AG) had said that renewables have cost Ontarians $37 billion. In truth, however, the AG said that renewable energy will cost $9 billion more under the Feed-in Tariff program than it would have under Ontario's previous renewable procurement program -- over the 20-year term of the contracts. And the AG also noted that the independent electricity system operator, the people who manage the electricity grid, peg these costs at closer to $5 billion over 20 years or $250 million per year. Not $37 billion.
The AG's report and the editorial also leave out a number of key facts about the province's electricity sector. For example, the fact that Ontario attracted nearly $12 billion in private-sector investment in wind and solar power since 2010 isn't mentioned. Nor are the tens of thousands of jobs at any of the dozens of renewable energy manufacturing plants now operating in Ontario ever discussed.
Also missing is the fact that Ontario's coal plants burdened us with an estimated $4.4 billion in health and environmental costs each year. So, even if the Green Energy Act will cost $9 billion more over 20 years, which is the high-end estimate, these costs would be recouped in just two years thanks to the $4.4 billion in health and environmental costs we will avoid as a result of the coal closure.
The coal closure's success has even provoked long-time advocates of carbon pricing to rethink the role of regulations in meeting climate targets.
On the matter of the coal plant shutdown, the editorial argues that reducing emissions from electricity was laudable, but the government went about it in the wrong way. Interesting opinion, but wrong. I need to point out that Ontario's phase out of coal is still counted as the single largest initiative to reduce Greenhouse Gases (GHGs) in North America.
Some economists have also argued that it is the most effective policy, and the coal closure's success has even provoked long-time advocates of carbon pricing to rethink the role of regulations in meeting climate targets. It's also prompted other provinces, namely Alberta, to commit to move ahead to phase out coal, too.
Next, there are some misleading numbers in the editorial on renewable energy. For example, it says that according to the auditor general, power generation costs in Ontario between 2004 and 2014 increased by 74 per cent. The editorial suggests that this increase was the result of green energy, but that's not true.
According to analysis done by Power Advisory LLC, new renewable energy additions accounted for just nine per cent of the average residential power bill in 2014. How can costs that account for a mere nine per cent of a bill be responsible for a 74 per cent increase in that bill?
Then the editorial mentions that the province's generation capacity grew by 19 per cent between 2006 and 2014. It suggests that most of this growth is from renewables, and that's the reason that Ontario has a surplus of power and sometimes sells that power at a loss. The thing is, even today, renewable energy makes up just 11 per cent of the total power supply in Ontario. How can something that is only 11 per cent of the total cause a 19 per cent increase in that total?
In the close of the piece, the authors mention Ontario's reported plans to create an "ultra-low carbon service provider" as part of the province's climate change action plan, which is intended to manage emission reductions in Ontario and keep on track to hit the province's targets.
According to the authors, this is draconian central planning, and a simple carbon tax should be used instead. To be sure, carbon pricing is necessary in the fight against climate change. But a carbon price alone isn't enough. British Columbia has the highest carbon tax in North America at $30/tonne. But even at that level, emissions are rising in B.C., not falling, and the province now admits they will miss their 2020 GHG emissions targets.
Ontario is taking a comprehensive approach to cutting emissions, which is a good thing. While some folks may love to hate the Green Energy and Green Economy Act, the reality is that it's the reason Ontario is Canada's clean technology leader.
And the coal phase out was the right move, too, which is why it's being emulated by Alberta, why Ontario hit its 2014 GHG emissions target, why our air is now smog-free, and why people like me, who care about the environment and our kids' future, can breathe more easily.
Follow HuffPost Canada Blogs on Facebook